Engagement Photo Ideas
Couples who love adventures also love the idea of taking their engagement photos somewhere adventurous and surrounded by nature. Now that you're engaged, you probably want to make things officially by announcing your wedding day with a couple of candid shots of you both. Before you start pinning ideas, there are some questions you need to ask yourself:
Location: Where should I take my engagement photos? Location is a big thing when it comes to engagement photos, especially for the wanderlust couple. Some of our best places to elope may also be a great location for your engagement session.
Outfit: What am I going to wear? There are so many ideas and elements you can incorporate into your engagement outfit.
Season: When am I going to take my engagement photos? Fall and Winter seem to be the most popular for engagement photos, but we love a good summer and spring engagement too!
Photographer: Who is going to take my engagement photos? Our Wandering Weddings photographers are pros at capturing candid moments in an adventurous location. Taking engagement photos is also another great way to get to know your photographer for your elopement.
Engagement Photo Outfit Ideas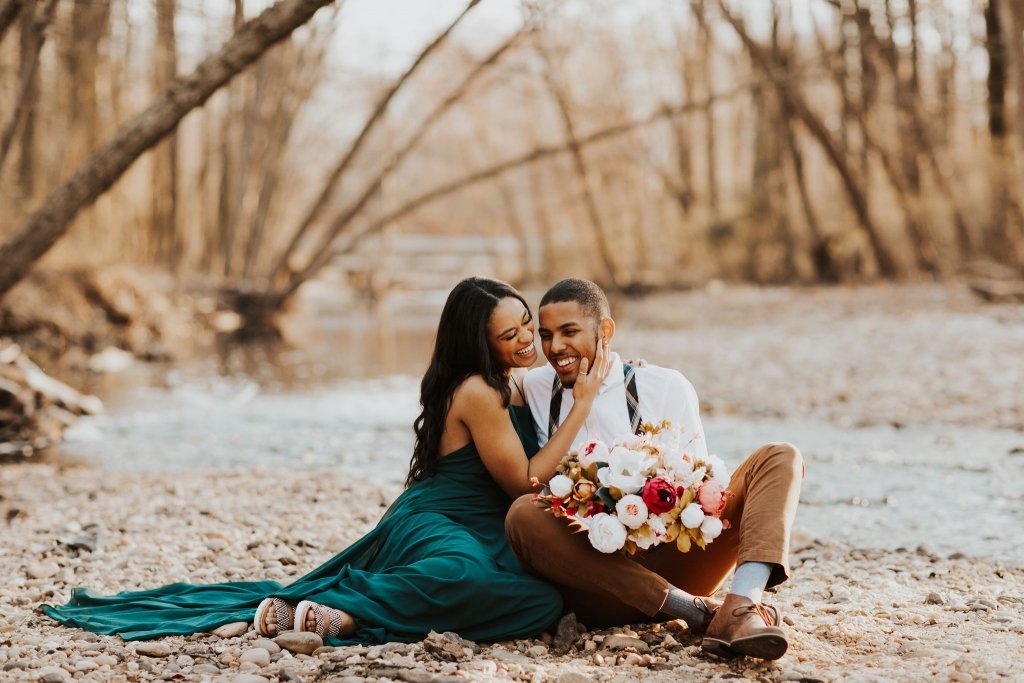 Your engagement outfit(s) should be fun and represent who you both are. We compiled a couple of awesome engagement photo outfit ideas from real adventurous couples like you, so you can start getting inspired.
A pro tip is to ultimately pick an outfit that you both feel comfortable in and love. Make your outfits meaningful. Our editor, for example, wore a red dress during her engagement session because she met her hubby wearing a red dress. There is literally no limit or rules on what you can or cannot wear. Another thing to consider is what you will be doing during your engagement session. Will you be surfing together or hiking up a mountain together? Considering what type of adventurous activity you two crazy love birds will be doing will make it a lot easier to put an outfit together.
Outdoor Engagement Photo Ideas
If you are here, you probably love to travel and explore new places. We can also safely assume you also are looking to have an outdoor engagement photo session. Outdoor sessions are awesome because you are not limited to an indoor location. Your love shouldn't be restricted to four walls anyways! Check out these 15 Places to Have Your Engagement Photoshoot.
Here are some fun outdoor engagement photo ideas you can incorporate into your session:
Go on an adventure together.
Plan a romantic picnic.
Do a fun outdoor activity together.
Go on a boat ride.
Forget the photographer is there and enjoy the moment together.
Mountain Engagement Photo Ideas
A favorite engagement destination for our wanderers happens to be the mountains. A mountain engagement photo session is a great idea if you both love hiking. If hiking boots and backpacking is your thing then announce your elopement date with a fun mountain engagement photo session. We love mountain engagement photos because you not only get an awesome view, but you can really get a sense of what it means to elope. If you are considering how to elope, then our team can help you make your to-do list.
Here are some of our favorite mountain engagement photo ideas:
Pick hiking trail and share a slice of pizza at the top of a gorgeous vantage point.
Pop a bottle of champagne or shotgun a beer during your mountain adventure.
Make a fun elopement announcement sign to announce your wedding date.
Beach Engagement Photo Ideas
Another popular location for engagement photos is the beach. We love this location for couples who don't want to dress up and keep their engagement outfits simple or beachy. Beach engagement sessions are also great for couples who love the ocean, love fishing, or being on the boat together.
Here are some of our favorite beach engagement photo ideas:
Have a romantic picnic together as the sunsets.
Run and roll in the sand together.
Jump in the ocean together!
Plan a fun beach activity together. Sandcastles anyone?
Winter Engagement Photo Ideas
Winter is a popular season to plan engagement photo seasons for photographers because of the cold weather and fun activities you can do together. We have previously shared 12 Winter Engagement Photos to give you a good idea of what it's like to take your engagement photos during winter.
Here are some of our favorite Winter engagement photo ideas:
Build a snowman together and play in the snow.
Cuddle together and make a bonfire.
Go skiing or snowboarding together.
Rent a cabin and go exploring.
Fall Engagement Photo Ideas
Winter and Fall engagement photos are probably the most popular seasons to plan engagements and elopements. A lot of our Wandering Weddings photographers love Fall due to the changing colors and cool weather. The different colors will give your engagement photos a romantic feel, and you won't be sweating in your engagement outfits!
Here are some of our favorite Fall engagement photo ideas:
Pick a cool fall outfit to go with the changing leaves.
Explore a waterfall together.
Incorporate your adorable pets.
More Engagement Photo Ideas:
For more elopement ideas and elopement inspiration, follow us on Pinterest.