Elegant San Galgano Abbey Wedding Elopement in Tuscany, Italy
This intimate San Galgano Abbey Wedding is the perfect elopement inspiration for couples who are planning an elopement in Italy. San Galgano Abbey is located in Tuscany, Italy, and our team loves the rich details this venue gives couples. Do you want to elope in nature, yet elope somewhere historic and elegant? This is probably the perfect elopement destination for you.
Get all the details from the photographer, Irina Odoardi, and how she captured Gulnara and Edgar's wedding day. If you want to skip all the information, then feel free to jump to the full elopement story photos.
About the Elopement Venue
San Galgano Abbey is one of the most important Tuscan monasteries and a beautiful example of Italian Gothic-Cistercian architecture. Although the Abbey was attacked in 1300, the monastery is still a gorgeous, open structure where many come to celebrate their wedding day.
"It was the groom, Edgar, who had chosen this magnificent place for their ceremony – the half-ruined medieval Abbey San Galgano in the very heart of Tuscany. Even without abundant decor or numerous guests, the Abbey creates a very special, romantic, and festive atmosphere." [Irina, The Photographer]
This just comes to show how you don't need lavish decorations to have a beautiful wedding day. Our team loves this elopement location because it's a great option for couples who want a more elegant and unique elopement experience.
We asked Irina why San Galgano Abbey would be a perfect location for an elopement wedding.
"When a couple elopes, the choice of the venue is crucial. The place must be special. When you elope you decide to not [have a big] party, so the ceremony becomes the main highlight of the wedding day. San Galgano Abbey is a perfect choice because it combines natural and man-made beauty. You are in a church, and at the same time, you are outdoors. The abbey is very ancient and half-destroyed, so it creates this perfect setting for a romantic story of a couple who have decided to elope." [Irina]
Planning an Elopement Far From Home
This romantic elopement took place in Tuscany, Italy. For a lot of couples who want to elope, they become afraid to plan an elopement far from home. Our team personally loves when couples are brave to plan their wedding day somewhere new and exciting. Irina tells us it's important for couples to know exactly what they want, conceptually.
"Eloping gives you huge freedom. You have fewer constraints, so you can really choose whatever you like. And after you have chosen your destination, I think it is important to discuss with your wedding planner, if you hire one, and with your photographer the exact location for the ceremony. As you will be having ceremony in a foreign place, you might not know all peculiarities of the place such as certain weather constraints, light, authorizations that might be needed to do the ceremony, etc." [Irina]
Irina and our team also stress the importance of hiring a photographer you trust to document your special day. Our Wandering Weddings Photographers are pros when it comes to all things elopements. By hiring a photographer who specializes in elopements, you are also hiring someone who will be just as excited about your wedding day as you are.
Elements We Love About This Elopement
Our team loves how simple this elopement wedding at San Galgano Abbey was. We love how elegant the bride's dress was, and we are loving how they explored Tuscany's famous valley – Val d'Orcia. This spot is ideal, as you can see, for gorgeous sunset wedding portraits.
Irina tells us she loves the details the couple incorporated on their elopement day including the wooden box for the rings, and the natural, soft bridal bouquet. She also tells us how the mayor of the region, who held the ceremony, surprised the bride by offering her a bouquet at the end of the ceremony, as a gift from the city.
Why This Photographer Loves Elopements
When a couple decides to elope, they are both deciding to embrace having a day focused solely on them. They are deciding to forgo traditional wedding standards and plan an epic adventure of love. Irina tells us Edgar and Gulnara decided to do just that when they eloped in this beautiful location in Tuscany, Italy.
"I was very touched by their love story. The fact that they were living in different countries, both working in aviation, and still decided to get married, regardless the fact that they will not be able to be together all the time. And also the fact that it was Gulnara's dream to get married in Italy, and Edgar not only made her dream come true but also found this magnificent location." [Irina]
Irina, like our team, loves, love.
"I love the emotions. I see a lot of beauty in two people committing to each other. And I see a lot of romance in getting married and exchanging vows without many guests. I also love traveling and discovering new places, so an elopement is a kind of a mix between a wedding and an adventure." [Irina]

Other Vendors Involved
Wedding Planner | Niki Wedding
Dress | Anastasia Sutyrina 
Groom Attire | BG Suits
Flowers | Agriflor Siena
Makeup | Tania Nitsak
Ring Box | Woodstorming 
Venues | Resort San Lorenzo a Lina | San Galgano Abbey
If this elopement wedding day at San Galgano Abbey is inspiring you and making you feel like packing your bags to Italy, then you should check out our how to elope guide.
Full Elopement Story Photos at San Galgano Abbey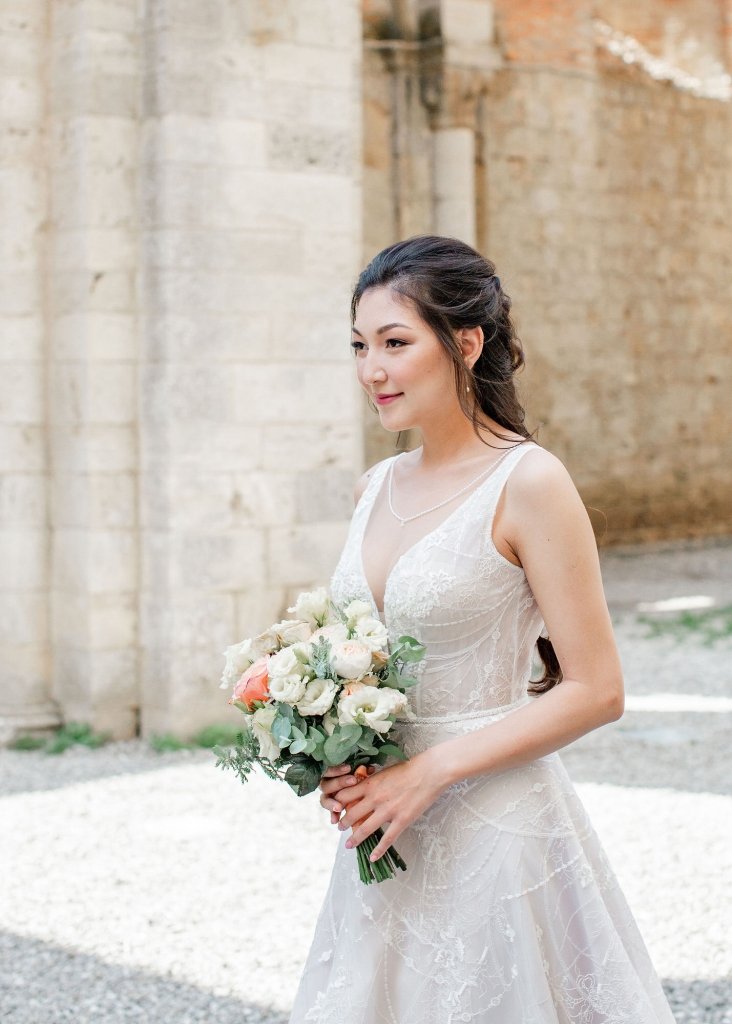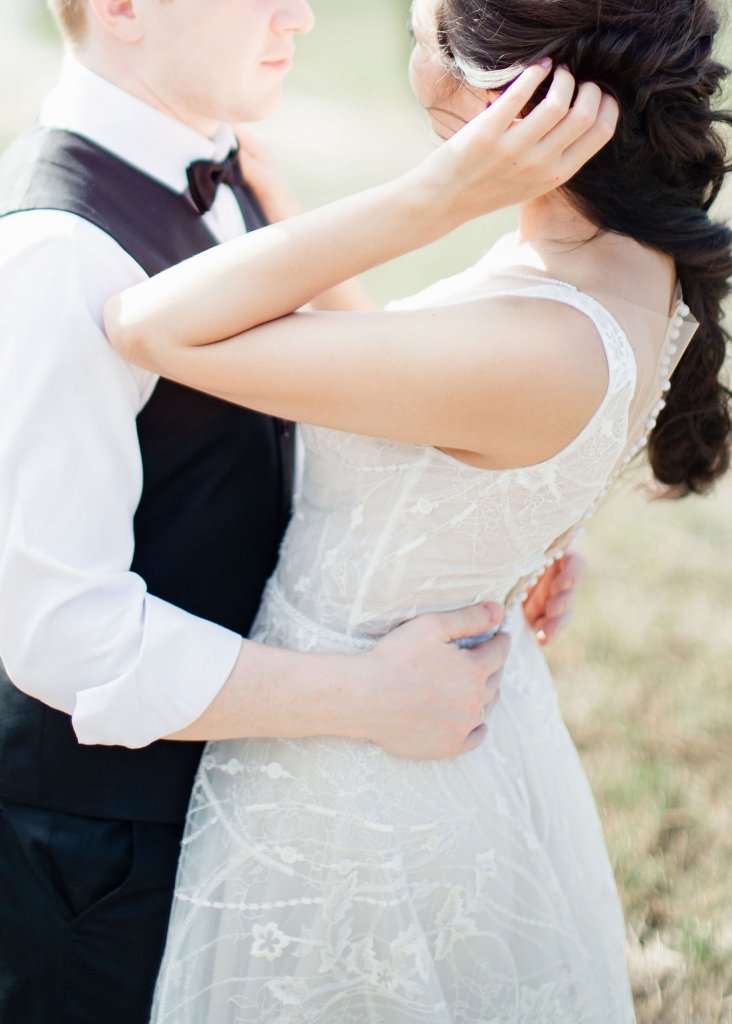 Thank you Irina Odoardi for sharing this San Galgano Abbey wedding elopement with us, and congratulations to Gulnara and Edgar.