Colorful Fall Elopement in Burlington, Vermont
This Burlington, Vermont Elopement is the perfect reminder to live freely and love deeply. This couple, A.J and David, had the most colorful and spirited elopement we have seen.
Kat Carney, the photographer from Swell & Stone, tells us how surreal it was documenting the day for these two.
Thinking about eloping? Then this is the perfect inspiration you need. 
Want to skip the information? Then jump straight into the photos from this Burlington, Vermont Elopement.
Deciding to Elope
Many couples have different reasons to elope. Some may decide to elope because of money, and others may elope to have more time to focus on each other.
Fo A.J and David, they weren't interested in planning a big wedding.
"We had both been married before, and neither of us was interested in the big production of a wedding. We really wanted something intimate and just for the two of us. Looking back, it was absolutely the right decision. [A.J]
Instead of worrying about who they were going to invite, or what traditions they were going to include, these two decided to do their own thing.
We love how, when, and where they decided to plan their elopement.
Why Vermont?
A.J tells us they got engaged after their Yosemite trip together and then fell in love with the idea of visiting other national parks.
These two explored Vermont together on their elopement, including Warren and Stowe. This Burlington, Vermont elopement was simple and filled with gorgeous colors from the Fall weather.
Fall is an amazing time of year to elope because the changing colors give so much life to your elopement portraits.
This couple took it a step further by incorporating more color from A.J's gorgeous two dresses and bouquet.
"Vermont came about after talking with our photographer. David and I love color, and we both wanted a woodsy vibe. Kat suggested Vermont or New York after I said I consider myself a wood sprite, which is a seed of the Tree of Souls that lives on Pandora. These seeds, according to the Na'vi, are very pure and sacred spirits.

We choose Vermont because neither of us had been before, and it sounded like an adventure! I am so glad we did pick Vermont, it was spectacular." [AJ]

Details From this Elopement
Their Fall elopement in gorgeous Burlington, Vermont looks like it was straight out of a fairytale book. We believe this couple completely achieved their elopement vision.
"Not only did they say their vows at Warren Falls, but they explored Texas Falls Recreation Area, drove to the top of Mt. Mansfield, and hiked a little way further to the actual summit in the wind.

They stayed out after sunset because they wanted to see the stars over Lake Champlain and watch the moonrise. They really made the most of their day and absolutely lived it to the fullest." [Kat, The Photographer]
Our team loves the details this couple made sure to incorporate their love for color.
Their mini wedding cake had colorful sprinkles, A.J decided to have two wedding dresses. Her second gown was a rainbow wedding dress by Watters, and we are living for it!
This is a beautiful elopement story to inspire you to embrace who you both are as a couple on your elopement day.
If you don't want to wear white, then wear a color you love. If you love doing something together or share a common love for something, then incorporate it into your day!
Are you not sure where you want to elope? Check out our best places to elope.
Other Vendors Involved
Photos From This Burlington, Vermont Elopement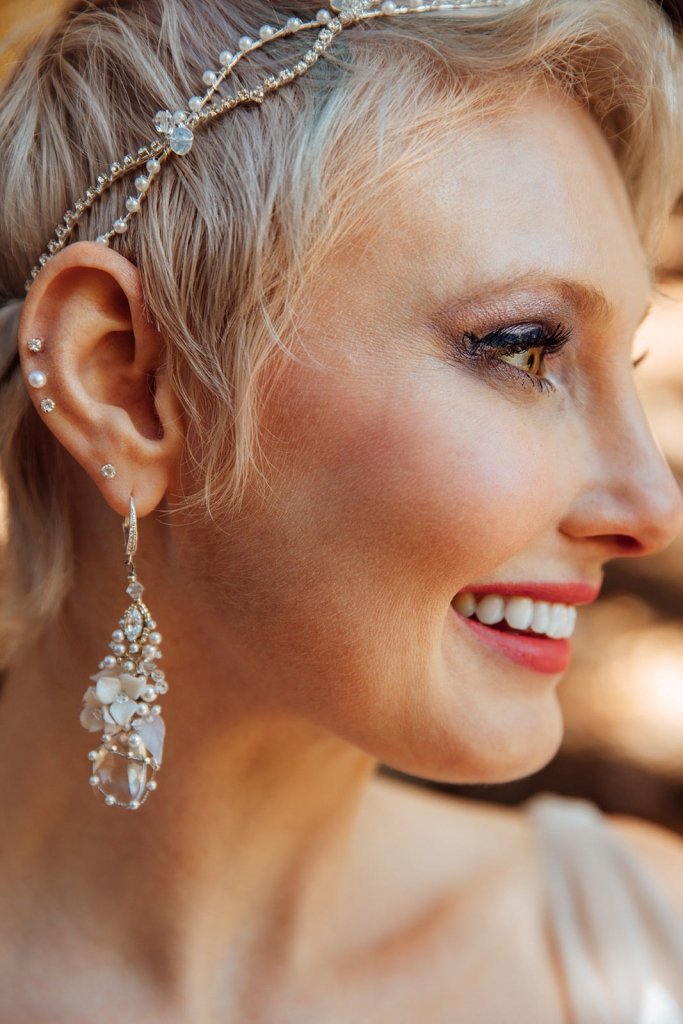 Thank you Swell & Stone for sharing this colorful and magical Burlington, Vermont elopement with our team! Also, congrats to this gorgeous couple.
Looking for the perfect vendors for your wedding?
Search our Wandering Weddings members HERE!