Romantic Cliffside Bali Elopement for Two
Catherine, a Bali elopement planner at WedBali, gives us the inside scoop on Anna and Anton's romantic and intimate wedding day on Bali's cliffside.For couples who are planning a Bali elopement for just the two of them, this is a great elopement story to get inspired. Get all the advice from this Bali elopement planner and couple.
Want to Skip the Information? Then Jump Straight to the Photos of This Bali Elopement.
Planning a Bali Elopement for Two
Elopements are intimate, romantic, and so special when you both decide to travel to one of the best places to elope and say your I dos. For Anna and Anton, they always knew their wedding day would be by the ocean, palm trees, and sun.
"I wanted privacy and romance to feel every moment. That's how we ended up in Bali. Just the two of us and the ocean, no noise, no guests, no fuss." [Anna, the Bride]
If you're planning a Bali elopement for two, then spending time together in a romantic setting, like Bidadari Private Villas & Retreat, is essential. It was there where Anna and Anton stayed for 4 days, basking in the romantic setting and cuddling up together.
Deciding the Perfect Place for Ceremony and Wedding Portraits
The wedding ceremony took place on one of Bali's beautiful cliffsides. This provided the couple with a gorgeous view of the ocean. For their wedding portraits, these two enjoyed the view up-close of the ocean. The black sand looked amazing against Anna's wedding gown. 
The couple planned their elopement in about 4 months, which is about the time it takes to plan your elopement. During this time, they organized their trip and put their elopement vendors together. Their photographer stayed by their side for about 12 hours to document their day together. We love being able to relive their elopement through Oleg's photography.
Anna tells us she is so happy she entrusted her elopement planning to professionals like their Bali elopement planner and photographer. They were able to fully enjoy their day without worrying about virtually anything.
"In Bali, you can realize all your dreams, even the most unrealistic. Entrust all the details to professionals." [Anna, The Bride]
Details From This Elopement
We are obsessing over the details photographer, Oleg Breslavtsev, captured during this elopement. Anna's gorgeous wedding dress is a dream. She tells us she wanted something light, airy, elegant, and definitely not white. We love this, and this fits perfectly with our ideal elopement dress. 
When your wedding dress shopping, while planning your elopement, you should consider how you want to feel during your wedding day.
For the groom, the couple also considered the climate and weather conditions of Bali, which is great planning. His wedding attire was perfect for their ceremony and hot weather. 
Top Tips From a Bali Elopement Planner
Do not postpone your booking until the last minute. There are almost no free dates at locations closer to the event. Usually, for August – September the schedule is filled six months or a year in advance.
Always take comfortable shoes. This is necessary because all locations are natural. You can change your shoes on the spot.
Consider a multi-day elopement. If you want to shoot in different locations in Bali, we advise you to divide the shooting day with the photographer for two days, because the day is very hot and the light is direct. She also mentions a lot of beautiful locations in Bali are sometimes far from each other, and you can lose time in traffic. 
Consider the weather and environment when wedding shopping. When planning your wedding outfits, focus on the nature of Bali. Bali is hot and very tropical.  
Always facetime or get together with your photographer before your wedding. We agree 100% with this advice because it's important to be comfortable and form a connection with the person who is documenting your special day. 
Splurge on a romantic hotel. The villa these two stayed in is a perfect example of a gorgeous way to not only get beautiful getting ready portraits but to also enjoy time with each other. 
Why Should You Elope in Bali
Bali is stunning, and Catherine tells us there are so many unique locations to appreciate on the island. She mentions how there are gorgeous waterfalls, cliffs, beaches with yellow and black sand, a volcano, fields with dried flowers, lakes… the options are endless!
She also tells us how planning an elopement in Bali for just the two of you can also transition easily into a honeymoon. We love it when couples elope where they can also celebrate their honeymoon. Imagine saying I do and transitioning straight into a couple of days of adventure and vacation together.
Catherine, at WedBali, also tells us eloping in Bali is wonderful when you get a Bali elopement package to help plan your wedding day. WedBali specializes in elopements and weddings with guests in the villas.
"Our packages for elopements include decoration, flowers, bouquet, floral accessories for hair if needed, transfer for the day, priest, makeup and hair, rent of the venue, champagne and more. Photographers are not included in our packages because every couple likes a different style of photo. We do, however, suggest a list of photographers who we often work with. We also offer several locations for elopements to choose from including waterfalls, lakes, beaches, and cliffs." [Catherine]
Other Vendors:
Elopement Planning, Flowers, and Decor | WedBali
Photographer | Oleg Breslavtsev
Wedding dress | RARA AVIS GROUP
Accommodation | Bidadari Private Villas & Retreat
Photos of This Bali Elopement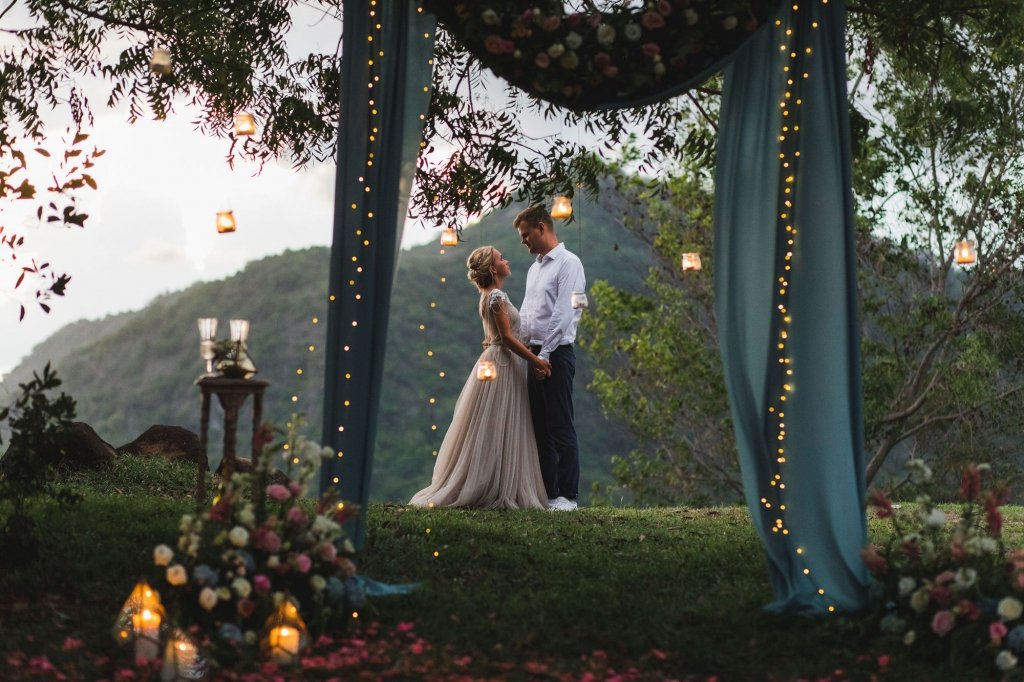 For more elopement stories, check out our blog filled with resources and real elopements.
Are you thinking about eloping somewhere else? Check out our elopement packages for more planning inspiration.