10 Year Vow Renewal at Maroon Bells in Colorado
Ashtyn and Tony planned a trip to Japan for their 10 year anniversary, but their plans got canceled due to Covid-19. Instead of waiting, these two planned an emotional 10-year vow renewal in Colorado to reflect on their relationship together with their daughter.
"Tony and I celebrated 10 years of marriage together. We were just a couple of kids in love then, with no idea of what the future would hold. All we knew was that we LOVED each other and knew that would be enough. And it was.

10 years of adventure, challenges, deep grief and sorrow with the loss of our two babies in heaven, and deep joy with the welcoming of our rainbow baby on earth, that love has endured all things. " [Ashtyn]
Are you celebrating 10 years together soon? Are you thinking about planning a vow renewal together? Follow along to see how Ashtyn and Tony planned their special day.
If you want to skip the details, then jump to the photos from this 10 year vow renewal in Colorado.
Planning a Vow Renewal
When you're trying to plan your vow renewal, you should think about where and when you're going to renew your vows, what you'll wear, what type of ceremony you'll have… Finally, you'll need to find a photographer and other vendors to make your vision come to life.
Luckily for you, planning a vow renewal is a lot like planning an elopement. So a lot of our elopement resources are also perfect for couples planning their vow renewal together.
Keeping your vow renewal simple will allow you to focus on each other. Ashtyn tells us she only planned for her location, photographer, and flowers.
"When choosing a location, many couples may be drawn to very popular destinations, but that doesn't always mean they'll have the best experience. Popular places are often crowded with tourists, so couples should prioritize finding a location where they will be able to have a truly intimate moment away from other visitors.

Although the Maroon Bells are very popular, we were able to create an intimate experience by going during sunrise when there aren't yet many people." [David, the photographer]
Not sure where to renew your vows? Check out our best places to elope for some ideas! 
David tells us another important step for planning vow renewals is to keep in mind to obtain the necessary permits and leaving no trace (LNT).
Many state parks will still require a special permit to hold your vow renewal ceremony, even if it's not a wedding ceremony. Wherever you decide to explore and hold your ceremony, just remember to be respectful of the fragile environment around you.
Favorite Moments During This 10 Year Vow Renewal
Ashtyn and Tony's vow renewal at Maroon Bells in Colorado was one to remember. They arrived right before the sun began to hit the mountain peaks in the background as they exchanged vows.
"Getting to say our vows outside in the most magical place was just so special. There is something about doing something so simple in such a beautiful way that allowed us to focus on our vows, reflect on our marriage, and soak in how far we have come. And of course, our daughter was able to be there, which just made the whole experience perfect." [Ashtyn]
Sunrise ceremonies are a magical time because the rest of the world is still very quiet and just waking up. It's also perfect when couples want to have their ceremony at a popular spot.
After exchanging vows and making new promises, Ashtyn and Tony shared a picnic together with their daughter Quinn.
Check out our tips for writing your wedding vows, which are also perfect for vow renewal ceremonies.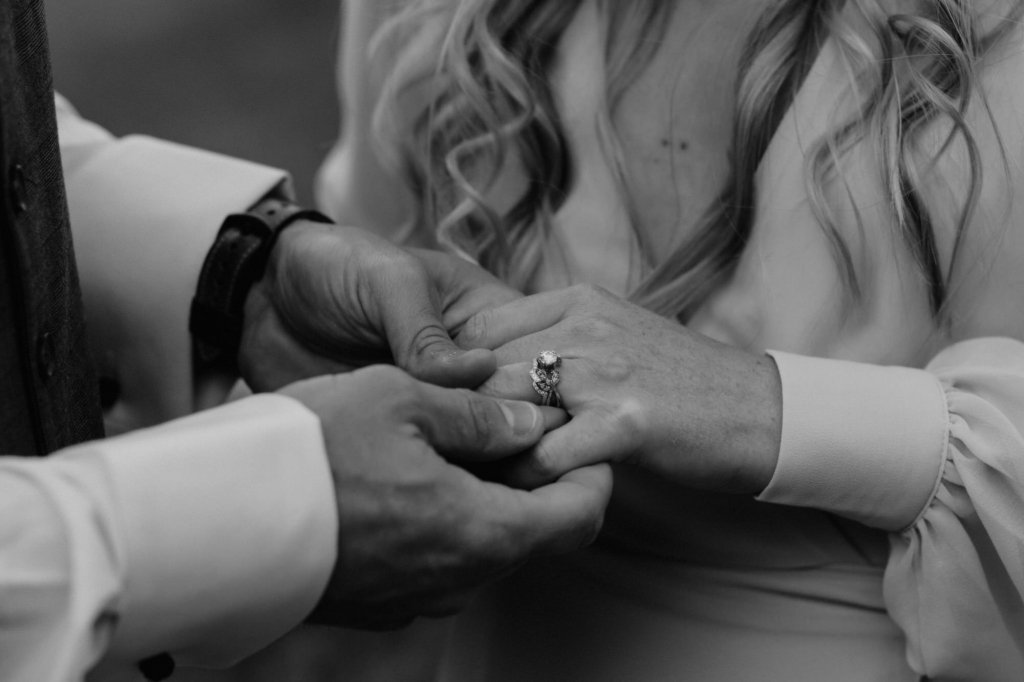 Should I Renew My Vows?
Just like elopements, it's important couples understand there are no real rules when it comes to vow renewals.
Contrary to what others may think, you can renew your vows whenever you two see fit. Ashtyn and Tony renewed their vows because they wanted to reflect on their relationship and growth as a family.
"There are many reasons why a couple might want to renew their vows, such as reaching important milestones, overcoming difficult obstacles in their relationship, or celebrating exciting changes and opportunities in their future together.

My advice for couples who would like to plan an adventurous vow renewal is to be intentional above all, and really focus on the significance of this renewed promise." [David]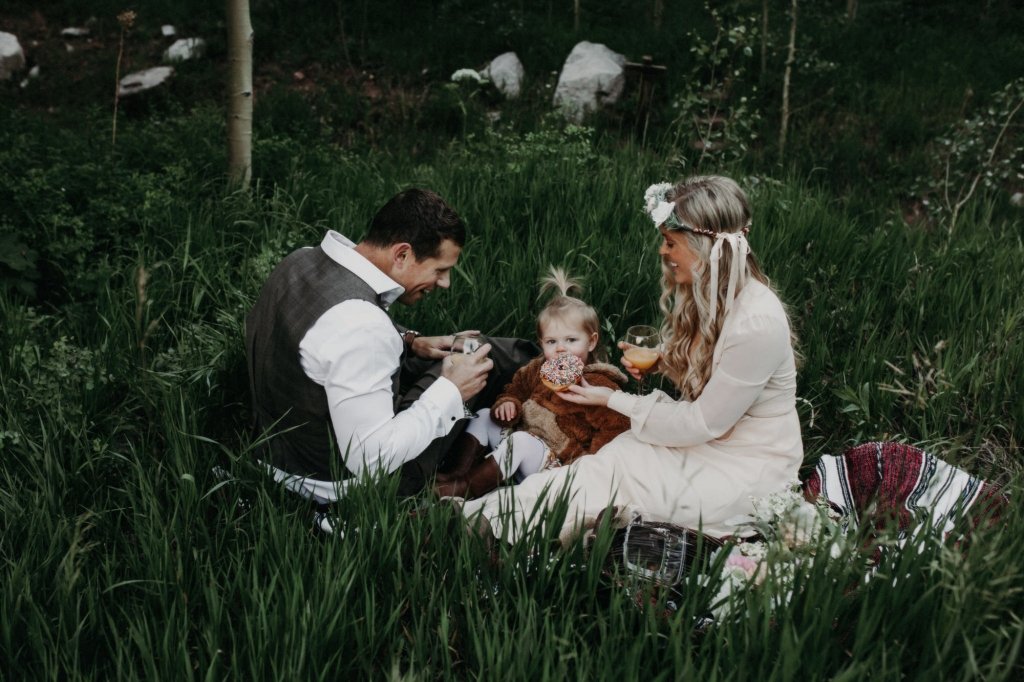 10 Year Vow Renewal Ceremony Ideas
Renewing your vows is also a great opportunity to create a unique adventurous experience, much like elopements. If you're loving the elopement feel, then you should consider planning a vow renewal.
David also mentions couples can incorporate different ceremonies during their vow renewal such as handfasting, ring exchanges, and sand pouring.
For this Colorado Vow Renewal, Tony decided to gift Ashtyn with a new ring to signify his renewed promise.
"Another way couples can personalize their vow renewal is by doing activities they love. People who love the outdoors may choose to go on a longer hike and exchange vows on a mountain top. While others may choose to spend a more relaxed day on a lake or beach." [David]
Are you ready to start planning your vow renewal? Let us know how many years you'll be celebrating in the comments below!
Vendors:
Photography | Silk & Thorn
Florals | Carolyn's Flowers of Aspen
Looking for more inspiration? Check out these vow renewal ideas. 
Photos From This 10 Year Vow Renewal in Colorado