Bald Rock Adventure Wedding at Cheaha State Park in Delta, Alabama
Photographer Dakota Argo had just returned from a getaway to Cheaha State Park, when she received a message from a couple looking to tie the knot at that very location! A recent hurricane had forced Lauren and Gavyn to abandon their European elopement plans and relocate to Alabama, where they decided to hold an adventure wedding. When they stumbled upon Bald Rock and its incredible views, the couple knew it was the perfect location for their nuptials. Less than two weeks later, they were ready to say "I do!"
The bride took DIY to the next level, even collecting leaves and using a hole puncher to create eco-friendly confetti. Their intimate ceremony was an absolute dream, and they celebrated their marriage with the ultimate adventure session. "When we cut the corner of the trail and Lauren and Gavyn saw each other for the first time, everyone started crying. We were all wrecked," Dakota shares. "I am so thankful for these two people [and] their spontaneous hearts… We literally shot until it was dark and couldn't feel our fingers anymore. It was 1000% worth the wind and cold to capture those painted skies."
"I know that eloping isn't for everyone, but I always encourage my couples to do what they think is right for them," she adds. "Maybe that looks like having three guests or 300 guests. Maybe you need less than a week to plan your wedding or maybe you need more than a year… Whatever that looks like for you, do it… It's super easy to get caught up in stuff… and miss the whole point of why you are tying the knot in the first place… At the end of the day, what matters the most is that you are married to the person you love…"
We couldn't agree more!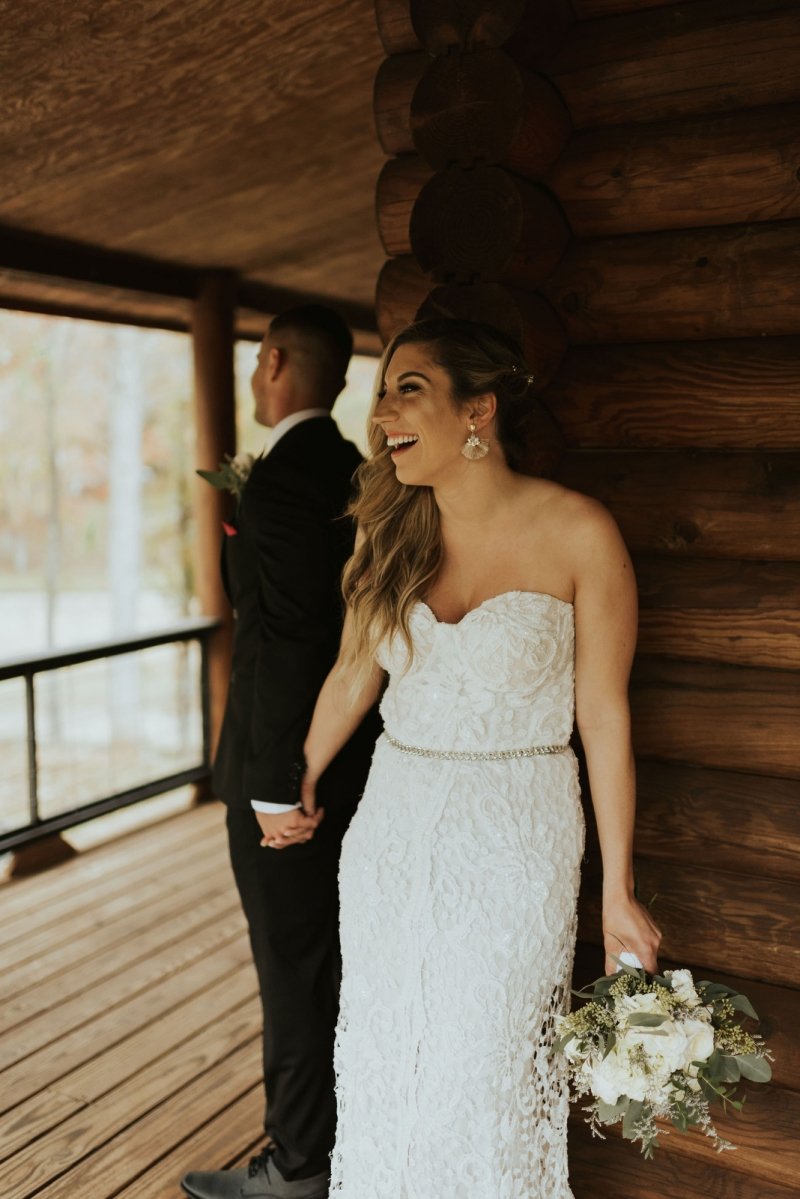 CHOOSING AN ADVENTURE WEDDING:
"Originally we thought we wanted a formal wedding, but when we started looking around at prices, everything was a lot more expensive than we were willing to spend on one day of our lives. So our next plan was to elope in Europe and have our families meet us for a celebration afterwards. That plan fell through after Hurricane Michael hit where we lived in Panama City, Florida, and being military members, we knew there was a chance we would be separated. We had been engaged for just shy of a year, and we knew the most important thing to us was being together. We decided to plan an intimate adventure wedding so we could have the best of both worlds. Our family would be able to be there for the most important day of our lives, and it wasn't going to cost a fortune."

[Lauren, The Bride]
CHOOSING A WEDDING LOCATION:
"We chose our location after trying to find somewhere with a beautiful view in Alabama where we were displaced to. After doing some research, we came across the highest point in Alabama called Bald Rock, and I found some pictures of people on the side of a cliff there. I thought to myself, 'Wow, how cool would it be to get married on the side of a cliff with an amazing view?!' We went to look at it and fell in love."

[Lauren]
PLANNING AN ADVENTURE WEDDING:
"The planning process actually turned out to be a lot easier than I imagined it being. We planned the wedding in about a week and a half. I found my dress on the sale rack at a local boutique… After that, I was desperate to find a good photographer, which I thought was going to be impossible so [last minute], but I found Dakota on Instagram… My next challenge was trying to figure out who was going to marry us. I decided to ask my best friend if she would do it… and we had her ordained within an hour! After that everything just kept coming together. A family friend offered to make our amazing cakes for us, a local florist made my bouquet and my husband's boutonniere… we found the most perfect place that held our families for the weekend. It was such a fun and relaxing weekend…"

[Lauren]
THE ADVENTURE WEDDING EXPERIENCE:
"Our favorite part of the experience was honestly just getting to marry each other… It wasn't stressful at all, and I am so glad we had our family and friends there to make it that much more special. We both loved the view with the most amazing sunset we had ever seen, and I was able to make it through the whole thing without falling in my heels. Our advice to couples who are interested in an intimate wedding adventure would be to go for it! You don't have to have a lot of money to have the wedding of your dreams. Our day was more perfect than we could have ever imagined and cost us very little."

[Lauren]
Vendors:
Thank you to Wandering Weddings member Dakota Argo for sharing this session, and congratulations to Lauren & Gavyn!
Looking for the perfect vendors for your wedding?
Search our Wandering Weddings members
HERE
!