Our Favorite Wedding Accessories For Your Elopement Adventure
What accessories do brides need for their wedding day? Wedding accessories are perfect to personalize your special day and make it your own. There are plenty of accessory options, but for couples who elope, there are a ton of unique accessories to chose from.
The best way to decide which wedding accessories you will need is to think about your elopement location, season, personal style, and elopement activity you'll be doing. Since brides who elope don't have any rules they need to follow, they can be as creative as they want when it comes to their extra bridal gear.
What Wedding Accessories Do I Need?
We put together 10 wedding accessories that every adventurous bride needs to include on their special day. These accessories are also perfect for your something new, something blue, something borrowed accessory. Feel free to jump to the accessories you would like to browse. We even included a few links to shop our favorites!
*This post contains affiliate links. You will not be charged extra, but we do earn a small commission if you use these links to make a purchase. 
1. Veils
Wearing a veil during an elopement can be a major statement piece. There are tons of veil options for you to decide pick from chapel veils to fingertip veils. We personally love veils because they create fun portrait opportunities while surrounded by nature. We are huge fans of the effect cathedral veils have in pictures.
One thing you want to keep in mind is where you're eloping. If you're eloping somewhere extremely windy, then be careful to pin your veil down securely to your hair, or else your veil will fly away. Also, be careful with longer veils on your adventure. We recommend carrying your veil during your hike or putting on your veil right before your ceremony together to avoid your veil getting stuck on anything.
Shop our favorite veils:
BHLDN: Amsale Noni Cathedral Veil

Elegantly edged in rose applique, this gossamer tulle veil offers timeless drama with a flowing cathedral silhouette.
Price: $395.00
BHLDN: A.B. Ellie Roesia Pearl Fingertip Veil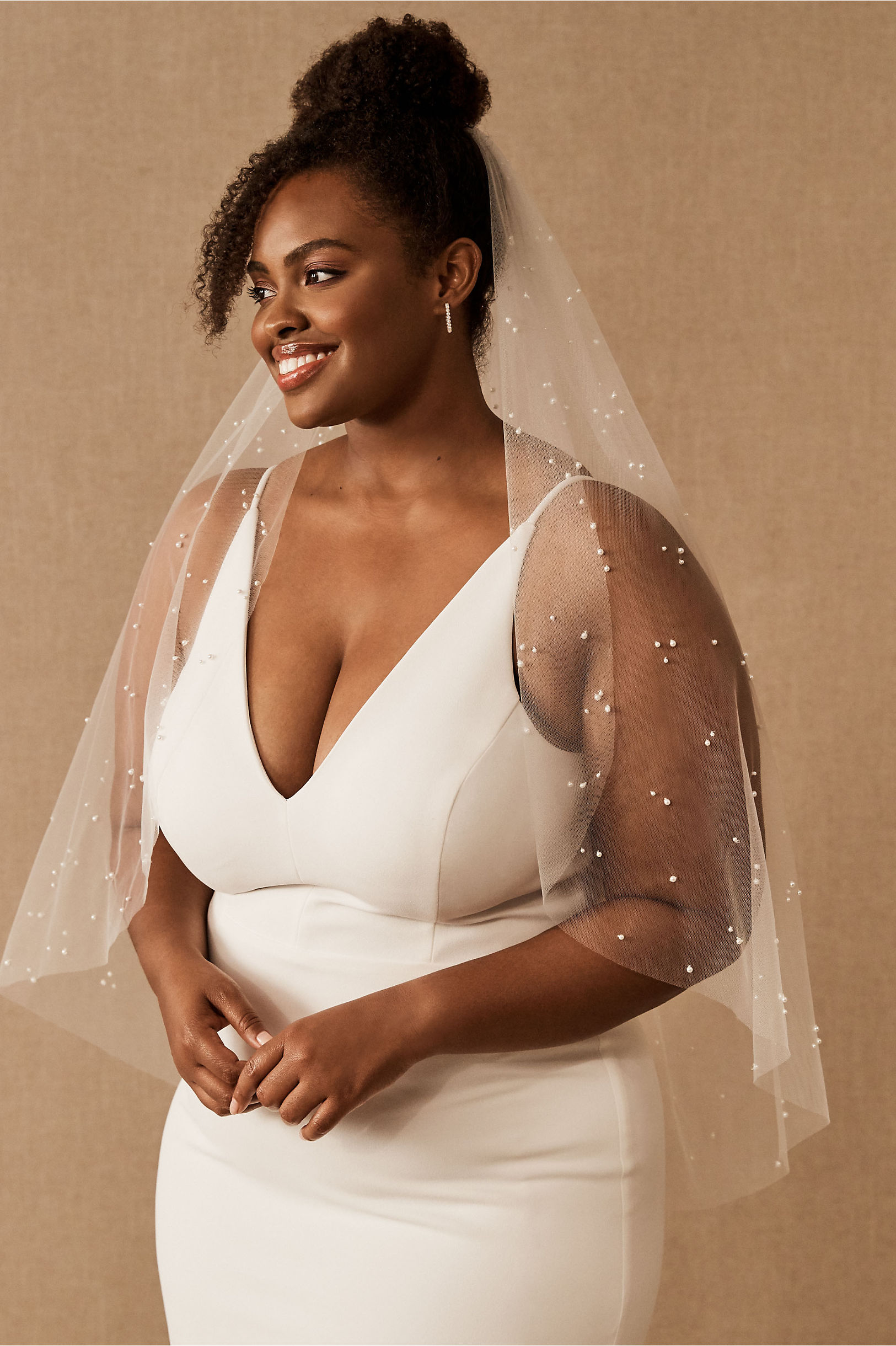 Strewn with pearls, this handmade fingertip veil adds a special touch to your bridal ensemble.
Price: $298.00
BHLDN: Carelle Chapel Veil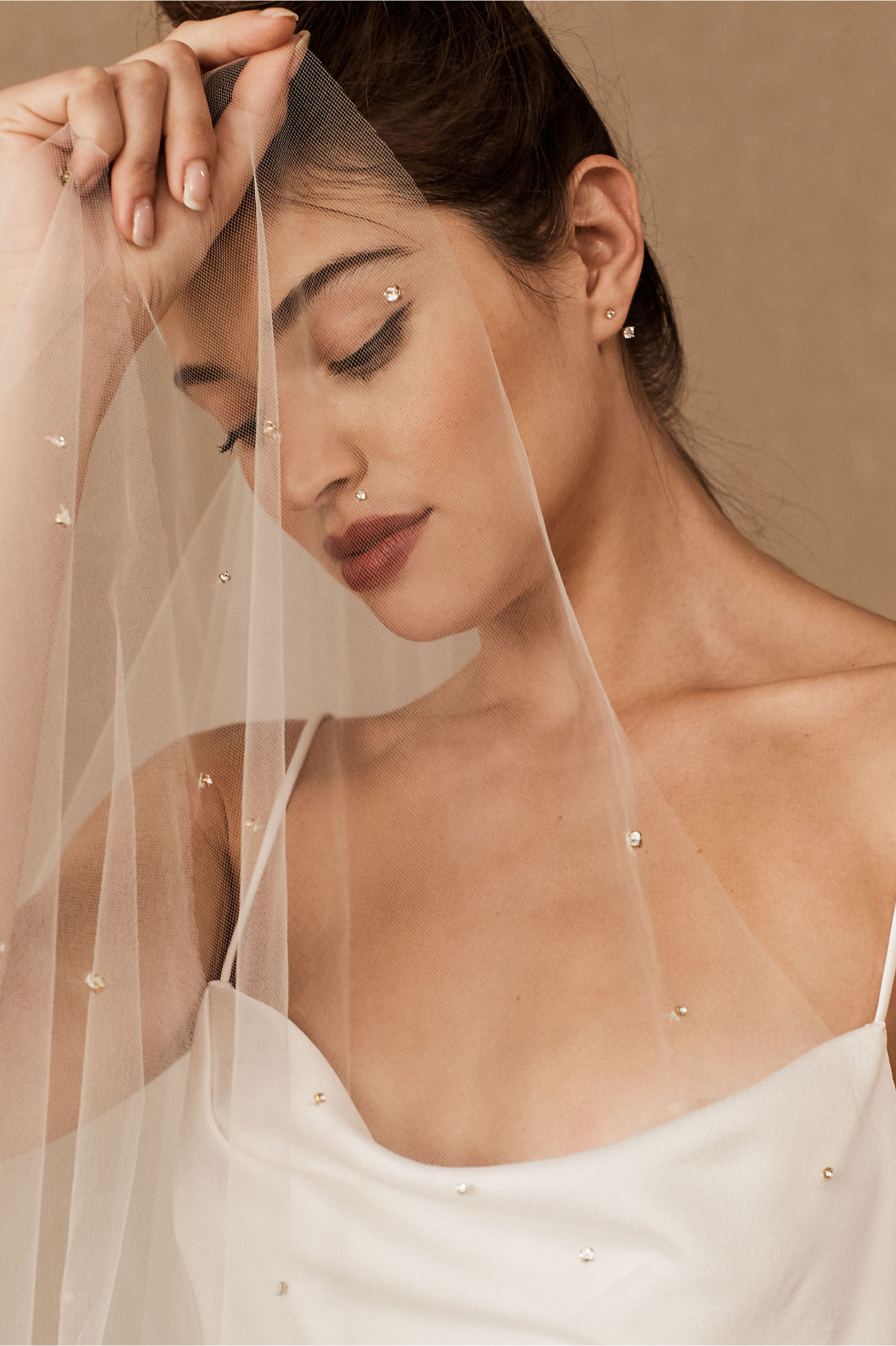 This sweeping chapel-length veil is dotted with crystals to ensure a subtle sparkle with every step.
Price: $290.00
Etsy – Beaded Wedding Veil
This wedding veil is crafted with a single layer of soft tulle with a delicate edge of genuine crystal beads & gemstones as well as silver seed beads. This veil comes in ivory or white and is available in multiple lengths.
$89+
Etsy- Floral Wedding Veil
This is a beautiful wedding veil with lace appliques on the edge. The veil comes in light ivory and is also available in multiple lengths.
$55+
If you are writing down what wedding accessories you should look for, then you may want to include some hiking gear! Backpacks are a must for adventurous elopements such as mountain elopements! We love how this bride packed her bouquet in her bag, so she can enjoy her elopement adventure!
Here's why you need a backpack for your elopement:
To carry emergency supplies
Pack up some delicious snacks and water for your adventure
Neatly store away your elopement dress for your ceremony
Pack your bridal bouquet to the outside of your backpack
Hang an epic elopement announcement sign off of it
If you are going to wear a simple wedding gown because you want to have more mobility during your wedding day, then you should look into some beautiful statement pieces such as earrings or a necklace. This bride, for example, wore golden earrings with her flowy gown during her Seaside California Elopement.
Shop our favorite statement pieces, perfect for your elopement:
BHLDN: Wolfe Back Necklace

We love the idea of taking something classic and giving it a modern twist, hence this exquisite back necklace. Dotted with baroque pearls, this necklace is perfect to drape for a showstopping back detail.
Price: $68.88
BHLDN: Jaye Chandelier Earrings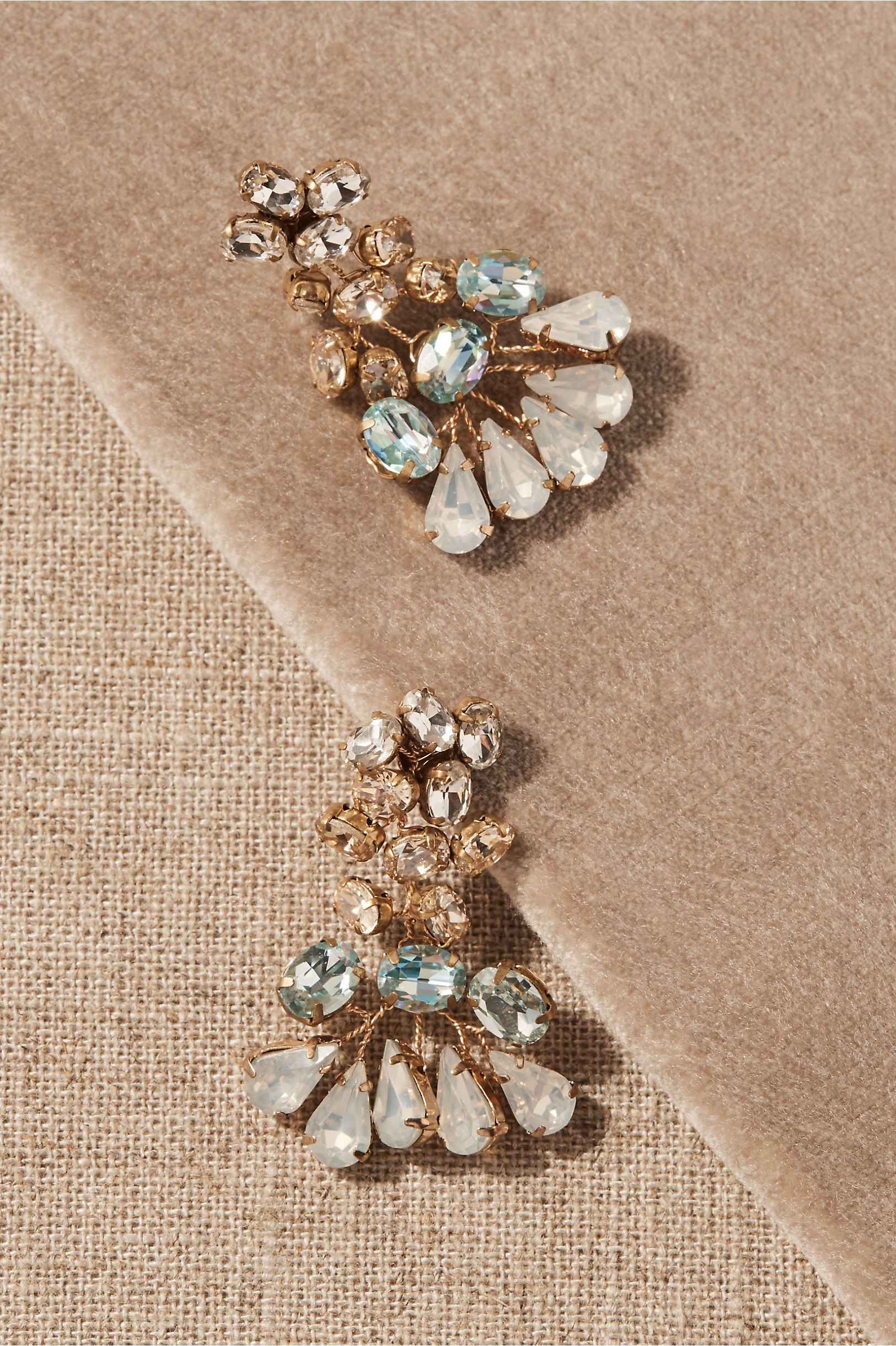 Pop on this colorful pair for a bold splash of sparkle.
Price: $78.00
Buyn Now
BHLDN: The Pink Reef Rosabelle Earrings
Pearly centers add a touch of shimmer to these two-tiered floral chandeliers.
Price: $148.00
9. Fur Coats and Shawls
Is your wedding day during winter? If so, then your ultimate go-to wedding accessory should be a fur coat, shawl, or blanket. Winter weddings are gorgeous, but we highly suggest bringing something warm to cuddle with your honey. Our 18 Winter Wedding Photo Ideas for This Holiday Season covers more accessory ideas for winter brides.
Fur coats and shawls are the perfect bridal accessory for cooler seasons.
Shop our favorites fur coats and shawls for your wedding day:
BHLDN: Bubish Berlin Bolero

Pop this feathery topper over your gown for a cold-weather ceremony or whimsical reception look.
Price: $399
Buy Now
BHLDN: BHLDN Maxime Faux Fur Wrap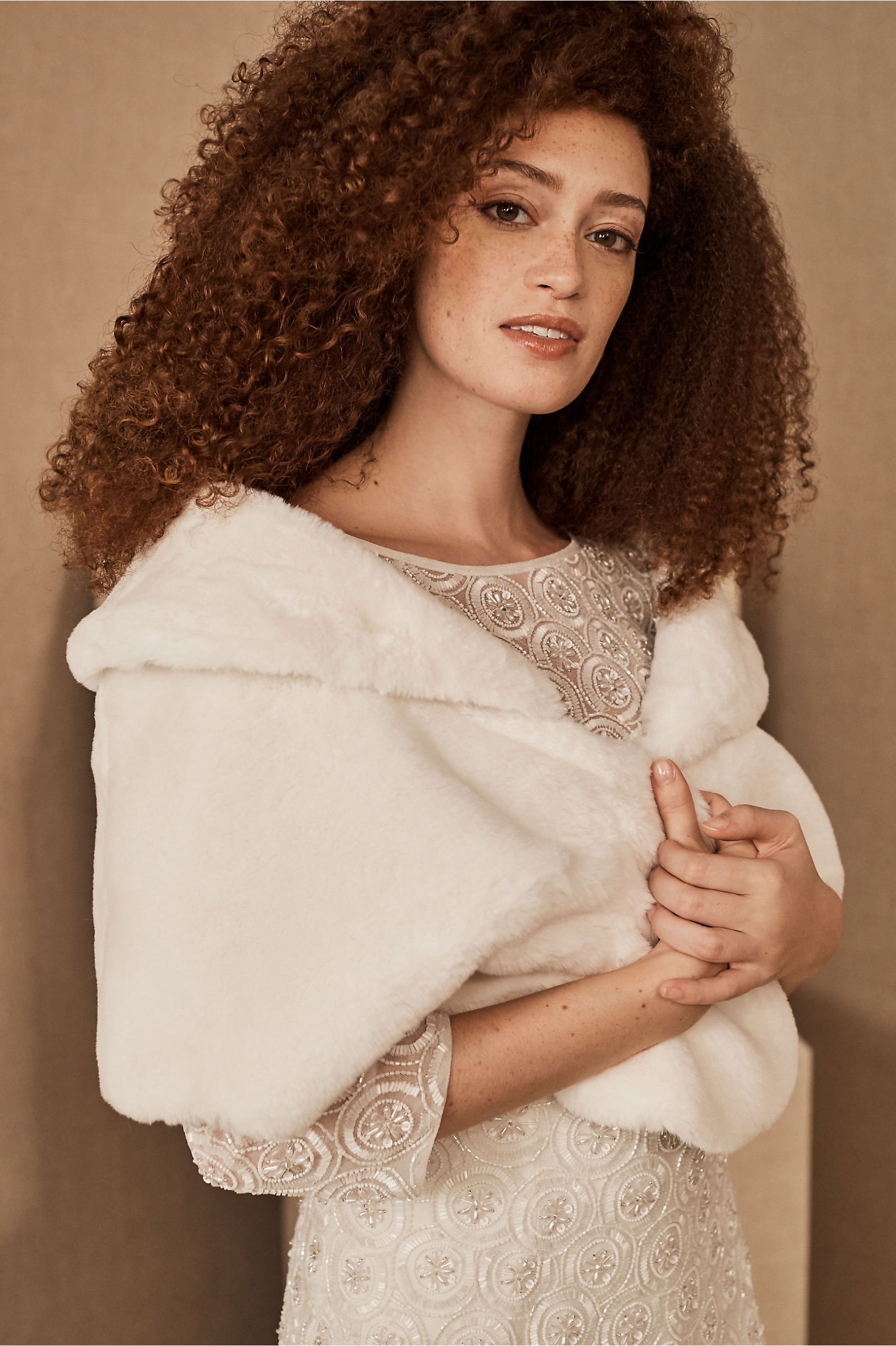 Slip-on this soft faux fur wrap for a stylish (and warm!) finishing touch.
Price: $98.00
Buy Now
BHLDN: BHLDN Nadia Wrap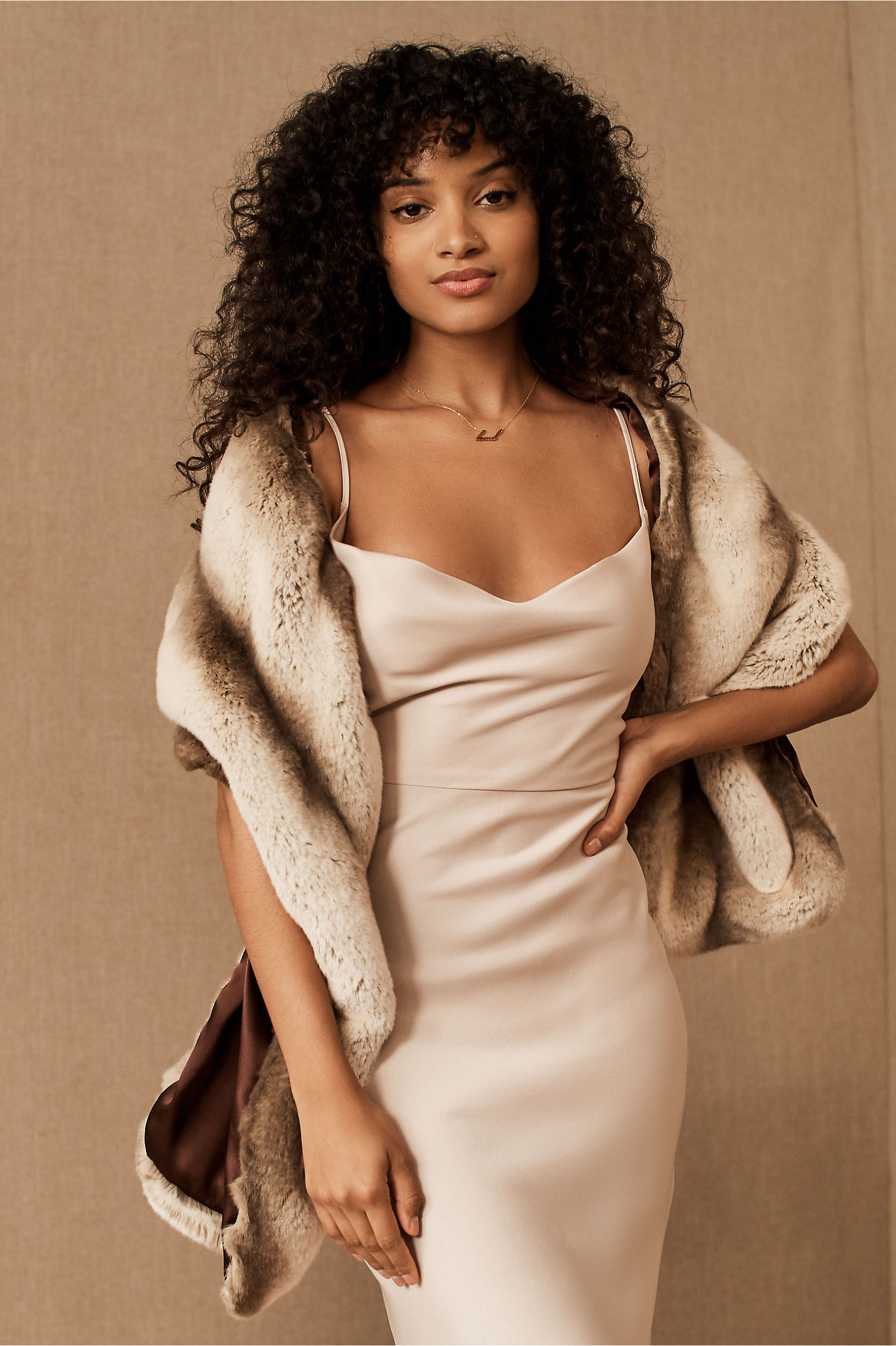 This luxuriously soft faux fur wrap is the perfect finish for any cold-weather ensemble.
Price: $198.00
Buy Now
10. Bridal Jackets
If you want to make a statement, then a bridal jacket is your number one best bet. We are obsessed with leather and jean jackets that have a bride's new last name! Bridal jackets are also unique and allow your personality to show.
Shop our favorite bridal jackets:
BHLDN: Amanda Judge Posy Denim Jacket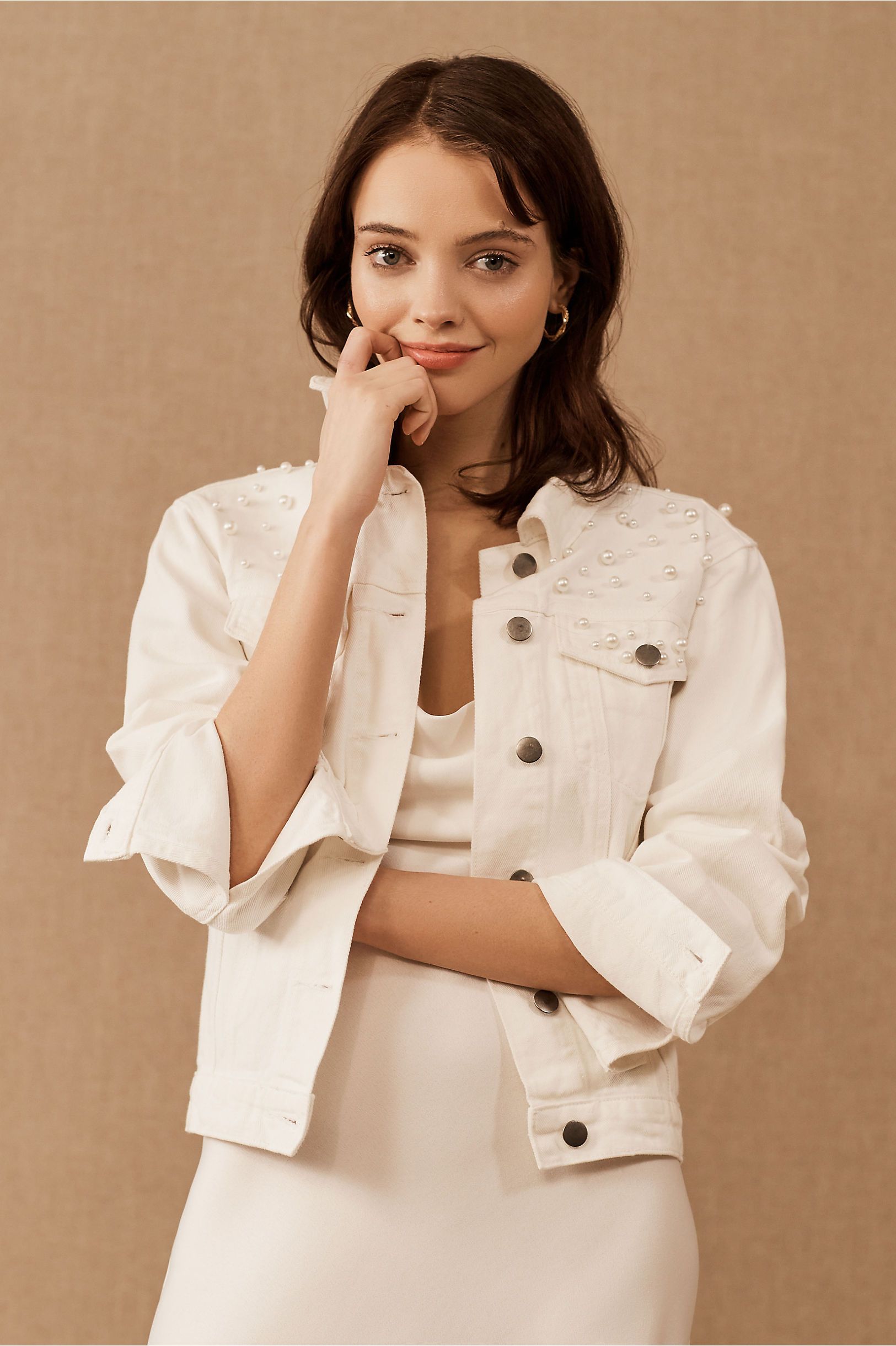 A uniquely bridal twist on a casual wardrobe staple, this white denim jacket is scattered with pearly accents. Wear it with a mini dress for the perfect bachelorette look, or layer it over your gown for a playful wedding day accent piece.
Price: $178
These elopement wedding accessories are great options to keep in mind when planning your elopement day.
Your wedding day should be all about you, so it is only fitting that we created this blog specifically for our brides who love adventure.
Are you ready to start planning your elopement? You should also check out our other Elopement Planning Resources to help you along your journey.