Texas Elopement Packages
Texas is a gorgeous location to elope to! Since Texas is not the first destination most couples think of when planning their elopement, it actually makes it one of the most ideal spots to plan your wedding day! But where do you elope in Texas? This comprehensive list of locations, vendors, and tips is the perfect resource when planning your elopement in Texas. From permit questions to location ideas, we got you covered.
Are you recently engaged? Do you want to elope somewhere laidback and beautiful? Then you came to the right place to build your Texas Elopement Package. 
*While we don't offer bundled elopement packages in Texas, we do provide you with all of the information and resources you will need to create your perfect elopement package. Our Wandering Weddings members are also amazing vendors to ask questions. These members have plenty of experience curating awesome elopement experiences for couples. 
This is a long resource packed with awesome tips and inspiration. Use the links below to jump right to the section you'd like to check out.
Vendors For Your Texas Elopement Package
When putting together your Texas elopement package, you want to consider your overall elopement budget. Elopements have a pretty big range when it comes to an average price because it all depends on what vendors you decide to include on your wedding day. Please note that you are not required to include every vendor type in your package.
Are you ready to start planning your Texas elopement?
Check out our vendor categories to consider when thinking about your elopement package:
Photographers
These vendors are where most of your elopement budget will be going towards, but for good reason. On average, our photographers will charge $2,500-$6,000 per elopement. This depends on how many hours of coverage (half-day versus full-day) a couple is looking for their Texas elopement package.
Featured Texas Photographers
Videographers
Like elopement photographers, videographers are going to be a great investment for your elopement day to document your adventures together. On average, our videographers will charge $2,500-$6,000 per elopement. Keep in mind, this depends on how long you want your elopement footage to be. For example, a full-day video coverage would cost more versus covering just your elopement ceremony.
Officiants
On average, our officiant members will charge $500-$800 per elopement. Officiants are great to orchestrate your favorite traditions and wedding vows. It's also important to note that some other vendors are also officiants, so we recommend always asking.
Elopement Planners
You don't necessarily always need a wedding planner for your elopement adventure, but having a planner does help if couples have a very clear elopement vision. The average price for our planner members is $1,000-$3,000. Planners are also great for couples who don't want to DIY or worry about anything, or couples who live far from their elopement destination.
Florists
Since you're planning an elopement, you'll need less floral arrangement than your average traditional wedding in Texas. If you aren't down to DIY your own bridal bouquet, then a florist in Texas can average to $300 to $600.
Venues
Are you looking to elope in San Antonio, Austin, Houston, or Galveston? Even though there are plenty of public land options to consider eloping to in Texas, there are also some pretty neat private venues in Texas too. Our team loves private venues because they do offer you more privacy and flexibility when you two are going to elope. Private venues, on average, will charge $300 to $4,000, depending on the location.
Here are some Texas elopements we have featured: 
Texas Elopement Locations
So you're ready to start planning your elopement in Texas, but you aren't sure where you should exchange your vows with your husband or wife to be.  There are some gorgeous and diverse landscapes in Texas. You can find everything from mystic mountain views to serene beaches. We break down some of the best park locations to help you build your Texas elopement package.
Check out these locations we recommend in Texas.
Palo Duro Canyon State Park
If canyons are your thing, then Palo Duro Canyon State Park is your elopement destination. This state park is the second largest canyon in the country! There are also more than 30 miles to explore through hiking, biking, and walking the trails. 
Monahans Sandhills State Park
Can you believe there's a desert in Texas? We were shocked when we first heard too! Monahans Sandhills State Park has over 4,000 acres of sand dunes. The possibilities are endless when you are planning a desert elopement because of the vast open space. You can set up a glamping site with a romantic picnic or even go horseback riding. 
Garner State Park
This park is nestled in Hill Country area. Garner State Park is a wonderful option to include your closest family and friends in your intimate elopement. This park is well known for its hiking trails and gorgeous views. Camping is a great option during the spring and fall seasons, and we also recommend exploring some epic caves while you're there!
Guadalupe Mountains National Park
The four highest peaks are in Guadalupe Mountains National Park. If you and your honey are both explorers, then this park is probably the most ideal out of all the options. There are mountains, canyons, and dunes to explore. We also love it when couples fully commit and have a backpack theme elopement here.
Big Bend National Park
Probably the most popular destination for elopements is Big Bend National Park, and we 100% understand why. The views you will find here are beyond spectacular. This is one of the largest and remote national parks in the U.S. Since this park is so remote, the night sky looks absolutely amazing. You'll also have no problem finding a ceremony location with mountains, rivers, and canyons to explore.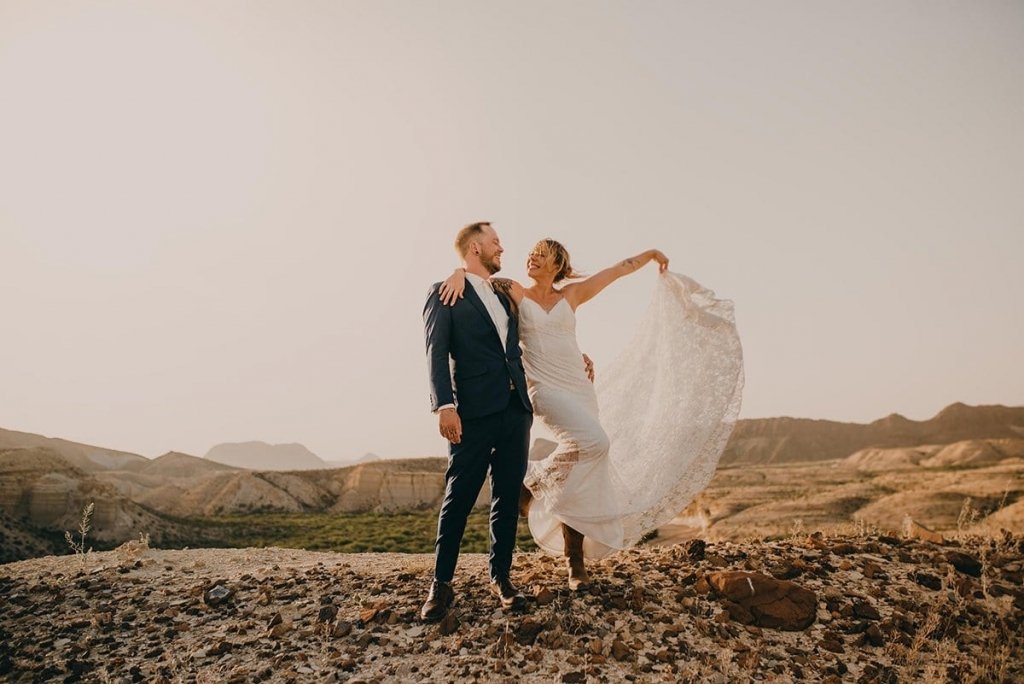 Rockport Beach
This beach needs to be on your Texas elopement package list because of how beautiful and secluded it is! This beach is also close to Galveston. Besides the obvious saltwater activities, the views at Rockport Beach are gorgeous for your elopement portraits.
McKinney Falls
Mckinney Falls is a wonderful option to consider when deciding where you are going to say your "I do's" There are plenty of campsites, and the water flowing over limestone ledges makes for a spectacular view.
Enchanted Rock
This pink granite mountain is a popular destination for your elopement. The scenery and rock formations here are out of this world. Enchanted Rock also has nearly 11 miles of hiking trails to explore!
Permits and Tips for Texas Elopements
If you are thinking about eloping in Texas, then you need to add permits, a photographer, and an officiant to your list of things to add to your Texas elopement package.
For those who didn't know, Texas law requires that your officiant is licensed. Another option you can consider is having a priest, ordained minister, or an ordained religious officer with the authority to conduct your ceremony.
Permits are also important because while many public places can be lenient, you need to make sure that local laws don't require a permit or fee. Working with an experienced elopement planner or photographer can definitely help you double-check these legal requirements. That is why we highly recommend partnering up with one of our members!
Top 5 Things to Remember When Planning an Elopement in Texas
The most popular season to elope in Texas is Fall.
Tornados are common in Spring and early Summer, with lots of rain!
It's warm year-round, except for their hot summers.
Remember to obtain permits and pay location fees (if applicable).
Have fun, and enjoy Texas' diverse landscapes!
Places to Stay in Texas
Getaway to Texas with these flexible cancellation vacation rentals from Vrbo!
Are you still not sure you want to elope in Texas? Check out our other elopement packages!