Taft Point Sunset Elopement in Yosemite, California
Despite a stormy forecast, this couple placed their faith in Mother Nature and planned for a Taft Point Sunset Elopement.
Darya and Mykyta were undeterred by a week of relentless rain, hopeful the weather would turn in time for their big day. They made plans with their photographer, Jenny Collen, and decided to move forward with their Taft Point nuptials. "When we drove up to the trailhead, it was completely beautiful and sunny and we didn't know what we [had been] worried about," Jenny says, "but after hiking a little over a mile, right when we got out to the point, we felt intense wind [and saw] clouds coming overhead. Right as [the couple was] changing into their wedding attire, it started pouring dawn rain!" Rain was soon followed by hail, thunder, and lighting, but even in the midst of a storm, the couple found a way to remain optimistic.
"We decided to wait it out for a little bit not knowing what would happen," Jenny shares. "Fortunately for us, about 30 minutes later it all stopped! It wasn't exactly sunny, but it cleared up enough and we knew we were still going to get [the] amazing sunset Darya was hoping for. These two were the best for rolling with the punches and making the best out of the situation even when nothing was going as planned. They had exactly the adventurous spirit you need to elope somewhere as epic as Taft Point!"
Interested in eloping in Yosemite? We break down all the details on how to have the perfecet Yosemite Elopement.
CHOOSING AN ELOPEMENT:
"We chose [an] elopement, because we wanted to have a very intimate ceremony. Our families live in Europe and they couldn't join us… Mykyta proposed to me in Yosemite on New Year's Eve, and this place has [so much] meaning to us… We chose Taft Point because of [its] breathtaking views and atmosphere of wilderness and peace."

[Darya, The Bride]
PLANNING AN ELOPEMENT:
"When we decided on a place and a date, we applied for a wedding permit in Yosemite. Then we found our photographer ,Jenny Collen, and officiant, Donny Alexander. We booked a house close to Yosemite and then was the hardest part – [finding] a dress. I had only a few months so this process was quite stressful and overwhelming… Hair, makeup, and the bouquet I did myself. The whole process wasn't so hard except the dress part, [because] I didn't know that in the U.S. you need to have at least [seven to eight] months and if you have less, your options are pretty limited."

[Darya]
THE ELOPEMENT EXPERIENCE:
"[Our] favorite part was the ceremony itself – it was beautiful and very intimate. We read vows to each other standing on the Yosemite cliffs and it was unforgettable."

[Darya]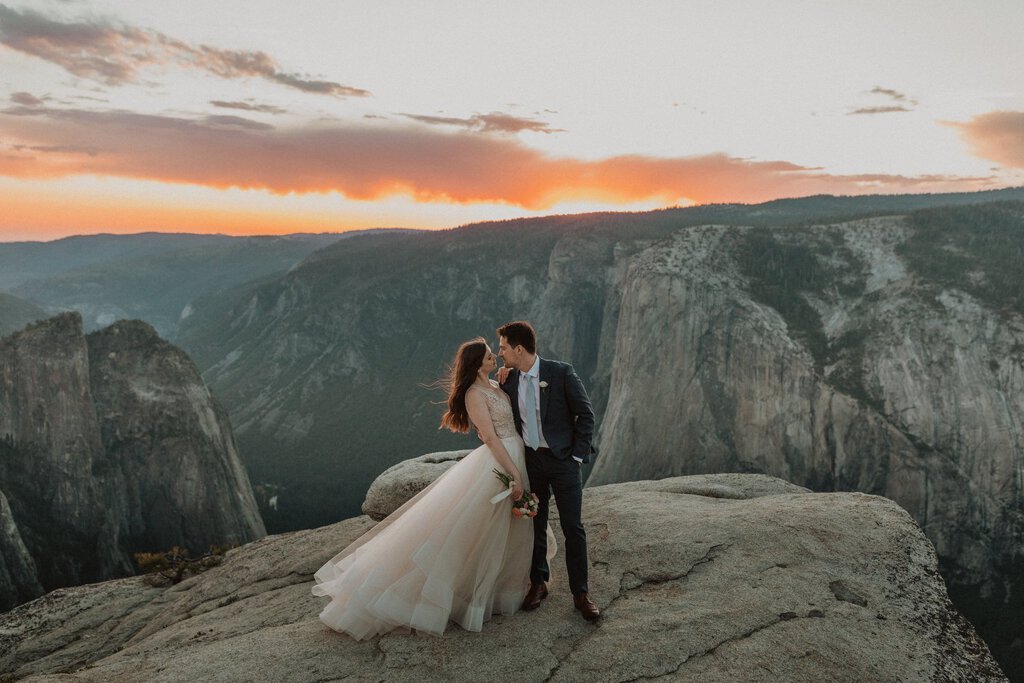 ADVICE FROM THE BRIDE:
"If you are planning to elope outdoors, be prepared that the weather might be unpredictable. It's impossible to know what the weather will be like in a few months. We [had] a thunderstorm with hail and it was shocking, because we were outdoors on the cliffs and didn't have any place to hide. So just keep it in mind if you want to elope in the mountains [that the] weather can change dramatically."

[Darya]
Thank you to Jenny Collen for sharing this session, and congratulations to Darya + Mykyta!