Sedona Sunrise Elopement at Cathedral Rock, Arizona
Cathedral Rock Elopement
Cathedral Rock is a unique rock formation found in Sedona Arizona. It is also one of the most photographed locations in Arizona. An adventurous Cathedral Rock elopement only seems fitting for such a beautiful location.
Photographer: More Van Anything
Session: Adventure Elopement
Location: Cathedral Rock in Sedona, Arizona
From the Photographer:
"These two were up for anything and truly immersed themselves in the landscape they chose to elope in. A sunrise hike never felt so good… Choosing to elope and feeling inspired by the Southwest is one thing, but to finally see the landscapes… with your best friend in front of you – that's the kind of experience, adventure, and memory you hope for."
CHOOSING AN ADVENTURE ELOPEMENT:
"We wanted to make [this] special day about us – just us. We never imagined ourselves having a traditional wedding for a number of reasons, [but] mainly because it didn't fit our personalities. We wanted to enjoy this day 100% to ourselves and not worry about anything else… Hiking the Cathedral Rock in Sedona was the perfect choice. We committed our lives to each other and enjoyed every second of our intimate moment."

[Camila, The Bride]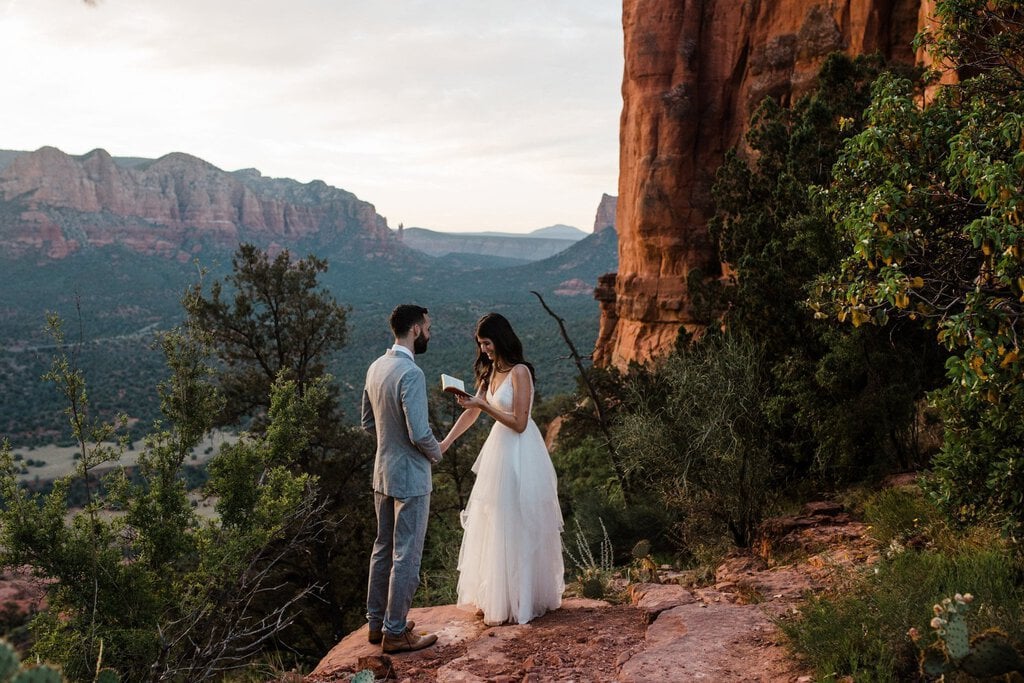 "They met us at the Cathedral Rock trailhead in the pitch black, ready to hike up to the top for sunrise… Headlamps and all, we made our way in the dark to the top…"
[Jaclyn Cage, Photographer]
CHOOSING AN ELOPEMENT LOCATION:
"We came across Sedona and fell in love with the red rocks immediately – it was the [magical] place we were looking for.  The photographers helped us pick out the right place to hike, and we can't thank them enough. We hiked up Cathedral Rock at [four in the morning] to catch the sunrise and being up there was a dream come true, not only for the amazing views, but it was incredibly peaceful and romantic."

[Camila]
"We found a perfect ledge to watch the sunrise as they exchanged their vows. Seeing the light unravel the beauty of Sedona during their ceremony was mesmerizing."
[Jaclyn Cage]
PLANNING AN ELOPEMENT:
"After making our decision to have an elopement, we started our hunt for awesome photographers. We came across the More Van Anything Instagram profile and… it instantly felt right to work with them! The planning process was incredibly easy. We first contacted them in November and planned the elopement for June.  Jaclyn and Ryan guided us through the whole process, giving us tips and helping us with everything we needed."

[Camila]
"They had only arrived the evening before, never having seen Cathedral Rock… We were so excited for them to see Sedona in all its glory for the first time from the [very] top…"
[Jaclyn Cage]
THE ELOPEMENT EXPERIENCE:
"Exchanging our vows with breathtaking views was unbelievable! We had a blast every minute of our day, from hiking for hours [to] getting changed behind some rocks [to] getting my dress stuck to some cacti while taking pictures… If you are looking to have an intimate moment and focus only on you two, this is the best option… You won't regret it,"

[Camila]
"Despite waking up at 4am for a hike, we opted to do another hike to Devil's Bridge… For all of us, it was more about hiking and exploring the landscape together."
[Jaclyn Cage]
ADVICE FROM THE BRIDE:
"An elopement gives couples a totally different experience than a traditional wedding… This is the perfect way to start your lives together as a married couple and exchange your vows in the most romantic and beautiful way. This day is meant to be special for you two, so make it unique!"

[Camila]
Thank you to Wandering Weddings Member Jaclyn Cage for sharing this session, and congratulations to Camila + Patrick!
Member Spotlight Page | More Van Anything