Santa Fe Elopement Hidden Within The Teepee Trees
Diane and Dave snuck away to the Santa Fe mountains to plan their elopement where they found the perfect location within several teepee trees.
This Santa Fe elopement is perfect for couples who want to incorporate wedding traditions into their elopement day, while still keeping things simple.
These two didn't have any extravagant decorations. They just dressed up in their best wedding attire and said "I do" amongst these gorgeous trees. 
If you want to skip the story, then jump straight to the photos from this Santa Fe Elopement. 
Advice for Couples Planning to Elope
More couples are becoming aware of what eloping means because of COVID. A lot of couples are even realizing eloping was how they wanted to celebrate their wedding day all along.
Some couples, however, are still having trouble deciding to elope or not, worrying about what their loved ones might think.
"Time to think about what both of you TRULY want. 2020 has thrown us all a curveball, so every tradition is thrown out the window. This is the time to get creative and plan something fun and unique!" [Lavel]
For Diane and Dave, planning their elopement was not their first choice. Their original plan was affected by COVID and all the restrictions that came with it. Due to the limitations of trying to plan during a pandemic, they just decided to elope!
"Wedding planning became more of a stressor than it was FUN. Honestly, that was the tipping point for me. Dave was supportive in rerouting our plan to an intimate elopement, with the plan for a wedding to include all of our friends and family later." [Diane]
Check out these ideas if you're thinking about planning a post elopement celebration.
Diane's advice on deciding what to do during your wedding day:
Make sure you're 100% on board with the idea. If you need help deciding if you should elope, then we suggest checking out these reasons to elope.
Make the decision based on what you both want. "Not your mom, not your grandparents, not your friends…YOU TWO! When, where, who you want to include or not include." If you do decide on including your immediate family, then check out these micro wedding stories.
Talk about your decision with your loved ones. "This conversation was a little tough to have, but I'm so glad we did, and everyone was understanding in the end." Check out these tips on announcing your elopement. 
Deciding on an Elopement Location
Since Diane and Dave planned their elopement during the middle of a pandemic, they had to stay close to home. 
This Santa Fe elopement looks like a hidden piece of paradise within the mountains of New Mexico. Diane and Lavel, the photographer, made a day of hiking together to scout locations and found the coolest location to elope.
"There were 5+ teepees built out in the middle of nowhere out of fallen aspen trees. As a side note, one specific thing I wanted when we were to get married, was to have a triangle-shaped arch.

It's the symbolism of husband and wife at the base. As they move closer to God, they grow closer to each other; their relationship pointing to and glorifying Him.  When I saw the teepees, I felt like it was a sign!" [Diane]
This comes to show you what magical and remote locations exist if you just look hard enough. That is why we always suggest teaming up with an experienced elopement photographer to help you plan your elopement. 
Check out our New Mexico elopement guide for more location inspiration!
Planning an Elopement Together
This intimate Santa Fe elopement amongst these fallen aspen trees shows us all that making the best out of an uncertain situation will lead you to an amazing experience together. 
Unplanned situations come up every day to disrupt wedding plans. The important thing to remember is to focus on each other. 
"Just do YOU.  Do the little things you would for a big wedding on a smaller scale, and make sure you get an adventurous photographer to capture all the special moments.

For a mountain elopement, bring walking shoes for the hike.  Lots of water to stay hydrated.  We brought along some rugs for the bride and groom to get ready on and a table for the cake. Nature did the rest!" [Lavel]
Wedding planning became stressful to Diane due to COVID, but eloping allowed her to have fun planning her special day, reminding couples to not stress the little things.
Diane said yes to an online dress, splurged on her bouquet by Adriana at The Flower Company, and enjoyed a delicious homemade cake from Figs and Honey Cake Co.  She even did her own hair and makeup!
"Being in the middle of a pandemic posed the challenge of finding an officiant who would want to meet with us under the straining conditions. Thankfully, Lavel's husband Kyle is a pastor and happily agreed to marry us! To add to the perfection of this planning, Lavel's sister, Lara, is typically her assistant and was also there for our engagement.

It seemed beyond fitting to have these friends, serve as our officiant, photographer, and witness!" [Diane]
Memorable Details From This Santa Fe Elopement
This Santa Fe elopement looks like a whimsical mountain fairytale straight out of a book. Diane and Dave got ready in separate teepees. There were no extravagant details to worry about. Lavel's husband, Kyle, pronounced them as husband and wife to "the birds, bees, and all the trees".
We personally love how this couple incorporated elements from a traditional wedding such as a first look, vows, cake cutting, and a champagne toast as they signed their marriage license together. 
"I thought the ceremony might not feel as special because it was just us two with no family present, but that wasn't the case at all. It really focused the attention to what was most important, the commitment we were making between each other.

I definitely got emotional (happy tears), because it felt so incredibly special! The feeling was overwhelming and completely took me by surprise." [Diane]
Are you ready to plan your elopement? Let us know what your wedding plans are looking like this year in the comments below.
If you're thinking about planning an elopement, then check out our 7 easy steps on how to elope!
Vendors:
Photography | Lavel Marie Photography
Florals | The Flower Company
Cake | Figs and Honey Cake Co
Photos From This Santa Fe Elopement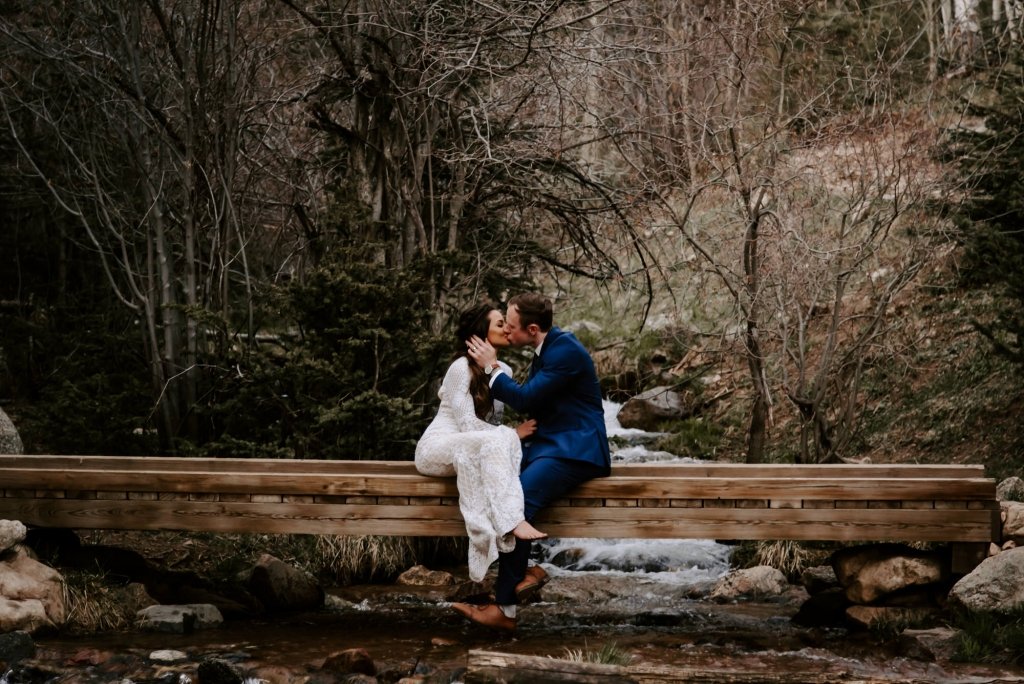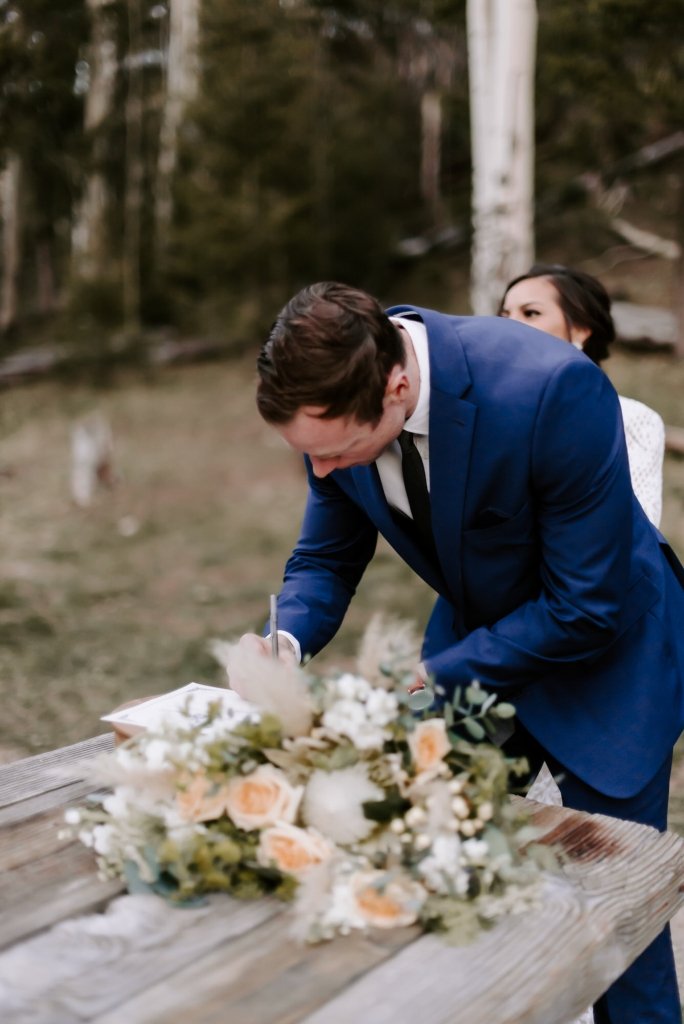 Thank you Lavel Marie Photography for sharing this special elopement with us, and congrats Diane and Dave!