Rich Autumnal Elopement Inspiration Session at Cobus Creek County Park in Elkhart, IN | Mackenzie & Dustin
Photographer Emily Hary dreamt up this styled elopement after forming a single inspired idea: setting a table in a body of water.
She spent several weeks developing this concept, and her vision soon took shape with the help of Leah Bayes of LB Floristry. "I wanted to create something totally unique… something I had never seen done, until now," Emily shares. "I chose burgundy and slate blue as accent colors to accompany the natural tones of fall. Luxe details and textures like fur, brass, and crystals completed the look. I have always loved rocks and natural elements when used for wedding decor. [They have] an understated elegance that lets the beauty of nature speak for itself."
Emily drew upon childhood memories of creekside adventures and her love of autumn as she styled this session. She explored local antique shops for the perfect decor, searching for pieces that channeled natural elegance to complement her setting. "I kept the decor focus on the florals and natural surroundings. Leah worked her magic and designed an organic and textured bouquet with burgundy, green, and white tones… The look continued on the table arrangement… the dripping greenery really brought my table to life… It was dreamy! I incorporated modern touches like geodes, geometric gemstone place cards, golds, fur, and hexagonal coasters for contrast and form."
We are in awe of Emily's attention to detail. Beautifully styled elements such as the semi-naked caramel drip cake, the moss-covered tree stump seating, and tying the bride's raw crystal hair-comb into the tablescape, blend into a dream of rich autumnal perfection!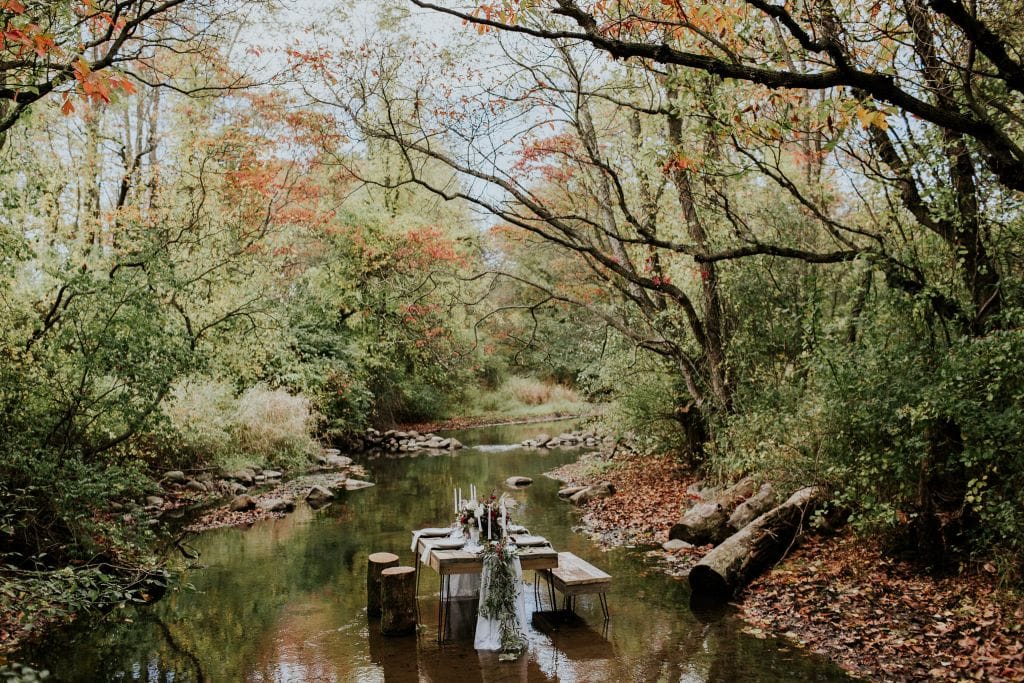 MEMORABLE MOMENTS:
"[One] highlight that I didn't expect was people in the park walking by and seeing the set-up. They stopped and said they loved it. Some even asked if they could take a couple cell phone photos. It made me feel really proud and excited to have such talented vendors to work with! I'll never forget that feeling."
[Emily Hary, Photographer]
PHOTOGRAPHER'S ADVICE:
"Styling and photographing styled shoots is hard work! The week of, scout the location well beforehand and know exactly where you're going to set up. Get help for moving furniture [and] decor, especially if that spot is a long hike from your car. Let everyone know what the terrain is like so they have accurate expectations and appropriate clothing [and] footwear for the day. Most of the time, the best spots are harder to get to and logistically a challenge. [It's] so worth it though!"
[Emily Hary]
Thank you to Wandering Weddings member Emily Hary for sharing this session!
Member Spotlight Page | Emily Hary Photography
Looking for the perfect vendors for your wedding?