Rainy Iceland Elopement at Reynisfjara Beach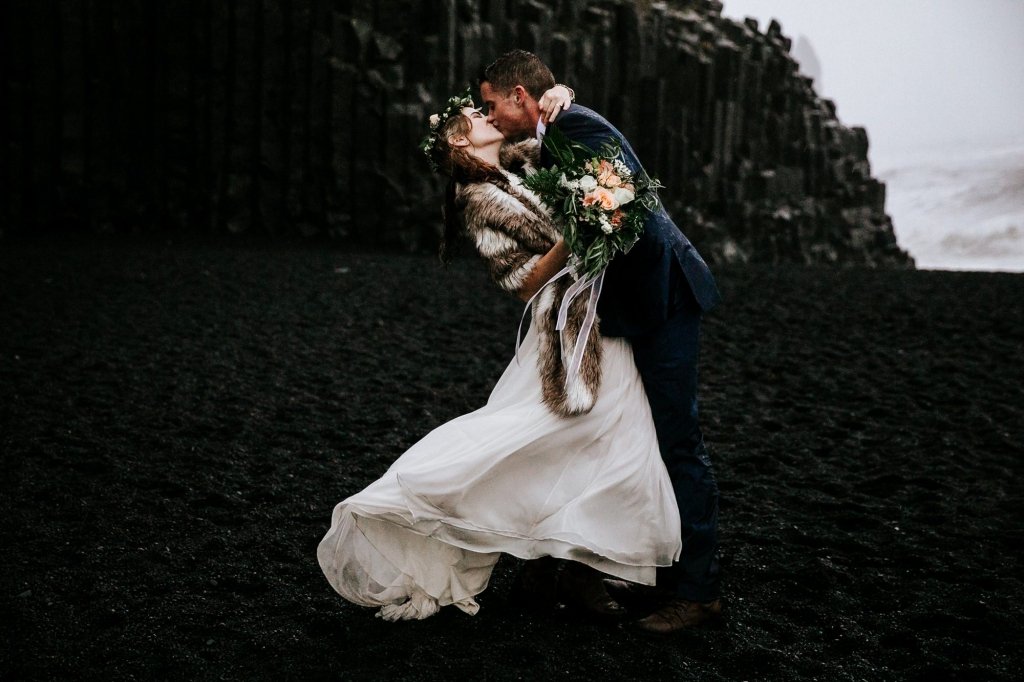 Things don't always go according to plan. When planning an elopement, you have to be prepared for anything. One of the factors you should consider when having an adventurous wedding is the weather. This couple, for example, got married in the Reynisfjara Black Sand Beach in Iceland under the rain.
According to Jennifer MacFarlane, the photographer, even though it rained on their wedding day, it was sunny in Iceland weeks before the couple's big day. 
The couple, Nicole and Stu, had their immediate family with them, so moving the wedding day was not an option. With that said, they decided to brave through the rain and Jennifer couldn't be happier with the results for this rainy Iceland elopement.
"Iceland in the rain is gorgeous! This was the most beautiful wedding I shot all year. We were drenched. I bought 4 pairs of socks, and I had to buy 2 more pairs at a gas station halfway through our shoot. We had the best time running around in the completely deserted black sand beach in the pouring rain." [Jennifer]
Planning your Iceland elopement starts with our Iceland Elopement Packages. We give you all the details and information you need to make your dream elopement come true.
Unique Photo Opportunities During the Elopement 
This rainy Iceland elopement began with Nicole, the bride, wearing a bright red dress. We love this pop of color for portraits before she changed into her traditional white gown for the ceremony. Jennifer tells us she recommended Nicole to do this.
"You could feel that as soon as she put [the red dress] on, she embodied a totally different energy. The dress was fun and flowy, and we did not care if it got drenched and muddy. Nicole really owned it, and I love her for it."
Throughout the day, Jennifer felt in her element not only from how moody the weather was that day, but because the couple trusted her to do her thing. "That is the best thing a couple can do, and I am very grateful for that trust. Trust, patience, and letting go are all great elements for an incredible photoshoot," Jennifer says.
This Iceland elopement allowed Jennifer to capture breathtaking moments during the ceremony at Reynisfjara beach. Since the weather was far from ideal, they had the whole beach to themselves.
"We ran around like maniacs in the pouring rain, and Nicole and Stu kissed as if their life depended on it. It was the coolest thing ever. You could not have planned this in a million years. You cannot plan anything in Iceland, and that is why I love it." [Jennifer]
Elope With Iceland Studio
If you are looking to elope in Iceland, you stumbled across the perfect blog. Jennifer has been shooting elopements in Iceland for 5 years and traveling to and from Iceland for 15 years. We think it's safe to say she knows the lay of the land.
Elope in Iceland, according to Jennifer, was created for couples from the US who are looking to elope in Iceland. Jennifer helps them navigate paperwork, create an itinerary, and pick the perfect location.
"Iceland is like a second home for me. With that said, I am still in awe of this country every moment I am there. Most of my couples are coming to Iceland for the first time, and we have spent months visualizing and fantasizing about photo locations. The biggest thrill I get is when we finally meet up in Iceland for their elopement and stop outside for their first photo on our day-long epic adventure." [Jennifer]
Why Do You Love Capturing Intimate Elopements?
Jennifer loves capturing intimate elopements like this rainy Iceland elopement. She explains to us how important it is for her to spend the entire day with a couple during an elopement to allow them to open up in front of the camera.
"I like to observe as much as possible to see how they naturally interact with each other. It's often at the end of a "set up" when they think I am done shooting that they will just naturally let go. That is the point when I get to work. I will often ask them to do something again. They think this is so inconsequential, but from my side of the camera, it is magic. With elopements, we have countless opportunities for opening up." [Jennifer]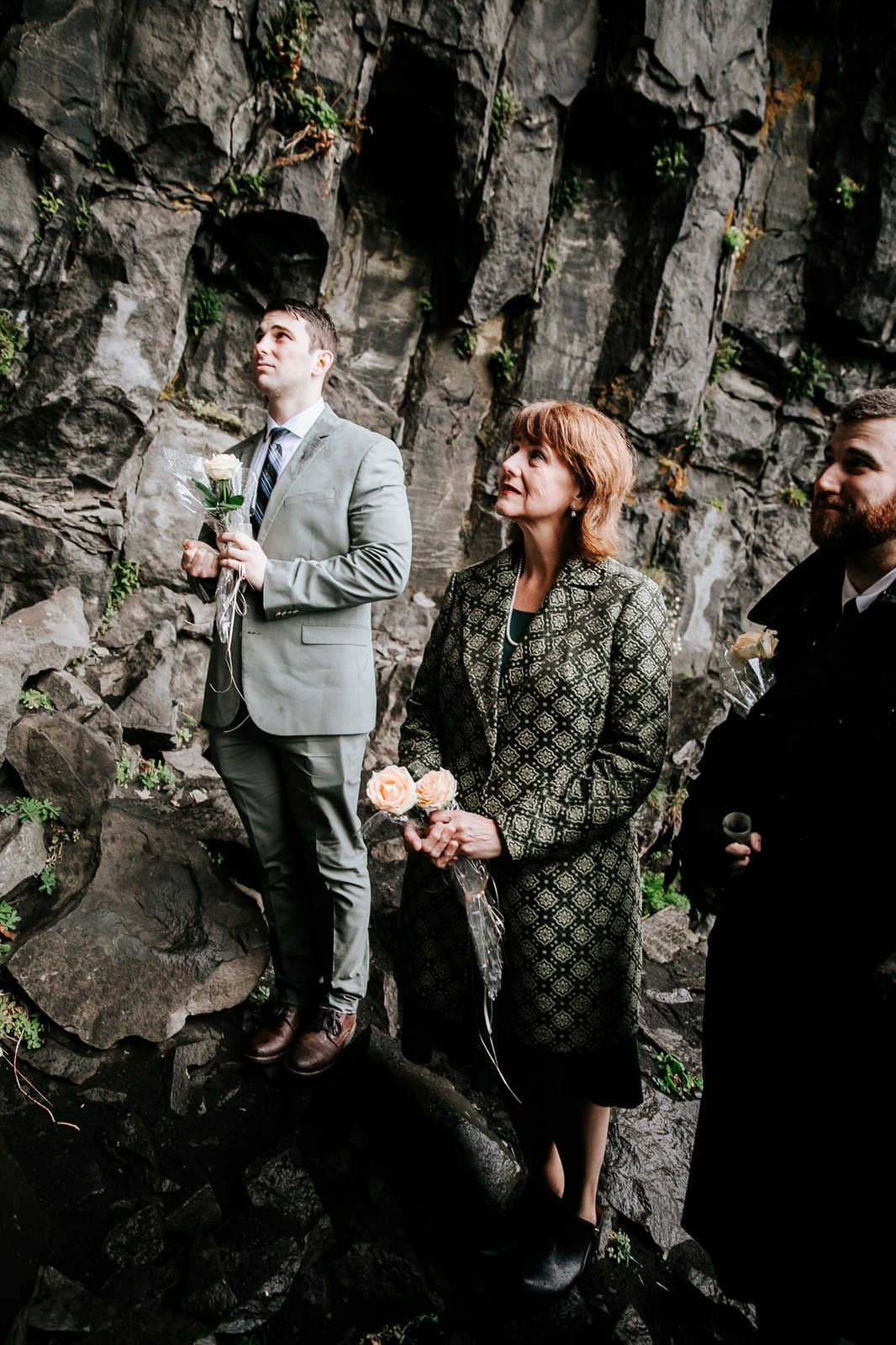 Advice from the Photographer
If you are considering to elope, Jennifer's advice is to keep an open mind. According to her, you never know what the day will bring you. This elopement in Iceland shows us all how magical your special day can be even in the rain. The more open you are during your special day, the more opportunities you have for your photographer to capture.
"I always tell my clients to open up their minds. You might think you are not photogenic or don't like taking photos, but I don't believe in that. I make all my couples try on different hats during the shoot. Time to be sexy, silly, or serious. You cannot have a photoshoot that is one noted. You need to explore different moods, emotions, and landscapes. And Never forget to be silly. That is my favorite part and, that never goes out of style." [Jennifer]
Thank you to Jennifer MacFarlane for sharing this session, and congratulations to Nicole and Stu!