Joyous Intimate Wedding at Horseshoe Bend, AZ | Cheryl & Brad
The goal was to keep things simple. Knowing a formal wedding was simply not their style, Cheryl and Brad agreed their only stipulations for the big day were these: incorporate adventure and say "I do" with spectacular views.
After ruling out locations with strict regulations, including the Grand Canyon and Zion National Park, photographer Amy Bluestar helped secure the necessary permits for a Horseshoe Bend wedding. The couple shared a private moment before the ceremony, exploring the stunning slot canyons with the help of a guide. "…I focused on capturing their day in the most authentic way possible…" Amy says. "The ceremony itself took place overlooking Horseshoe Bend as the sun went down… on the edge of a dramatic canyon overlooking the Colorado River… It made [for] the perfect wedding venue for two wandering lovers… It [was] not about the decor, the food, or the number of guests. It [was] about two people in love."
Keep reading for insight from the bride on planning a celebration that remains true to you!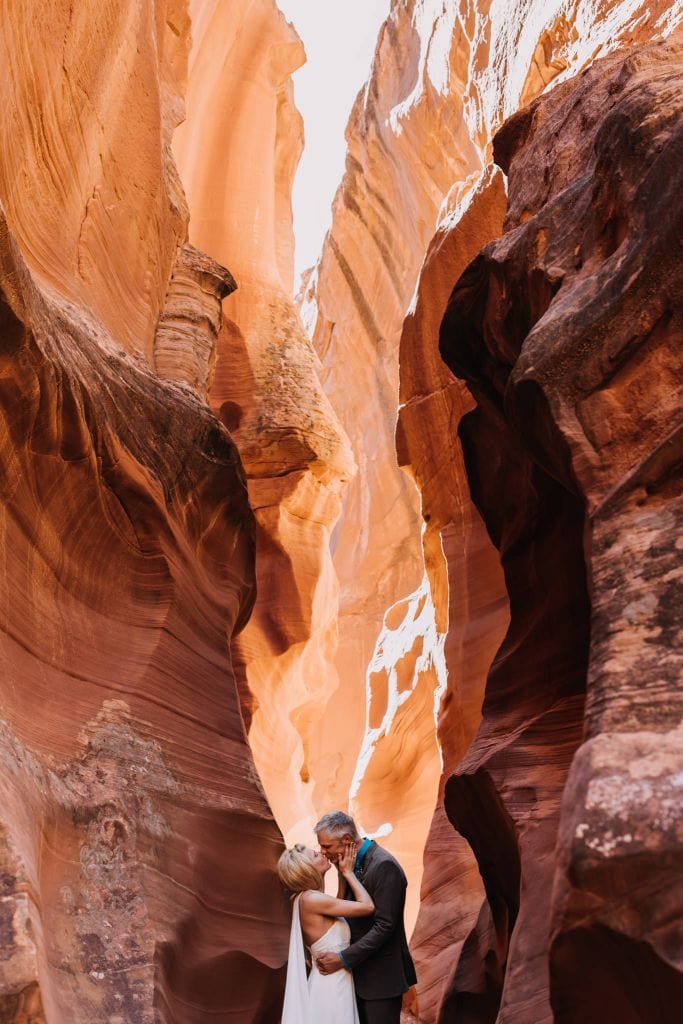 CHOOSING AN INTIMATE WEDDING:
"Neither of us were into a large, expensive, and impersonal wedding. My husband, Brad, is especially private, and the idea of huge pomp and circumstance for what we believe to be a very intimate commitment seemed crazy."
[Cheryl]
CHOOSING A LOCATION:
"I had originally wanted to get married at the Grand Canyon, but truth be told, they had way too many restrictions and limitations. I also looked into Zion and then thought of Horseshoe Bend… After looking into limitations and brain storming with our photographer, I knew it was the place to have the wedding of our dreams… despite my anxiety when I realized it had grown from an unknown spot on the side of the road to a place where buses of tourists now visit, the whole wedding was everything I had dreamed of and more."
[Cheryl]
PLANNING AN INTIMATE WEDDING:
"We truly kept it as simple as could be. We found our photographer who helped us lock in a date and get permits, then we made our small wedding invitation list. We had originally thought we would do a private ceremony with a bigger reception at a later date, but that got complicated [quickly], and the thought of making our families travel more seemed crazy, so we just crunched down our invitation list and everyone was invited to [the] ceremony and 'reception'… We found [a rental] through VRBO, and it was perfect with a fire pit, party lights already strung, and gracious hosts who also owned local restaurants and hosted a private rehearsal dinner for us. One of the things I had dreamed of was a photo shoot in the slot canyons, and this actually proved to be the most difficult [as] private tours in Antelope Canyon were not available in October. Somehow my mom stumbled upon a lesser-known slot canyon that would allow us a private tour with all the time and freedom we wanted for a fairytale photo shoot. Our wedding day consisted of several miles of hiking, so it was not easy for some of our family members, but we made sure everyone could at least get to the ceremony."
[Cheryl]
PARTING THOUGHTS:
"At no point during the day did I feel like I was too busy or rushed to enjoy the moment. We even had time to kick back after the photo shoot before we headed out to the ceremony. Everything had a perfect flow, and although I was exhausted by the night, looking back I wouldn't change anything. My advice for anyone considering an elopement is to do what makes the two of you happy… This was OUR day, and it was going to be what we wanted it to be – an outdoor adventure that involved travel, hiking, exploring, and saying 'I do' with the most gorgeous backdrop. I am grateful I listened enough to people I trusted to hire an amazing professional photographer, because I considered not even doing that at first. It seemed overly expensive, complicated, and impersonal. I am so grateful we found Amy who absolutely understood my vision for our elopement and captured it so well… Enjoy the process. If it's stressful because of other people, set boundaries… it's your day, not theirs!"
[Cheryl]
Thank you to Amy Bluestar Photography for sharing this session, and congratulations to Cheryl + Brad!
Looking for the perfect vendors for your wedding?