A Northern Ireland Elopement on the Causeway Coast Fit for the King and Queen of the North
Getting married in Northern Ireland is probably one of the most adventurous and romantic elopement experiences we have seen. Ireland has gorgeous landscapes and green coastal cliffs. This place to elope is the perfect backdrop for you both to say "I do".Dylan and Beverly are world travelers, and Ireland was high on their list of places to explore. After their hand-fasting ceremony, these two explored parts of Northern Ireland together including Dark Hedges, Ballintoy, and more of the Causeway Coast.
Get all the details on getting married in Northern Ireland and everything you need to know about this intimate elopement.
If you would like to skip the information, then jump straight into the photos from this elopement in Northern Ireland.
Deciding to Have a Northern Ireland Elopement
The planning process for this elopement took less than 2 months! That's a huge difference compared to big weddings.
Instead of having a traditional wedding, these two went against tradition and decided to elope to focus on each other.
"We wanted the day to be focused on our love and not have other elements of planning a grande party extinguish the true meaning of the ceremony, including our 'why' for making our sacred promise to each other.  Also, we felt eloping encapsulated our true spirit and essence as a couple.  We fell in love through our mutual wildness and wanderlust.  Our sense of adventure is what drew us together." [Beverly]
Other couples usually have very similar reasons to elope. Couples want to make their wedding day a truly epic experience, and we are 100% for that idea.
Beverly also tells us their decision to elope was also based on honoring her late father.
"In 2017 we were on our way to Ireland but never made it.  Upon arriving in Amsterdam, I had received a message that my father had passed away during our 8 hour flight.  We had to pull our bags from the connecting flight and head back to the states. One of the last conversations we had was him being so excited for me to explore our heritage further, I'm half Irish and Polish. He also asked me to bring him back something green. 

It felt only right to transmute a sad experience into something beautiful and finally make it to our destination. We also brought back a newly green commitment to love each other unconditionally. Even though my father couldn't walk me down the aisle, I know he was there in spirit and all around me in the beauty of the place" [Beverly]
How to Elope in Northern Ireland
Hiring an experienced photographer and even videographer is super important during your wedding day because it will allow you to be prepared for any circumstance.
If you're sure you're going to elope in Ireland, then we suggest exploring our Wandering Weddings members who specialize in Ireland below.
Beverly tells us how Rob was not only their photographer, but he also acted as a planner, recommending other vendors to help bring their romantic vision to life.
"He was our eyes and ears on the ground and even picked up my flowers on the day of our ceremony.  After our first FaceTime call, I quickly felt at ease as we discussed the logistics of what the day would look like.  He helped prepare me mentally for what elements we might encounter and assured us to trust in him, ensuring he'd make it an amazing day." [Beverly]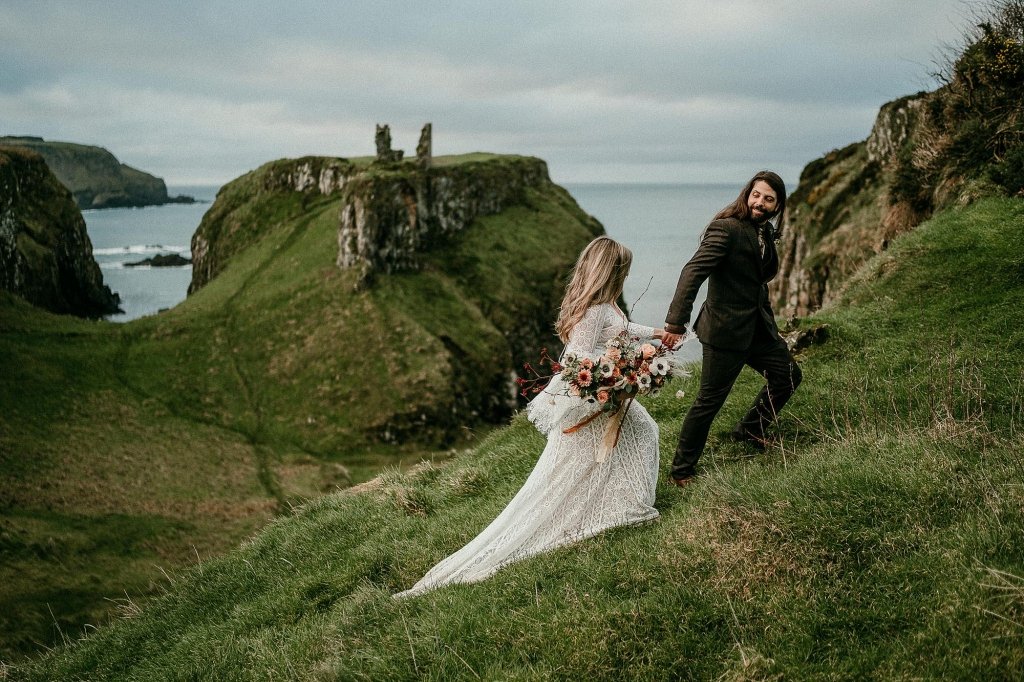 Advice From the Photographer:
"My main bit of advice would be to go for full day coverage of their elopement. Ireland has SO many incredible locations and if they have the time, they could hit quite a few in a day. Most of my couples tend to also go for day after sessions because there are so many places to shoot. If you're traveling all the way, you might as well maximize the elopement experience!" [Rob]
He also recommends thermal leggings for both the bride and groom. This is important for winter elopements, like this one. It can get windy on those epic cliffs! 
If you're thinking about when to elope in Northern Ireland, then consider fall and winter. Although it's colder, it's perfect for moody elopements, according to Rob. 
Favorite Moments From this Elopement
Beverly tells us everything went perfectly as planned, but also had moments that were spontaneous, which made their elopement even better!
These two had their ceremony and continued their celebration exploring the island and visiting new townships and landmarks for the rest of their trip. Some of their adventures included sharing whiskey at an old Irish pub and Dark Hedges, a popular location seen on Game of Thrones.
They turned their wedding day into far more than just a 4-hour celebration!
"The traditional Irish ceremony and hand fastening took us back in time as we read Celtic vows to each other.  My favorite part was the sense of adventure instilled throughout the day.

I jokingly told Rob he doubled as a photographer and adventure guide as he kept us on schedule and quickly moving to get to our next destination.  We chased the sunset to Dunluce Castle, climbed over a fence, and ran through a field of sheep to get to the rocky shoreline for our next round of photos…then off to the pub for an 18 year whiskey cheers." [Beverly]
Why You Should Hire an Elopement Photographer
When a couple decides to elope, they are deciding to say no to tradition and make their own traditions.
Many elopement vendors are aware of the importance of such an intimate moment with their couples. With that said, hiring an elopement photographer who specializes in the place you both want to elope, allows you to have someone knowledgeable and passionate about the location.
These vendors also love, love!
"Because we did elope, I told Rob and Nigel they would be our fill in family for the day.  The warmth, compassion, and genuine excitement they expressed for us definitely helped enhance our joy and gave us a temporary sense of home as we also became friends throughout the process" [Beverly]
Video From This Ireland Elopement
Vendors Involved
Photography | Epic Love Photography
Videography | Nigelivy Film
Floral | Victoriana Floral
Celebrant | Irish Elopements
Photos From This Elopement in Northern Ireland
Are you thinking about getting married in Northern Ireland? Check out our Wandering Weddings members who specialize in the area.
Wandering Weddings Members in Ireland
Ireland Elopement Photographers
[ultimatemember form_id="46132″]
Ireland Videographers
[ultimatemember form_id="53986″]
Not sure if getting married in Northern Ireland is the right choice? Check out these other places to elope.