Planning Your Garden of the Gods Elopement (Guide + Elopement Stories)
Colorado is pretty epic when it comes to elopements. There are so many gorgeous places to plan your Colorado elopement, but almost all of them require a fee and application process to hold your ceremony. If you're looking for an awesome place to elope with views of sandstone formations, then a Garden of the Gods elopement may be just for you. 
Let's jump into everything you need to know when planning your elopement at Garden of the Gods in Colorado. We also included some bonus elopement stories to inspire you as you plan. Feel free to pin some of these stories for later!
Do You Want to Skip the Information, and Jump Straight into Garden of the Gods Elopement Inspiration?
How to Elope in Garden of the Gods:
When to Elope in Garden of the Gods
Colorado's weather can be very unpredictable. With that being said, when planning your elopement, especially in nature, you have to roll with the punches. If the weather is not ideal, don't freak out! Unpredictable weather is probably one of the main reasons why we recommend hiring one of our experienced photographers for your wedding day. They have experience dealing with ALL sorts of weather scenarios.
So when's the best time to plan your elopement in Garden of the Gods? Summer is hot and can be very packed with crowds. We personally love March to May or September to October for cooler weather and smaller crowds. Whenever you do decide to elope here, however, we highly recommend visiting on a weekday and in the mornings. This will not only ensure the least crowds, but it will also secure your elopement location since they are first come first serve (more on that below). 
Best Places to Elope
If you're trying to figure out where to plan your elopement in Garden of the Gods, then this section is for you. The first rule of thumb is to get to know the park and team up with a professional. Like we mentioned earlier, Garden of the Gods is one of the locations where you don't need to pay a permit fee. There are 6 areas you can choose from, but these areas are first come first serve since no reservation or permit is required. 
If you're considering having an intimate ceremony with family and friends, then we suggest keeping a small guest list and minimal decor. We love it when couples embrace the natural beauty of their elopement location. You can absolutely still personalize your elopement ceremony by incorporating your favorite flowers in your bouquet, a unique elopement dress, or custom vow books. 
Jaycee Plaza
This is probably one of our favorite spots. Jaycee Plaza is easily accessible and open. This allows couples to easily get to this location, which is just past the visitor's center, and take some gorgeous wedding photos after their ceremony. 
Sentinel Plaza
Sentinel Plaza is a smaller area that easily restricts the number of people who can participate in your ceremony. We love this location because the rock formations are stunning, and the smaller area allows you to have a more intimate experience together.
Three Graces Plaza
The most unique red rock formations can be found here. If you're looking for dramatic formations to be the backdrop of your ceremony, then Three Graces Plaza has what you're looking for. These natural pillars stand taller than most other rock formations in the park, and it definitely makes a great spot to visit during your elopement.
High Point
High Point is a favorite spot among our couples who love to have open views for their ceremony. It's also one of the further options for your ceremony. We love this location for the views of the nearby mountains and other rock formations. Beware, however, of the shadows during the middle of the day here. Talk to your photographer about the most optimal time to plan your ceremony. 
Scotsman Picnic Area & South Spring Canyon Area
These are the other two free elopement locations in the park. These spots are more forested areas and are also farther away from the rock formations. These are good options if you're looking to have two completely different looks during your elopement. We also love this are if you are planning to invite a few family and friends.
If you're not sure Garden of the Gods is for you, then check out our Colorado elopement packages for more inspiration and location ideas. 
Tips for Your Garden of The Gods Elopement
Ceremonies at this location should be kept brief and small.

This is a public area, so you can't block off any areas, and there may be visitors roaming around during your ceremony. This is why we highly recommend weekdays and mornings.

Remember to leave no trace (LNT) as you enjoy your special wedding day together. We encourage you to keep your decorations to a minimum to ensure an easy cleanup process to not disturb the park. 

Explore together! Garden of the Gods has so many gorgeous vistas and nooks to explore. Have fun during your wedding day, and enjoy the view together. There are 21 miles to explore!

We love it when couples drive through Garden of the Gods together. Most of the park has one-way roads, so this can be an awesome option to sneak in unique wedding photos after your ceremony. 
For more information on Garden of the Gods regulations during your wedding, visit their website.
Colorado Elopement Vendors
No wedding day would be complete without an epic elopement team by your side to make sure everything goes smoothly. Check out these photographers and other elopement professionals who specialize in the Colorado area. This is the perfect opportunity to check out their portfolio, connect with them, and ask all the questions about your Garden of the Gods elopement together. 
Colorado Elopement Videographers
Colorado Elopement Planners
Garden of the Gods Elopement Inspiration
Check out the following elopements from couples who decided to elope at Garden of the Gods. This is a great way to brainstorm ideas to incorporate on your wedding day together.
Alessandra and Tyler
Alessandra and Tyler planned to elope during a vacation to Colorado with their immediate families. These two exchanged their vows, with towering red rock formations as their backdrop. After their ceremony, these two had a picnic with their family, explored the park together to capture some epic wedding photos, and met everyone back at their Airbnb for a home-cooked meal and their cake cutting ceremony. 
"Everyone sat around a huge communal table, talking about memories of the couple from when they were younger, and eating cake from Das Meyer Pastry. The couples' wedding day was everything you would hope a wedding would be – intimate, special, beautiful, and filled with unforgettable memories." [Kseniya Berson, The Photographer]
Other Vendors Involved:
Engagement ring: Michellia Fine Jewelry  | Brides Wedding Ring: Abhika Jewels  | Grooms Wedding Ring: Livolt Arts | Bride's Hairpiece: Symila Accessories | Florals: Dawn's Creations | Cake: Das Meyer
Photos From This Elopement: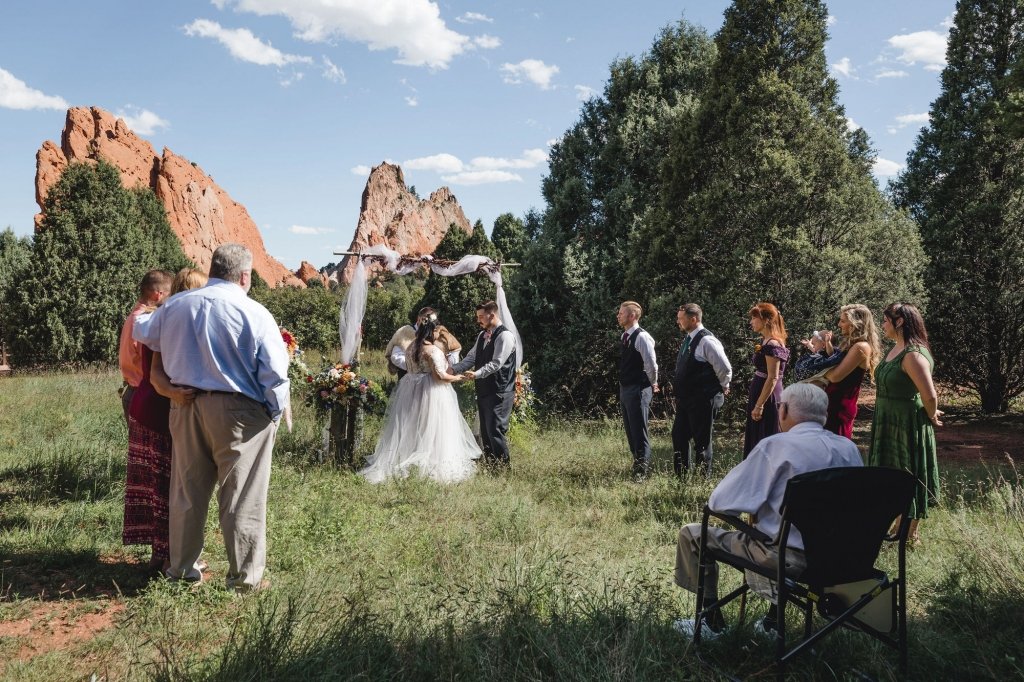 Jerry and Patricia
Patricia and Jerry met online, and they have been together for over six years. They both didn't make it official until their intimate ceremony at High Point in Garden of the Gods. They initially thought a huge snowstorm would change their elopement plans, but miraculously woke up to a gorgeous, clear, and snow-covered park the next morning. After saying "I do", these two explored the park together and enjoyed the gorgeous views around them. 
"When planning an elopement at Garden of the Gods, it can get crazy busy during the day. Planning your elopement around sunrise or sunset not only gives you the most gorgeous, warm light reflecting off the rocks, but also gives you a better chance of finding some privacy in the park." [Bailey Cross Boggs, Photographer from We, The Light Photography]
Other Vendors Involved:
Planner: Colorado Microweddings | Officiant: Colorado Weddings by Dan ([email protected]) 
Photos From This Elopement: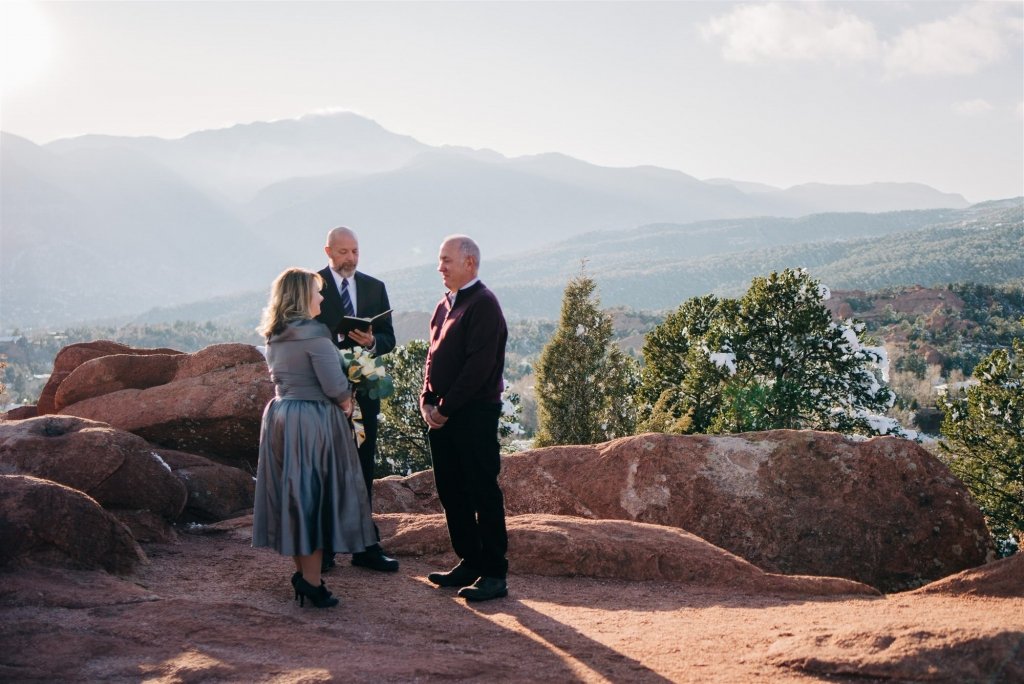 Not sure you want to elope in Colorado? Check out these other best places to elope.