Elope in Italy: The Ultimate Guide For Couples
Deciding to elope in Italy can be both romantic and adventurous. Italy has so many different possibilities when it comes to planning your elopement ranging from mountain views to exploring vineyards and historical streets together. Italy is a great place to elope for couples looking to an epic wedding destination.
Let's break down what you need to know to plan an intimate Italian elopement without becoming overwhelmed by tourists.
How to Elope in Italy
So many couples love Italy because this destination can easily serve as not only their elopement destination but also their honeymoon destination! Planning your elopement somewhere you can easily transition into vacation mode after your ceremony is always a good idea. 
Here's how you can get started: Let's Build Your Italy Elopement Package. 
Italy Marriage License
Unlike planning your elopement in Paris, foreigners are not required to have legal residency for a wedding in Italy. All you need is the appropriate paperwork including your passport, birth certificate, an affidavit, and two witnesses. If you're planning to elope in Italy, then you'll also need to submit a declaration of intent to marry. 
With that said, Italy recognizes both religious and civil wedding ceremonies. For non-catholic religious weddings, a civil ceremony needs to be incorporated in order to make the marriage legal. If you're interested in legally getting married here, then you can find more information by contacting the US Embassy in Italy. 
If you're feeling overwhelmed with the steps, then you can always get married in your home country and have a symbolic ceremony in Italy. We love this idea because you both can still exchange vows and have an intimate ceremony, while not having to worry about the legality of things somewhere foreign to you. 
When to Elope in Italy
Italy is a gorgeous country, and there are so many possibilities for places you can plan your elopement. A good time to plan your elopement here can vary on where exactly you want to visit. Overall, however, the best time to visit Italy is typically in the Spring (April to June) or Fall (September to October). During these months, Italy is cooler and does not see as much rain. 
Summer months can be not only hot but more crowded with tourists. Winters in Italy are cold and wet in the North of Italy, and a little more moderate south of Rome. If you're deciding to elope during a more popular month in Italy, then we absolutely recommend planning a sunrise or early morning elopement to avoid the bigger crowds later in the day.
Where to Elope in Italy
There are so many amazing places you can elope in Italy. We want to mention some of the best places you can elope in Italy to give you an idea of what your wedding day can look like. Remember, this list is only a fraction of the places where you can plan your wedding. For perspective, Italy has 20 regions, subdivided into 93 provinces, and further subdivided into 8,000 cities, towns, or villages. That's a whole lot of options!
If none of these places are "the one" for you, then we highly recommend teaming up with one of our amazing elopement vendors in Italy. These wedding vendors specialize in small weddings and elopements in Italy. They're your number one resource for all things Italian elopements.
"Italy offers both incredible natural and urban landscapes. I love Florence and Rome for an intimate and super romantic elopement in the city, while I would choose a rural area of Tuscany for a more naturalistic destination. Or if you love hiking and the mountains, the Dolomites and their Lakes are definitely one of the most beautiful locations to elope." [Silvia from Silvia Poropat Stories]
Here are Some of the Best Places to Elope in Italy:
Italian Alps Dolomites
If you're loving the idea of eloping on a gorgeous mountain in Italy, then you'll probably want to consider eloping in the Italian Alps. The Alps are the highest and most extensive mountain range that goes through most of Europe. It's here where you can find epic elopement destinations such as the Dolomites. If you love hiking, exploring, and gorgeous views, then an elopement here is for you. We also love it when couples turn their elopements into a multi-day adventure. Talk to your photographer about what options are best for your elopement vision.
Check out this epic Dolomites adventure. 
Venice
In Northern Italy, you'll find gorgeous Venice. Surrounded by the Adriatic Sea, Venice is comprised of more than 100 small islands linked by canals. While this location can be very touristy, this spot has plenty of small nooks and crannies to appreciate and elope together. Eloping in Venice is also a great option for couples who want to explore Italy's culture versus natural landscapes. 
Amalfi Coast
The Amalfi Coast is the perfect elopement and honeymoon destination. If you're thinking about eloping in Italy, then you should consider planning here. The coastal road between each of the towns on this coast is the most gorgeous road you'll ever see. You'll see gorgeous colored villages sitting on top of cliffs, facing the shoreline. While this spot can be touristy, you can plan a romantic elopement getaway on top of a private terrace.
Check out this romantic elopement in Positano.
Rome
If you're looking to plan an elopement in an Italian city, then Rome is where it's at. Rome is the perfect elopement destination for couples who have a rich desire and appreciation for art, culture, and history. While you don't have coastal views or mountain views, you can have gorgeous views of ancient architecture and ruins. 
Jump to this Elopement in Rome at Palazzo Mattei and Roman Forum
Tuscany
Maybe you're looking for more open fields and vineyards for your elopement in Italy. Tuscany is a region in central Italy and we love how diverse the nearby cities and towns are. Plan your elopement in a private vineyard as the sun sets, or plan an elopement on top of a terrace in Florance. 
Sicily
Sicily is the largest Mediterranean Island in Italy. This region is known for its history, including its Greek temples. You'll also find Mount Etna here, one of Europe's highest active volcanoes. This is a gorgeous place to elope in Italy if you want to both explore somewhere with a rich history, while still being able to enjoy epic views you won't see in the other Italian cities. 
Cinque Terre
If you're looking for somewhere to elope in Italy that is not as populated as the Amalfi Coast, then we recommend Cinque Terre. The name means five towns, which are centuries-old. These colorful seaside villages face the coastline and are a dream. Enjoy the amazing views, small eateries, harbors, and vineyards here. 
Italy Elopement Vendors
These elopement vendors are professionals when it comes to planning and documenting romantic and adventurous elopements in Italy. Feel free to jump to their profiles, check out their galleries, and connect with them! Another reason why our Wandering Weddings members in Italy are awesome… they know all the spots tourists don't know about! 
Check out our members who specialize in Italy elopements:
Italy Elopement Inspiration
Alissa and Andrew – Elopement in Rome at Palazzo Mattei and Roman Forum
Palazzo Mattei was just the perfect place for Alissa and Andrew's romantic Italy elopement. We love their intimate vows, and we also loved how they shared their first dance as a guitarist played. This elopement adventure also incorporated wedding portraits at Capitoline Hill and a secret terrace, where they admired the most romantic sunset on the ancient Roman ruins. 
Photographer's Advice: 
"Give yourself all the time to explore the surroundings of the place you'll be eloping at. You'll want to discover the traditions and taste all of the foods and drinks you possibly can. Try to figure out the logistics of your elopement before, especially what concerns travel and accommodation (the more south you go, the harder it can be to get public transportation). Always have someone local to ask for advice and help when needed. Leave your stress and worries at home, and always remember to be yourselves!" [Silvia from Silvia Poropat Stories]
Other Vendors Involved:
Videography: Memento Story Film |Planning: Peach Perfect Weddings |Florals: Dordas Flowers |Hair and Makeup: Laura Coco | Hotel: Hotel Degli Artisti |Bride's Gown: Pronovias | Groom's attire: Mens Wear House https://www.menswearhouse.com/
Photos From This Elopement: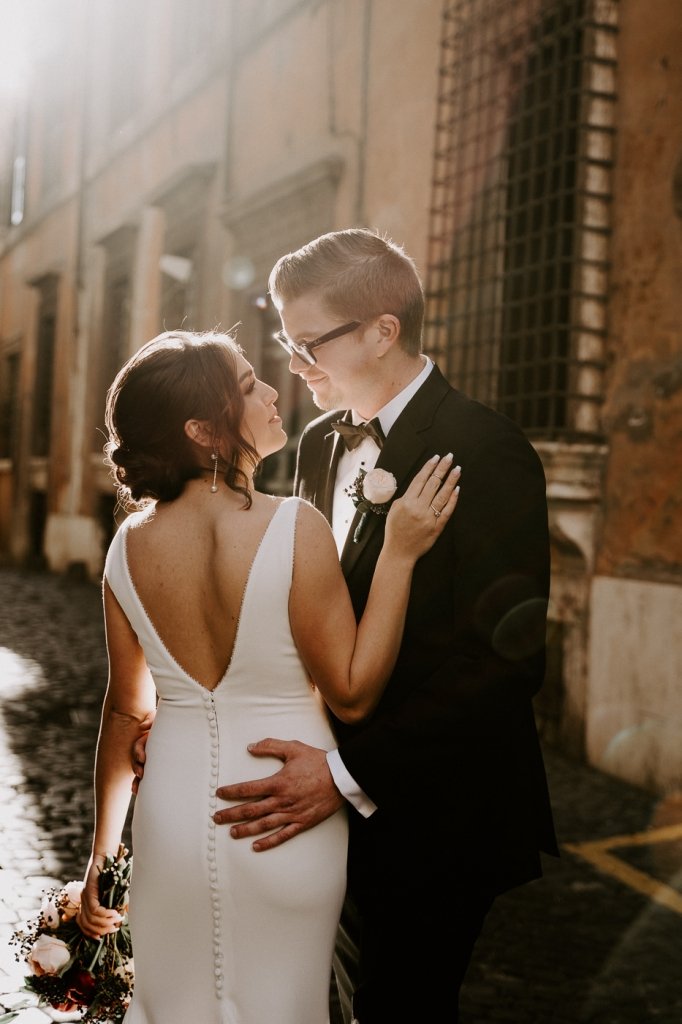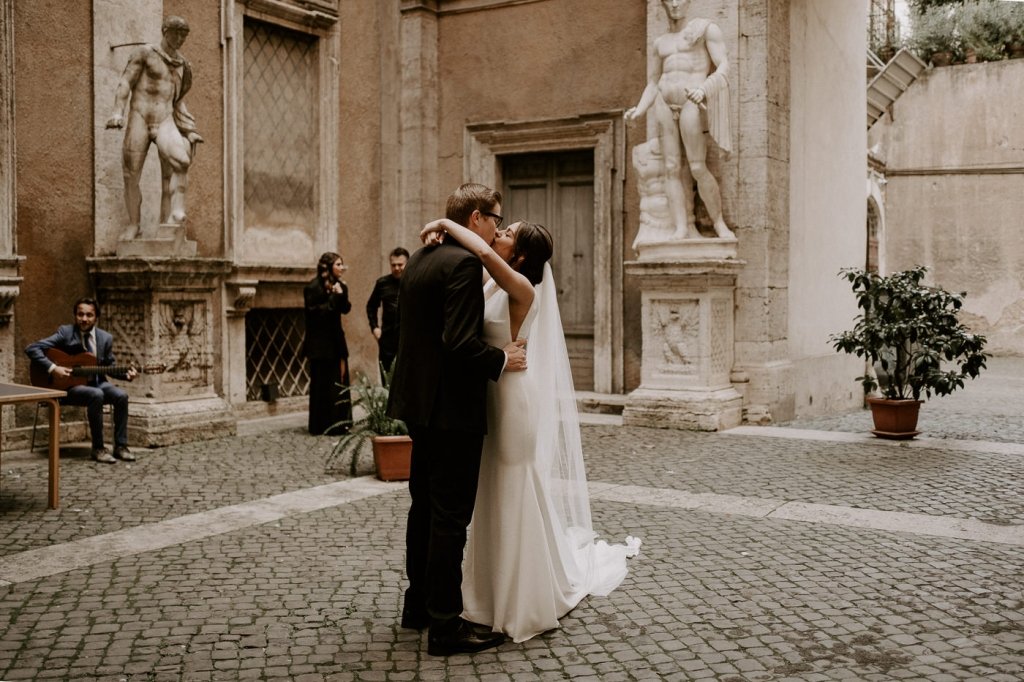 If you made it this far, then we are certain you're interested in eloping in Italy. Check out our other elopement resources to help inspire you. Don't see what you're looking for? Leave us a comment!