Romantic Elopement at Home at New Hampshire Lake House
Nikki and Evgeni were planning a wedding, but their plans changed when COVID19 came around. Instead of planning another wedding, they wanted to elope at home and focus on what was important to them… just getting married!Get all the details on how to include family in your elopement and fun details you can incorporate into a backyard elopement if you decide to elope at home. 
If you would like to skip the details, then jump straight to the photos from this backyard elopement.
Eloping at Home
This backyard elopement at Nikki's family lake home in New Hampshire is everything you imagine an intimate and stress-free wedding day to be.
Instead of tying the knot at city hall, these two got all dressed up and said "I do" right on the water. With the gorgeous wooded area, this lake home elopement is the perfect inspiration for couples who have to reschedule their wedding day. 
Instead of worrying about the status of the pandemic, or the fact, their original wedding plans changed, these two enjoyed an intimate, relaxed, and fun wedding day. Even though Nikki and Evgeni eloped, they still enjoyed a lot of the traditions they originally planned. 
"They got ready separately, had an emotional first look, a stunning blue sky ceremony, then celebrated with some champagne and a cake. It was exactly what marriage should be about – the two people, celebrating all that they've been through and starting their life together." [Kelsey]
How to Include Family in Your Elopement Day
We love how these two incorporated their family into their wedding day, despite deciding to elope. These two eloped at home and also incorporated their family through facetime. Their original plan changed, but they made sure to include their family during the getting ready process and ceremony. 
"To keep them involved, they FaceTimed them all in while they were getting ready and for the ceremony. Nikki's bridesmaids were all in their dresses and tearing up after seeing their best friend in her wedding dress. Ev's family out in Europe all stayed awake so excited to watch their son marry the woman of his dreams. It was just a really beautiful day and you couldn't help but feel the love surrounding them." [Kelsey]
We love live stream wedding ceremonies and your simple Facetime wedding! There is always a way, and the most important thing is your union together. Another great idea is planning an after-party together to announce your elopement.
"While they would have loved their friends and family to be there, they were excited for it to be more intimate, then they get to look forward to a big cookout next year! I think even beyond Nikki and Ev, this time has almost shown families and couples that it's ok to not go the traditional route if that's not 'them'. You can still have the most beautiful, intimate, and memorable day of your life with those you love." [Kelsey]
How to Deal with a Change of Plans on Your Wedding Day
These two had to change their wedding plans due to COVID19, but couples around the world, every day, have to alter their original plans for one reason or another. Some things, such as natural events or weather, are beyond your control.
"While it's frustrating that you spent all this time planning for your wedding day, I encourage you to take a step back and remember what's important. A wedding is the celebration of your marriage, so use this time to remember why you're here in the first place – and that's to marry your favorite human! Whatever you choose to do, move your date or elope, make it special." [Kelsey]

Top Tips For Planning a Simple Elopement
The best part about deciding to elope is being able to do whatever you want. You can wear whatever you want and incorporate whatever wedding traditions you like. We asked Kelsey for any advice she had for couples planning a wedding like this backyard elopement.
When thinking about your location, find somewhere that means a lot to you. This can be a family home, your favorite state, your most memorable hiking spot.
For your elopement, just think of all the things you love to do together. Do you like to picnic, ski, rollerblade, or hike?
For traditions, think about what you were really looking forward to on your wedding day. You can easily incorporate a mini wedding cake, your first dance, your wedding vows, and a first look.
Why This Photographer Loves Elopements
"What I love about elopements is the calmness of the day. Things can get mixed up, or not go according to plan, but we are able to pivot seamlessly. With a larger wedding, there are SO MANY things to do and other people to worry about that you can lose track of what's most important – that you're going to spend the rest of your life with the person that you love.

With elopements, distractions are almost completely removed. You're in the moment with your favorite person, and that's it. And most of all, I love that every single elopement is different because every couple is different. An elopement can be the two of all your favorite things combined into a day or two. There are no rules, or traditions that you have to abide by. You get to create your picture-perfect day, and I feel so lucky to get to be a part of the journey and capture it so they'll have the memories forever." [Kelsey]
Should You Elope?
If you're thinking about changing your original wedding plans, then we think it's safe to say you're considering to elope. Elopements are awesome because you can plan to elope at home like this couple, or you can plan an adventurous elopement destination such as Hawaii. There are no rules for what you should or should not do.
"I've heard one too many times, 'I wish we just had something smaller,' or 'I had to have a big wedding because my parents made me'. I know it's easier said than done – going the nontraditional route – because you have so many people and traditions telling you 'this is the way you do it'. But I truly believe you should do what you feel is right, and create a day, an experience, that you'll look back on and be so happy with. Having an elopement is not taking the easy or cheap way out. Instead, you get to create the most epic time of your life with those you love to celebrate this next journey in your lives." [Kelsey]
Check out our guide on how to elope for more helpful steps on how to get started planning your elopement.
Photos From This Backyard Elopement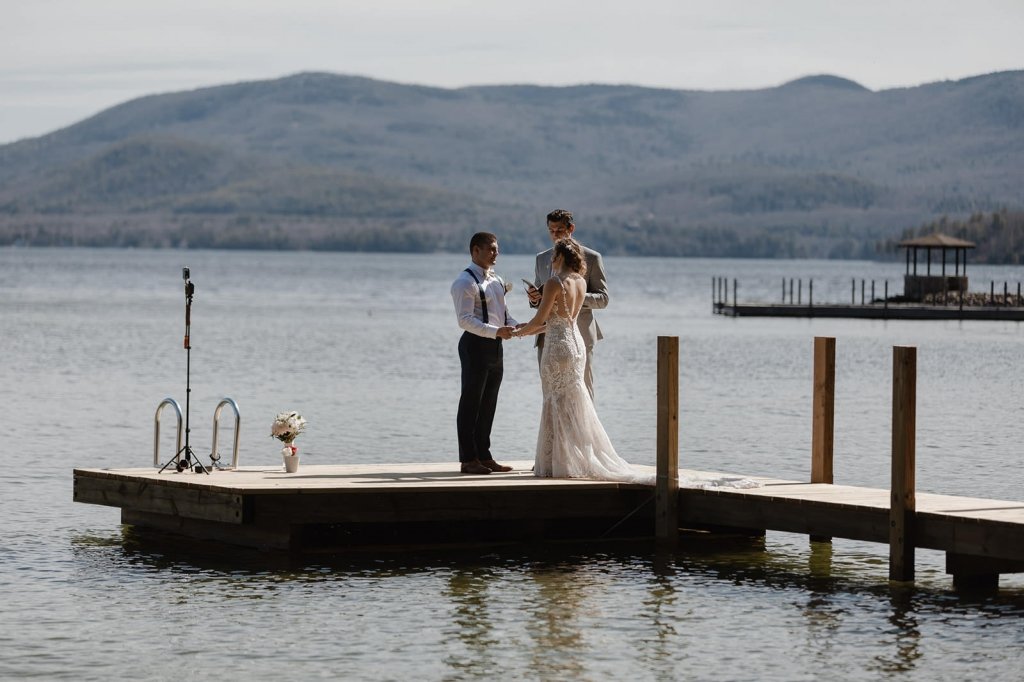 Thank you Kelsey for sharing this elopement to inspire others to elope at home.