Cliffside Dunluce Castle Elopement With Family
Stacie and Andrew's wedding day consisted of flying from the states to Ireland with their parents and siblings to have a gorgeous Dunluce Castle elopement overlooking the Atlantic Ocean. 
This cliffside micro wedding is the perfect inspiration for couples who want to elope, but still want to include their family. 
If you want to skip the story, then jump straight into the photos from this Dunluce Castle elopement.
Deciding to Plan Your Elopement
Some couples may get overwhelmed by planning their elopement because they aren't sure how to elope. 
Planning an elopement doesn't need to be stressful. Paula, the photographer, recommends remembering why you both are eloping in the first place. By remembering your why, you can focus on what you both want to do.
"Once you have decided that eloping is for you, start looking into where you would love to elope to. Sit down with your partner over a meal or a bottle of wine (or both), and think about the locations you have been dreaming about visiting." [Paula]
Stacie and Andrew decided to have their immediate family witness their vows in beautiful Ireland. They felt a formal wedding wasn't them. They also wanted their day to be personal and down to earth. 
"There are so many wonderful locations in the world to explore.  I may be biased, but I personally think Ireland is one of the best places in the world for your elopement. Whether you elope to the coast and feel the roar of waves crashing on the shoreline, or chose the tranquillity of the lakelands, which has views that take your breath away the more you explore." [Paula]
Where are you going to elope? Check out our best places to elope.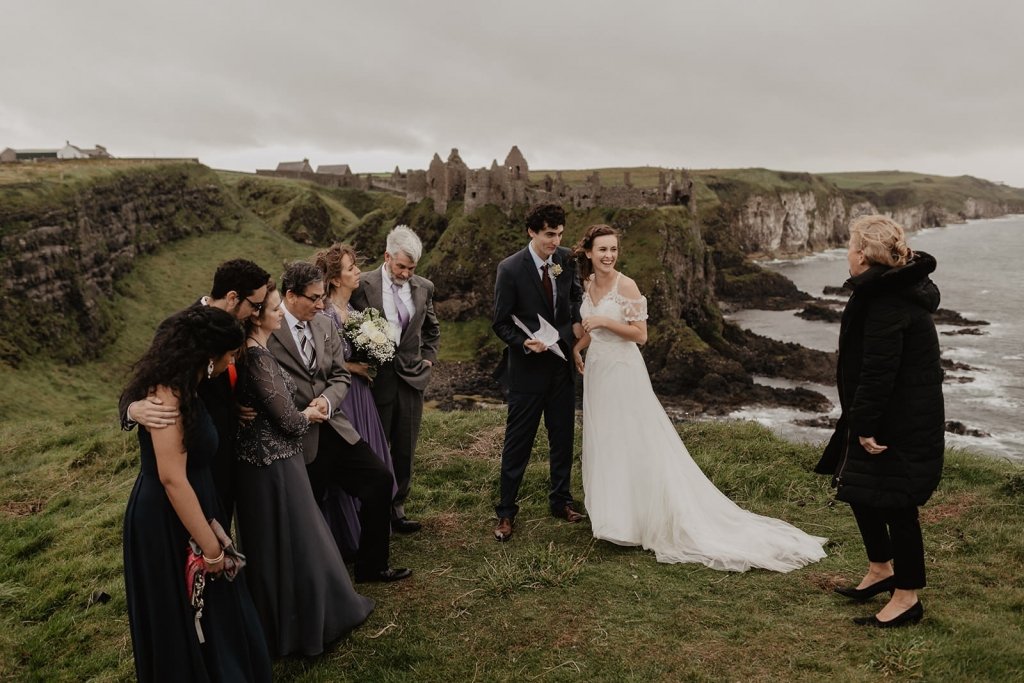 Planning a Micro Wedding at Dunluce Castle
Planning your wedding day in Northern Ireland in front of the Dunluce Castle is a great option for couples looking for rich history, breathtaking views, and an incredible experience. 
This gorgeous castle ruin is on the causeway coast and makes you feel like you stepped into a fairytale book. 
"While doing research for a great elopement backdrop, I came upon the Northern Ireland coast. We wanted the wedding to be both a destination location to conjoin with our honeymoon, and a great landscape to be surrounded in during our small ceremony. It turned out that none of our family had been there before either, so it was an adventure for all of us, which was great to experience together." [Stacie] 
Stacie tells us she handled a lot of the planning herself. She found an Airbnb to get ready, the Bovagh House in Aghadowey, and teamed up with a great elopement team.
Paula, Heather Allen Makeup, and Fiona from Perfect Day ceremonies made sure everything went smoothly. Hiring experienced elopement vendors will ensure a great elopement experience. The only thing she had to figure out was DIYing her bridal bouquet! 
But How Do You Elope at Dunluce Castle?
The field overlooking Dunluce is privately owned by a farmer. You can have access to hold your wedding ceremony here if you pay a permit fee a little over $250. 
When you're planning your elopement, ask questions about regulations and permits for ANY location you want to elope to. 
"Apart from the stunning castle ruin sitting on the cliff edge, overlooking the ocean with some pretty Irish cows as your witnesses, there are so many beautiful locations nearby for even more incredible views.

Of course, you can't leave here without visiting The Dark Hedges now made famous by Game of Thrones, and the causeway coast just to name a few. I suggest you go a full day [adventure] rather than just a few hours, so you can see all of what the North Coast of Ireland has to offer." [Paula]
Once you make sure you secure your ceremony location, you'll want to wear suitable footwear, says Paula. Wearing the appropriate attire and footwear is important for couples who really want to explore during their elopement.
It's also important to note WHEN you're going to elope. In Ireland, the Autumn and Winter seasons are cold. Paula recommends wearing thermal leggings under your wedding attire to keep you warm. 
 Memorable Moments During the Dunluce Castle Wedding
By deciding to have a wedding day like Stacie and Andrew's, you get the best of both worlds.
"The environment and atmosphere was my favorite part of the experience. It was very calm and relaxing. My husband Andrew was told he looked so calm when compared to other men on the wedding day, but that is because it was so low-key there was no reason to be anxious." [Stacie]
These two were able to have an intimate experience, yet still have their parents and siblings there to witness the moment. Paula was also able to capture moments like when Stacie's mom and mother in law helped her in her wedding dress.
By not having a big guests list, the couple can really appreciate every single moment during their wedding day.
"One of my favorite parts of this day was when they were saying their vows to one another. The wind was extra crazy that day. The waves below were crashing in against the rocks, and the forecast was for rain but it held off right until the end. They all embraced that Irish wind and wild landscape." [Paula]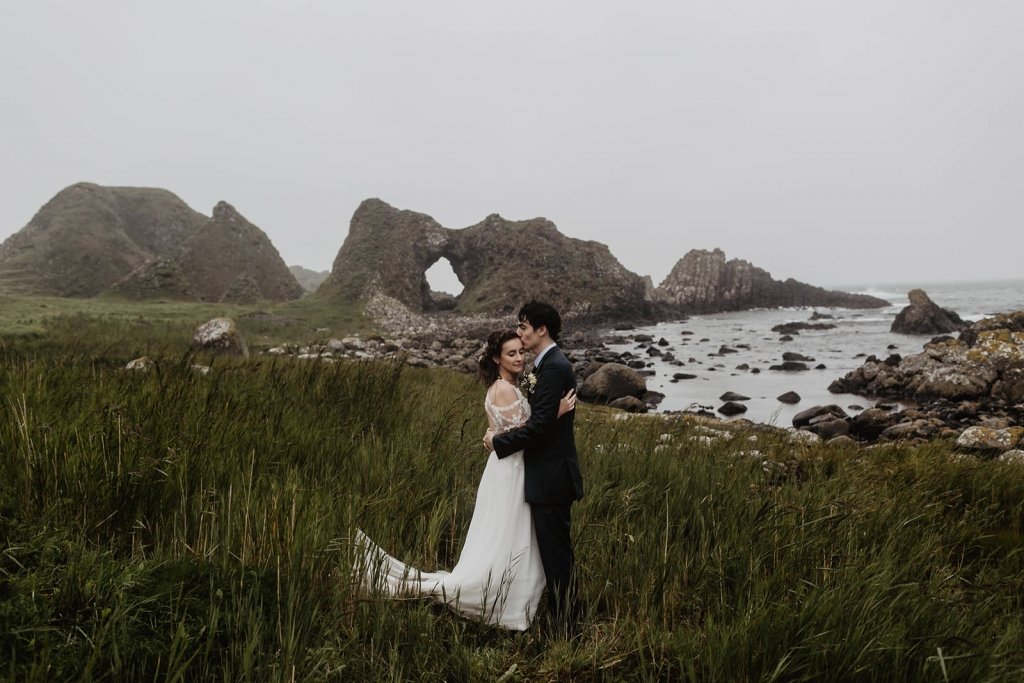 Why Elopements?
Paula loves elopements because she eloped herself in Yosemite National Park. After exchanging her vows on a mountain, she knew she wanted to help plan and guide other couples through the same elopement process. 
"I find elopements to be an incredibly intimate experience. It's all about our love for each other and our time together. I often hear brides say that their big wedding went by in a flash. I guess it's often easy to get caught up in the details and timings of the day. It turns into an event rather than a romantic and intimate experience." [Paula]
Are you thinking about elopement? Check out our top 10 reasons to elope!
What details are you loving about this Dunluce Castle elopement? Tell us in the comments below!
Are you planning to elope in Ireland? Book this Airbnb! 
Vendors:
Photography | Paula McManus Photography
MUA | Heather Allen Makeup 
Officiant | Perfect Day Ceremonies
Photos From This Dunluce Castle Elopement