Pura Vida Costa Rica Elopement Wedding

In Costa Rica, there is a saying many locals will say to you, "Pura Vida".
Pura Vida translated means a simple life or pure life. However, in Costa Rica, this saying is a way of life.
Rocio and Fran, the couple, wanted a Costa Rica wedding elopement to resemble the way the people in Costa Rica live.
According to Rob and Lori, the photographers, these two are originally from Spain and stuck to the traditional meaning of an elopement and got married without telling anyone they were going to Costa Rica. Pura Vida!
"They planned to get their legal marriage in Spain without telling anybody about it, and then take the next flight to Costa Rica, crossing the ocean and doing their ceremony over here. Then when they returned to Spain, they were going to tell all their family and friends during Rocio's birthday party, the perfect excuse to gather all the family and friends, and the perfect time to show them a few pics from their adventure." [Rob and Lori]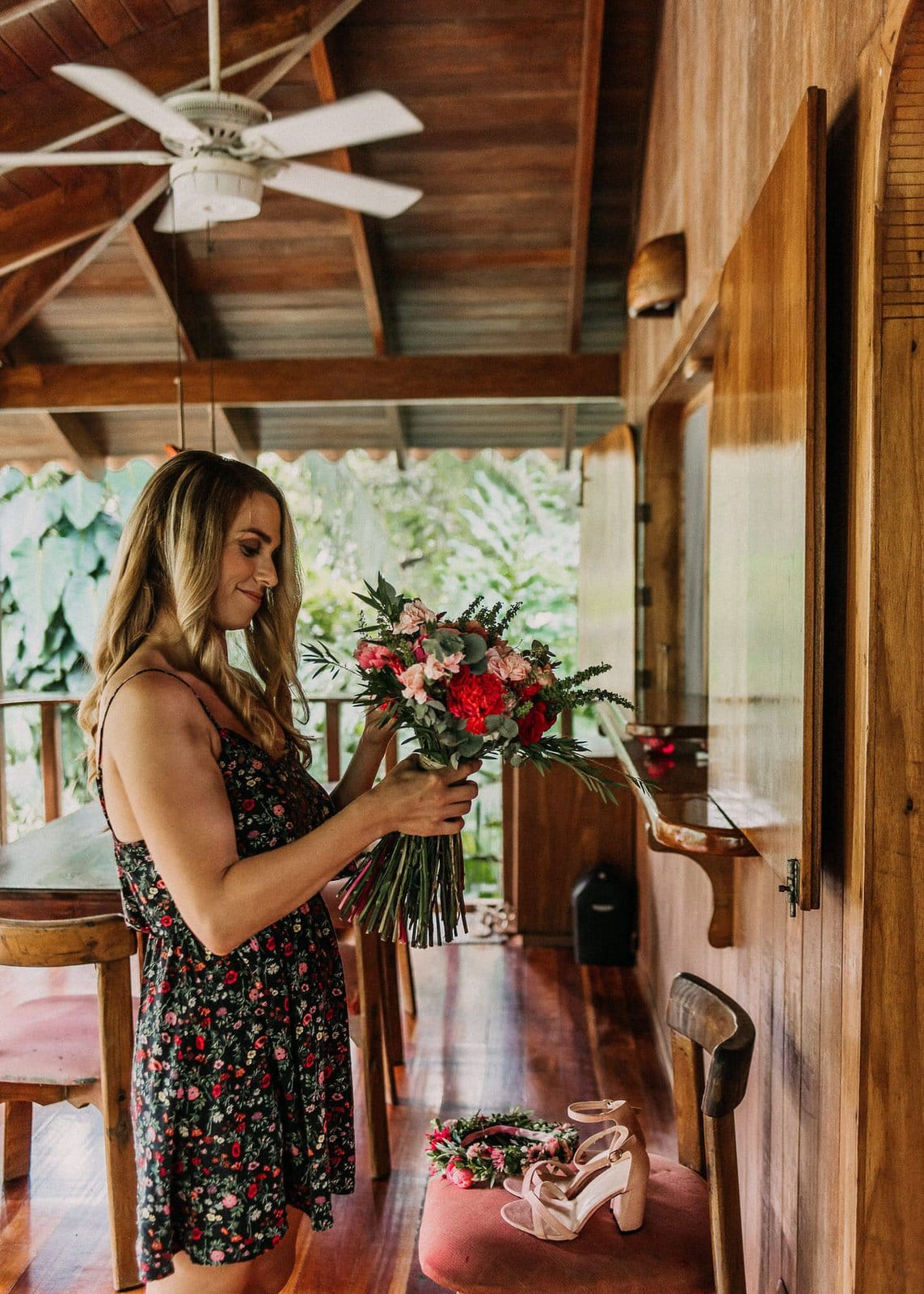 Costa Rica Elopement Derived From the Love of Adventure
Once these two arrived in Costa Rica, they did what locals do and just enjoyed the scenery. After exploring beaches and volcanoes, the couple settled on picking Puerto Viejo, a quaint beach town in the South part of Costa Rica, for their ceremony.
The couple picked an adorable house in the middle of the jungle, surrounded by Costa Rica's beauty. The two other people who witnessed Rocio and Fran's ceremony were Rocio's sister and brother in law.
The couple continued on the path of adventure by allowing Rob and Lori to pick the ceremony's location. They settled on a place close by the beach and jungle.
"During the morning of the elopement it rained a lot, but they never lost their sense of adventure and gratitude with what was happening. They also never complained about anything, not even about the bunch of mosquitos flying around. They were just happy and wanted to enjoy their day, and that made this day just lovely for us." [Rob and Lori]
Are You Thinking About Eloping?
This Costa Rica elopement embodies everything our team loves about elopements. This couple aspired to be surrounded by their love, nature, and adventure. They had no worry or stress, and they began their newest journey as husband and wife being in a beautiful place.
"If you want an intimate wedding, we think you should choose to elope at your favorite place, and follow your heart. Run to that place, and enjoy every single minute of that day. At the end, the only thing that should matter during a wedding, is how the couple feels. As photographers, we love this intimacy. We also love when a couple just wants to enjoy their day without thinking what others might think." [Rob and Lori]
Emotional Ceremony
Rocio's sister officiated the marriage. We can tell how emotional this moment was from these pictures.
"Her speech and their vows were full of love. Also listening to the sound of the ocean, birds and a couple of howler monkeys made this part of the elopement epic. This is just what they wanted when they came to elope." [Rob and Lori]
After their vows, the couple opened a little wooden box from their hometown and performed a mix of wedding rituals from their culture. They then said "I do", and kissed as husband and wife! Pura Vida!
Their Costa Rica elopement wedding continued on the beach where they set off colorful smoke bombs and then jumped into the water as the sun began to set.
"Caribbean sunsets are really different from the Pacific sunsets. The colors of the sky and the water are incredible, and the beach was just for them. Nobody was around us, and that made it very intimate and fun." [Rob and Lori]
Advice for Couples who Want to Elope
If you want to elope, our team and Rob and Lori say go for it!
"If a big wedding is what moves your heart, then do it, enjoy it, and be happy with it. However, if an intimate elopement is what you want, don't hesitate to do it. Make your wedding day unique and own it!" [Rob and Lori]
Thank you to Rob and Lori from Raw Shoots Photo for sharing this session, and congratulations to Rocio and Fran!