Traditional Celtic Handfasting for This Glencoe Engagement
Amber and Coenraad's Celtic handfasting engagement in the Scottish Highlands is the perfect inspiration for couples to incorporate ceremonies into their engagement session together.
These two spent the day exploring Glencoe, admiring Scotland's foggy landscape. Imagine spending a couple of days adventuring around Kilchurn Castle and Glen Etive. 
If you want to skip the story, then jump straight into the photos from this Celtic Engagement Handfasting Ceremony. 
Celebrating Their Engagement How They Want
We talk about couples planning their elopement how they want, but couples can also plan an engagement adventure together. Yup, you don't need to wait for your elopement! 
Amber and Coenraad, actually live in one of the flattest countries in the world, the Netherlands, but they love mountain views. For personal reasons, they aren't sure if they'll be able to plan a mountain wedding together, so they planned a Celtic engagement handfasting instead! 
What is Celtic Handfasting?
In Scotland, handfasting is considered a Celtic tradition and works as a form of commitment ceremony. During this ceremony, couples declare their love to each other. The couple's hands are tied together to symbolize the binding of two lives. 
This popular ceremony actually dates back to 7000 B.C! Although a lot of couples actually incorporate a handfasting ceremony during their wedding ceremony, the tradition actually started during a couple's engagement!
Amber and Coenraad's ceremony included knot tying, quaich drinking, and making commitments for the future. Their witness was their adorable pup, Arya. 
What is Quaich drinking?
A quaich ceremony is another Scottish tradition. The Quaich is referred to as the "love cup". This cup has two handles and you each drink from it, showing you trust one another to share the cup. The couple can fill the cup with the drink of their choice, or they can combine two drinks together to further symbolize their union.  
Documenting Celtic Handfasting Ceremonies
Raini has been photographing and conducting handfasting for a couple of years now. She also performed this ceremony with her husband during their wedding. 
Handfastings are an intimate way to mark your love together. Couples don't need to legally marry to show their commitment to each other. This handfasting ritual is also not restricted to a once-in-a-lifetime ceremony. So this ceremony is perfect for vow renewals too.
"For some couples, the idea of marriage is not for them. They may not believe it's the right path for their relationship but these couples often go without a ritual or ceremony to celebrate their love for each other.

I truly believe handfastings act as a really lovely intimate way to mark this. Why do we have to legally marry to show our commitment to another person? " [Raini]
Planning Your Engagement Session Together
Planning your engagement together is a lot like planning your elopement. You need to hire a super rad photographer, decide where you're going to take your photos, and think about what you're going to do during your adventure session.
"Committing to marry each other is a big deal in its own right, so think of your session as it's own celebration. I'd recommend doing an activity or ritual together which really makes you feel connected and celebrates the important intention you've just made.

This doesn't have to be a handfasting. I'd encourage couples to look at rituals or activities which really speak to them and their values as a couple." [Raini]
The main thing to think about is to plan your engagement with as much intention and love as you would your wedding day.
Amber tells us she loved learning about Scotland's history, traditions, and beauty through Raini.
"Pro tip: Travelling is more fun if you book a photographer because chatting with a local really adds to the experience, and you also get those precious memories to look back on later!" [Amber]
Memorable Moments During This Engagement Adventure
It started to rain once the Celtic handfasting ceremony started, but it made this moment all the more emotional.
"With the mist hanging low on the mountains and getting increasingly soggy by the second, Amber and Coenraad seemed completely lost in each other as they read their commitments to each other. They didn't know what the other had written so it was quite an emotional moment to witness." [Raini]
This engagement turned into a two-day adventure around Glencoe in gorgeous Scotland. This couple enjoyed eating at a Scottish pub, playing cards against humanity for the first time, and listing to live folk music.
Amber and Coenraad love Scotland and its history. It was only fitting to explore the highlands and incorporating one of the oldest traditions of Celtic handfasting.
How do you imagine your engagement adventure? Let us know in the comments below. 
Photos From This Celtic Engagement Handfasting Ceremony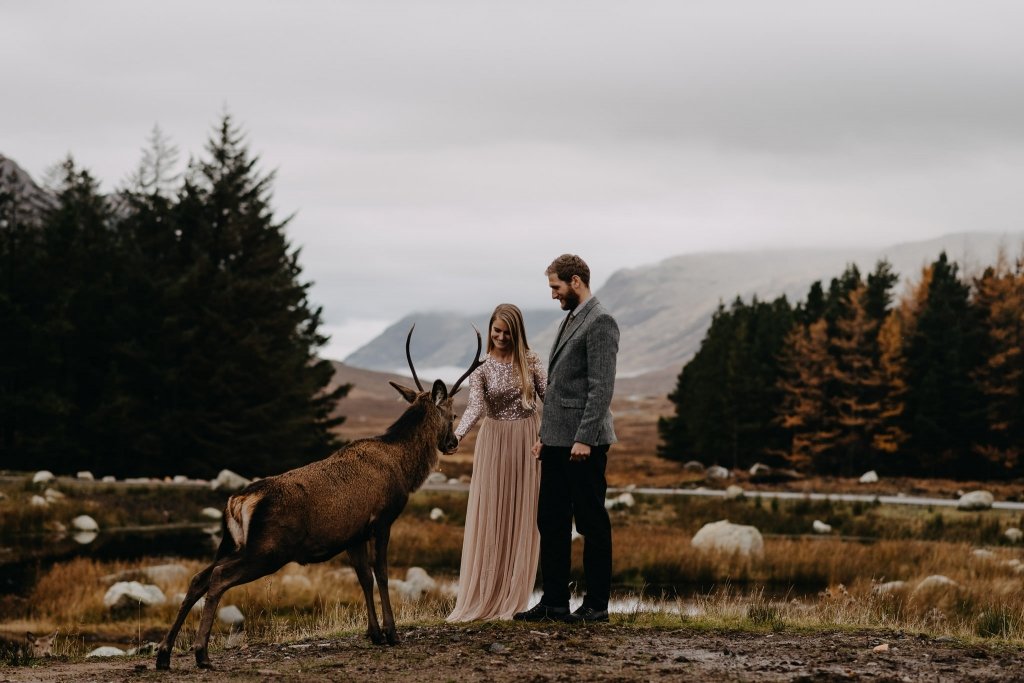 Are you inspired to plan an engagement session together now? Check out our favorite engagement poses to help you get started!