Adventurous Winter Iceland Elopement at Hotel Budir's Famous Black Church
"Insane swings in weather. Closed roads. Changed plans. Pandemics. Lost suits. Travel bans. Welcome to a winter elopement in Iceland. Emily and AJ battled every possible setback you could think of in Iceland this week and guess what? They didn't get upset one time." [Chaise Tinsley From The Tinsley Co.]
Photographer, Chaise Tinsley, gives us first-hand advice on planning your elopement at this famous black church in Iceland.
If You Want to Skip the Information, Then Jump to the Photos of this Iceland Black Church Wedding. 
Details From This Budir Church Iceland Wedding
This couple is the definition of keeping it cool. The weather during their winter Iceland elopement was unpredictable, cold, and rough to say the least. Despite the weather and a pandemic on the rise, this couple only cared about each other and why they were there in the first place, to get married!
"As an adventure elopement photographer, it's my job to have backup plans and to keep my couple calm. When the road to Hotel Budir was closed due to a snowstorm, they just took a deep breath and found an Airbnb nearby. When the Airbnb was snowed in (like…couldn't get to the door for a 15ft high snowdrift) they laughed and joked that we'd freeze to death in the car, no big deal. Their humor and grit were both inspiring and humbling." [Chaise]
Moments we love about this elopement include how gorgeous Iceland's remote landscape looks in the Winter, and how elegant Emily looked in her BHLDN wedding dress. We also love how simple and romantic their wedding ceremony was inside this gorgeous and unique black church.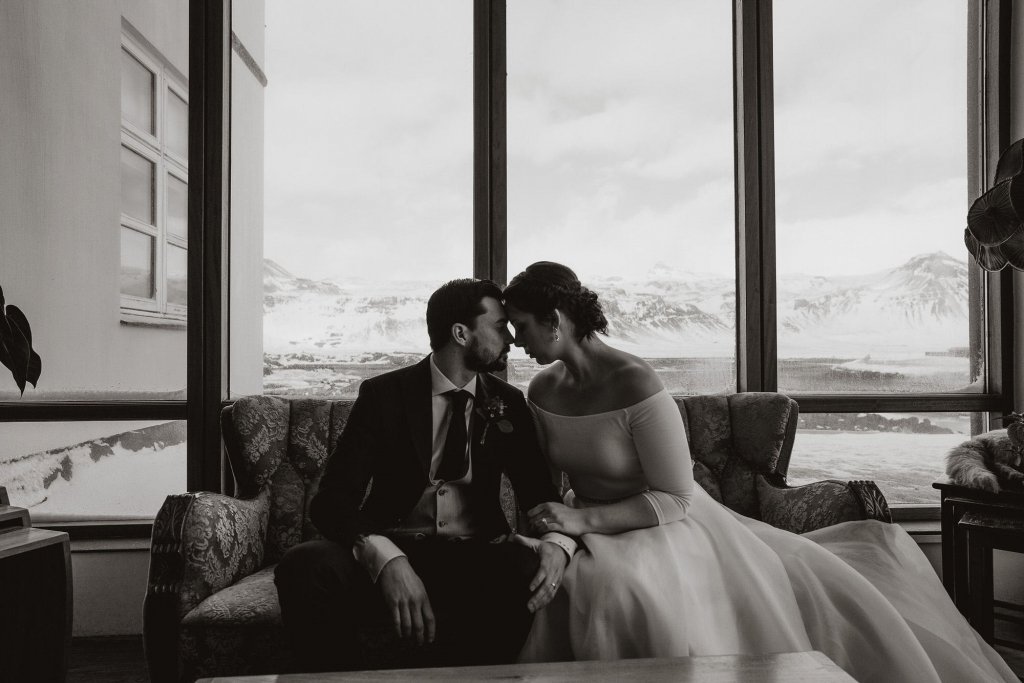 Hotel Budir + Black Church = Perfect Iceland Elopement Location
Emily and AJ decided to have their Iceland elopement at Hotel Budir and have their wedding ceremony at the famous black church. This is a great elopement location for your wedding day since the black church is right next to the hotel. The hotel is located about 3 hours from Reykjavik, but Chaise adds it may take longer depending on the weather conditions.
This location is perfect for your elopement because it's a gorgeous, luxury hotel for your wedding day in the middle of nowhere. If you do decide to elope here, then you'll be surrounded by endless options to explore including coastal cliffs, lighthouses, and Snaefellsjokull glacier.
We also love this location because it allows couples to incorporate the wedding tradition of getting married in a church together, while still doing their own thing and having an epic adventure.
"You really get the best of both worlds here. If you don't want to find an Airbnb, you can stay at Hotel Budir for the ultimate remote luxury experience. This location is a one-stop-shop for adventuring couples. It's also much quieter than the South Coast areas like Vik, providing couples with a rugged, but intimate elopement location." [Chaise]
If you're interested in booking a spot at Hotel Budir or have a wedding ceremony at the black church in Iceland, then we recommend contacting the hotel (we hear their staff is pretty awesome). Feel free to email them at [email protected], and they will arrange for the pastor to contact you, set up your date, and talk about your wedding ceremony.
Planning a Winter Iceland Elopement
Planning an Iceland elopement wedding is probably some of the most beautiful and spectacular elopements we have seen. You get to elope somewhere beautiful and have plenty of spots to explore.
Chaise has experienced multiple elopement adventures in Iceland during the winter, including her own! We asked her for some advice for couples planning a winter Iceland elopement similar to this Iceland black church wedding.
"Be flexible. I know this is standard for eloping couples, but it's especially significant in the Icelandic winter. It's really important to have an adventure elopement photographer that can provide couples with a Plan B…and C. Couples should also note that winter weather is harsh and unpredictable, but also immensely beautiful and rewarding. You just have to roll with what nature gives you and be grateful for it all." [Chaise]
She also recommends planning a day for your wedding ceremony, and another day to explore. This allows couples and the photographer to have more time to flip the schedule around if the weather doesn't work in their favor.
Another aspect couples should consider when planning their elopement is the short daylight hours in Iceland during the winter. During December, for example, you can expect daylight for 4-5 hours versus 10+ hours during March, according to Chaise. Thus, hiring an experienced wedding vendor is highly recommended for winter Iceland elopement weddings
Chaise's Top Tips:
Rent a car! "There are so many spots you're going to want to pull off and see. You'll definitely want the flexibility and independence of having your own transportation. The roads are well maintained, just go slow and be safe!"
Appropriate Wedding Attire. Long Sleeve Wedding Dress with leggings underneath. A jacket, blanket, or wrap is also a great idea to stay warm from Iceland's wind. For guys, leggings, and lots of layers under their wedding attire.
Warm and Sturdy Shoes. Waterproof hiking boots because wet and cold feet during your Iceland elopement adventure is no fun.
"When you choose to have an adventure elopement in a wild and rugged place, you have to be prepared and roll with the punches. Predictability will not be your friend here. But, if you can handle it with an open heart and mind – you may just be rewarded with one of the best memories of your lifetime with the person you love the most." [Chaise]
Check out more advice and tips from Chaise on planning a winter elopement in Iceland.
Why You Should Plan Your Wedding in Iceland
Iceland is a gorgeous country. There are tons of great locations to explore and appreciate. In the area where this couple eloped on the Snaefellsnes Peninsula, Chaise recommends checking out Hotel Budir, Arnarstapi, and Kirkjufell.
If you're planning to elope on the South Coast of Iceland, then Black Sand Beaches, Waterfalls, Glacier Lagoons, and stunning Mountain Landscapes should be on your list.
The beauty of Iceland is you can appreciate landscapes from mountains to stunning black sand beaches. If you're considering an Iceland elopement, then a winter elopement here is a great way to avoid tourists and witness Iceland in its raw and undisturbed beauty.
"People are always shocked when I tell them I'm shooting an elopement there in the winter, but it's really a manageable and beautiful winter destination. Plus, you can drink gallons of hot chocolate with the most delicious whipped cream you've ever tasted!" [Chaise]
Other Vendors
Florist | Thordis Z.
Wedding Dress | BHLDN
HMUA | Gudrun Hjartardottir
Suit | Mark Russell
Venue | Hotel Budir
If you're convinced you should elope in Iceland, then check out our elopement timeline to better help you while planning.
Photos of This Iceland Black Church Wedding.