Breathtaking Painted Hills Elopement in Wheeler County, OR | Erin & Chris
Breathtaking Painted Hills Elopement in Wheeler County, OR | Erin & Chris
"We decided breaking the mold and doing something that was uniquely ours was the right choice to make."
It's no surprise that Toronto-native Chris and his American love, Erin, chose to ditch a traditional wedding for an adventurous elopement. They knew planning from separate countries would quickly become a logistical nightmare, and Chris says it wasn't long before, "We started to see that we were losing the 'us' in [the process]." With the help of wedding planner Amber Hayes of Rock & Stone Weddings, the couple created a day that truly celebrated their partnership in a way that spoke to them.
"Erin described their style as pretty neutral," Amber shares. "She just wanted the ceremony to reflect their spontaneity, sense of adventure, and love for each other. We designed the palette around the Painted Hills, picking earthy tones and greens and yellows to contrast with the terra-cotta hills and added a Moroccan vibe as a nod to their love of far-flung adventure." The bride and groom shared a sweet moment the morning of their elopement, writing their vows over breakfast at a coffeeshop before traveling to the ceremony. "We had hikers telling us congratulations as they walked by, and everyone was just full of love," Erin recalls. "I deal with a bit of anxiety, [and] the idea of reading my vows in front of a ton of guests was always something that never sat right with me. Vows are incredibly special and intimate, and being able to read them to Chris allowed me to really open up."
Their planner describes the day as one of the most romantic weddings she has ever witnessed. "The intimate ceremony was breathtaking. I don't think I've ever cried more than when Chris read his vows," Amber says. After exploring the hills with their photographer, Lauren Nicole, the newlyweds enjoyed a picnic-style reception, sharing a mint-chocolate cake, sipping IPAs, and savoring a delectable Moroccan charcuterie spread. "The fact that we were able to just take the time to enjoy a part of the world neither of us had ever been to, without any of the standard wedding-planning related stress, made our elopement a dream come true," Chris says. "We were focused on the adventure and what it meant for us, and now we get to remember that forever… I think the biggest piece of advice I could offer is simple: this is about you. It's about the two of you and your story and your life together, not about what anyone else might think."
Grab a box of tissues and read on – we've got the couple's vows, and they just might bring you to tears!
CHOOSING AN ELOPEMENT:
"There were a few different reasons we chose to elope instead of [having] a traditional wedding. Chris is a Canadian from Toronto and I'm an American from Pittsburgh, [and] we've grown very used to taking the path less traveled in our relationship. We luckily have always had a mutual love for going on adventures… Being in long distance relationship, traveling is the only way [to] spend as much time as we can together, and it was a good excuse to book a few flights to different places around the world. When Chris proposed to me, he asked me to promise that we'd always take adventures. Of course, we wanted to keep the things we loved the most at the forefront of these once-in-a-lifetime events. We went to Iceland for our engagement photos and knew our wedding had to stay true to [us] and our style."

[Erin, the bride]
CHOOSING A LOCATION:
"We always knew we wanted to get married somewhere that wasn't local to us. There is too much world out there to see, and our wedding gave us the perfect reason to step outside our zip codes… Chris and I were actually brainstorming ideas of different locations, the PNW being one, when Amber at Rock and Stone Weddings contacted us about having an elopement shoot in Oregon. I can't take any credit for choosing the location – that was all Amber. Once I looked up pictures of Painted Hills, we immediately booked our flights. It felt very fate-like."

[Erin, the bride]
PLANNING AN ELOPEMENT:
"Amber was our prime contact and made sure that our experience was as beautiful as we could have ever hoped. We had one request, that Chris was to wear a green suit, and she loved that idea. Amber sent us a styled sheet with her inspiration a few days later. She set up everything with the hair and makeup, photographer, baker, and rentals. All I had to do myself was get my dress… We are so grateful for everyone involved – it allowed us to really focus on us and just enjoy our time."

[Erin, the bride]
MAKING LIFELONG VOWS:
"Erin, we're here today because of the path we chose together and through our unwavering spirit of adventure. Our paths could have been much simpler, but knowing that nothing could ever compare to the world we've built is the sweetest satisfaction. With my entire heart, I'm here to tell you that my life's greatest adventure has been, and forever will be, sharing it and building it with you. 

You've lit the fire of life in me. I've learned to put love, not just into work, but into my actions and ambitions because of you. I've learned patience, resilience, and eternal optimism, because you model this beauty with every step you take and [the] words you speak. You are the brightest star in the darkest nights. You are my True North, leading me and loving me with the kindness and grace that only you can give. I'm here to promise you that we will continue to build and adventure together. I'll continue to love what I know of you and trust what I will discover. I'll continue to work and to grow for you. I'll continue to sing, to laugh, and to play with you… I love you, Erin, now and forever, as my best friend, as my confidant, and as my wife."

[Chris, the groom]
SAYING "I DO":
"Christopher, our lives have become such an adventure. In this unexpected, crazy, yet beautiful, adventure, I met you – my best friend, my life partner. I love everything that you are. When I am with you, I am my best self. You make me more brave, more determined, more appreciative… I take comfort in knowing that when the world gets too crazy, and I need it to stop moving, all I have to do is turn to you. You're always there. I promise to support you and encourage you in all of your endeavors. Pursuing a new career, moving across the country, learning a new hobby, then talking my ear off about it, or growing your jacket collection [until] it eats us both. I will celebrate every success you have as the proud wife I will always be, and stand by your side through losses, and reassure you of any doubt.

I will always trust you. I will learn from you, listen to you, and value everything you do for me, big or small. I cannot wait to build our lives together, to live our dreams out with you by my side. Let's continue to create a life that is caring to all, that is filled with laughter, and continuous love. Most importantly, may our adventure never end. I love you."

[Erin, the bride]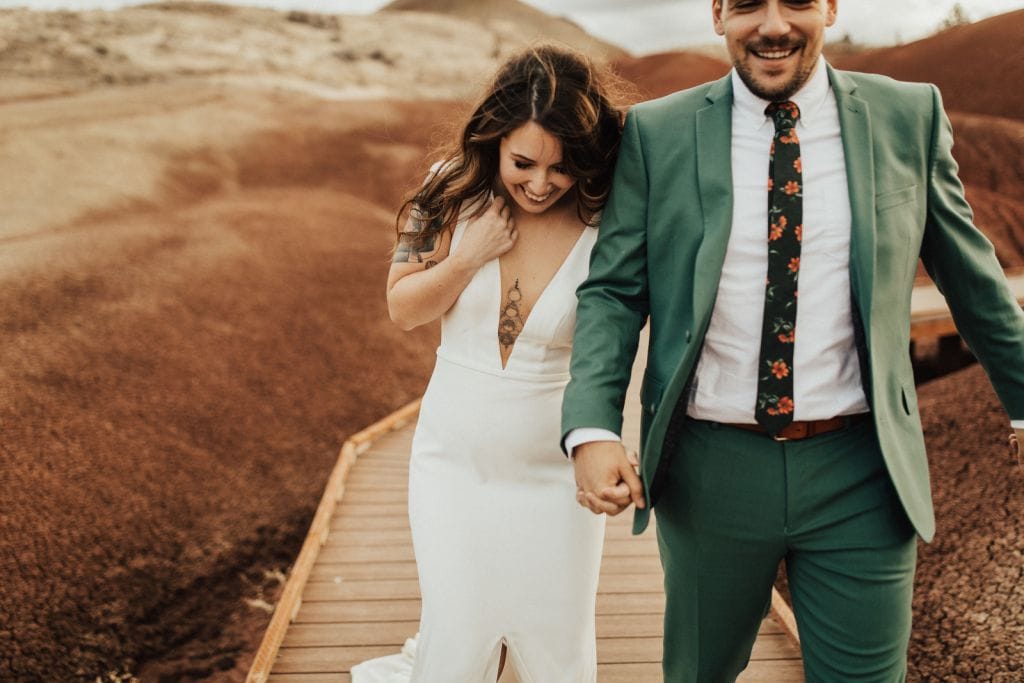 PARTING THOUGHTS:
"I would do it again in a second. Eloping is this special moment, this perfect moment, that you and your partner will have for the rest of your lives. You lose all the stress that comes with planning a wedding and the pressure of the clock ticking down to make sure everything is done. Above all, there's [nothing to worry about] the actual day of. You still have options with eloping – going in a more traditional direction, bringing along your parents or immediate family. It could be a couple of your best friends, or you could do what we did and just bring the two of you. Do whatever is going to make you and your partner happy. I would say this is one of those occasions where you're allowed to be 'selfish' and put yourself first."

[Erin, the bride]
Vendors:
Thank you to Amber Hayes for sharing this session, and congratulations to Erin + Chris!
Looking for the perfect vendors for your wedding?
Search our Wandering Weddings members HERE!
Love these pretty elopement photos but don't know where to start? We have put together a step by step guide to help your elopement planning.