Boho North Carolina Elopement at Linville Gorge Wilderness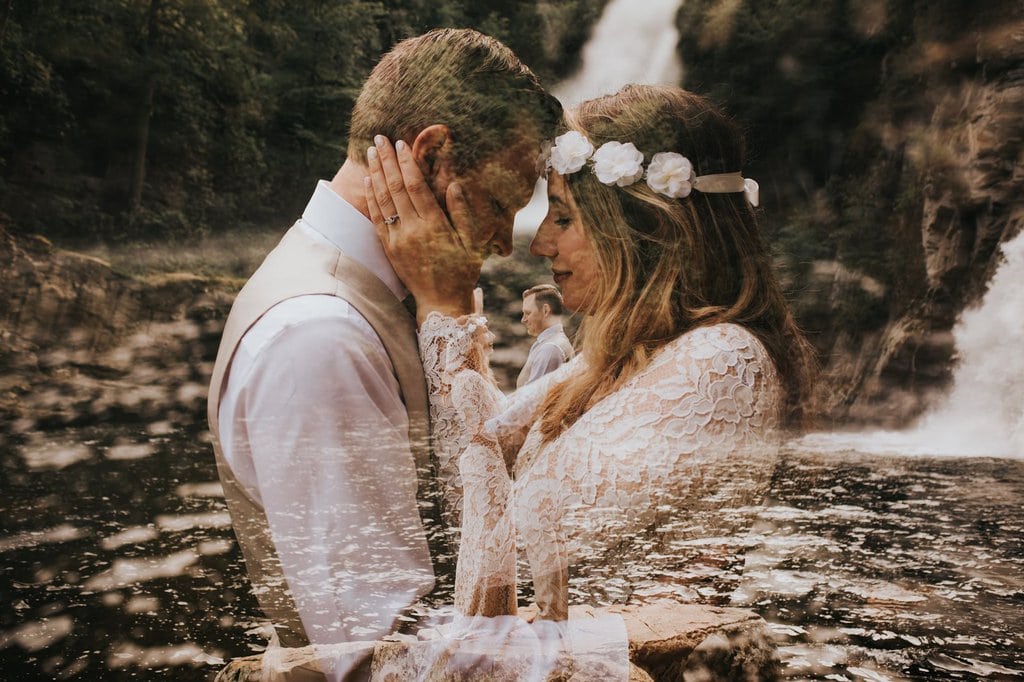 This couple truly embraced the adventurous elopement experience.
"[Their] day was jam-packed full of magic, excitement, adventure, and downright 'epicness,'" photographer Monica Leavell says. Despite forecasted storms, Catherine and Scott traveled to North Carolina's Linville Gorge Wilderness Area for a full-day elopement. With Monica as their guide, they made their first stop at Linville Falls for an unforgettable first look. "The leftover rain and humidity, along with the peaking sun, created the most ethereal setting imaginable," Monica recalls. "We played around so long at the bottom of the gorge that we lost track of time and had to hightail it back to the trailhead, where [we were] meeting the officiant… By the time we got back, we were already an hour behind schedule."
The group set out for the ceremony but encountered further delays when the officiant found the hike more challenging than expected. "Catherine, Scott, and [I had to move swiftly to keep from losing the light], so we let my assistant and the officiant take their time, and the three of us made a beeline for the top. We had no idea how far behind [they were], and we didn't want to risk it, so Scott pulled out the script for the ceremony and got right to it. They both said their vows, exchanged rings, and sealed it all with a kiss. [Then] we did it all over once the officiant arrived — kinda fun doin' it twice."
"[The] day was a whirlwind, but that's how all adventurous elopements are. I don't guarantee my clients that their adventurous elopement will go exactly the way they've envisioned… but I do promise them that I will do my absolute best to make it all worth it." Needless to say, Monica delivered on this one!
Update: North Carolina's National Forest is requesting the public not to use this location and to check with them prior to planning an elopement. Check out North Carolina's National Forest site for more updated information on rules and regulations for events in NC. We encourage everyone to practice LNT (leave no trace) practices, so more couples can enjoy these areas.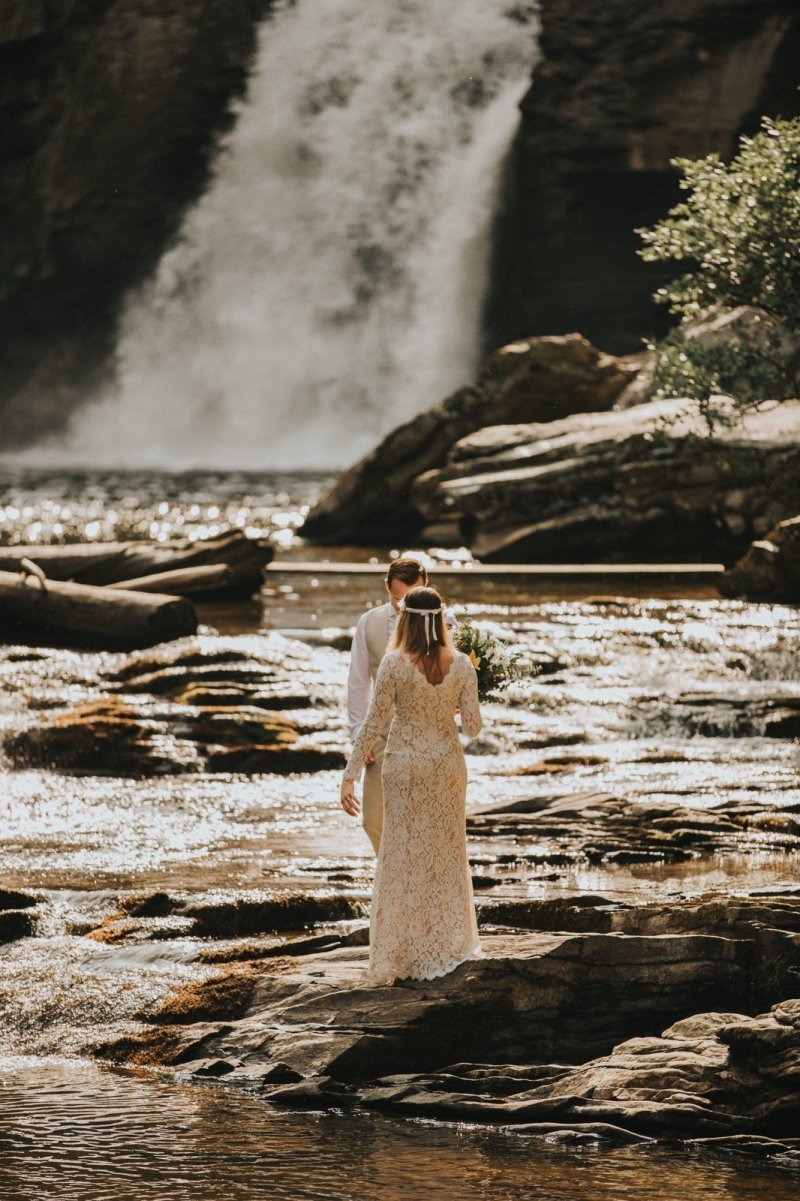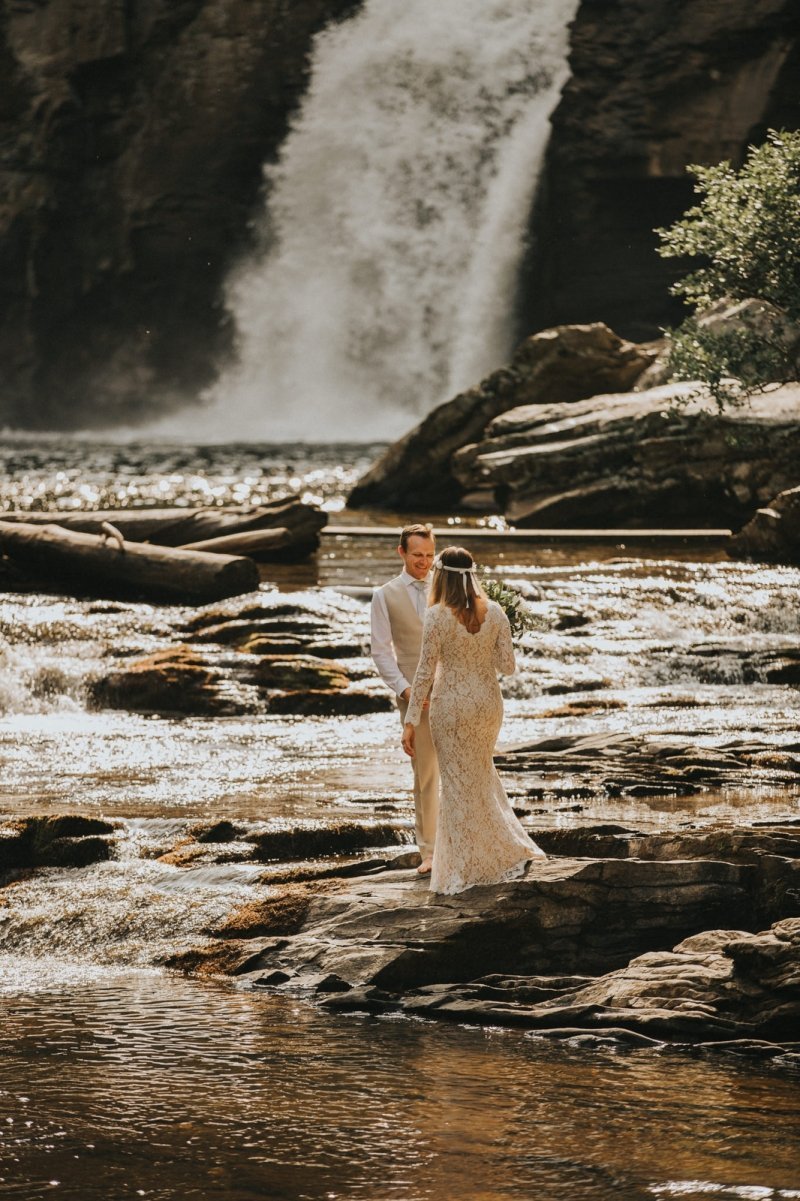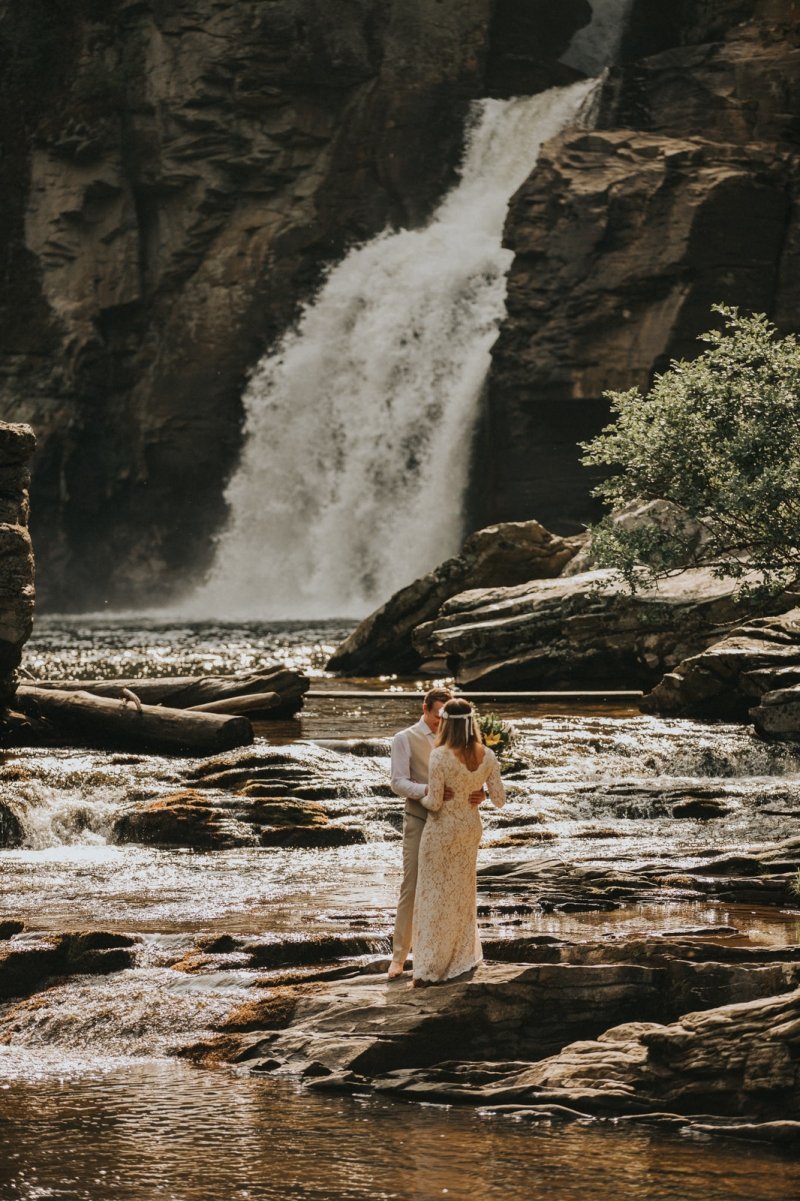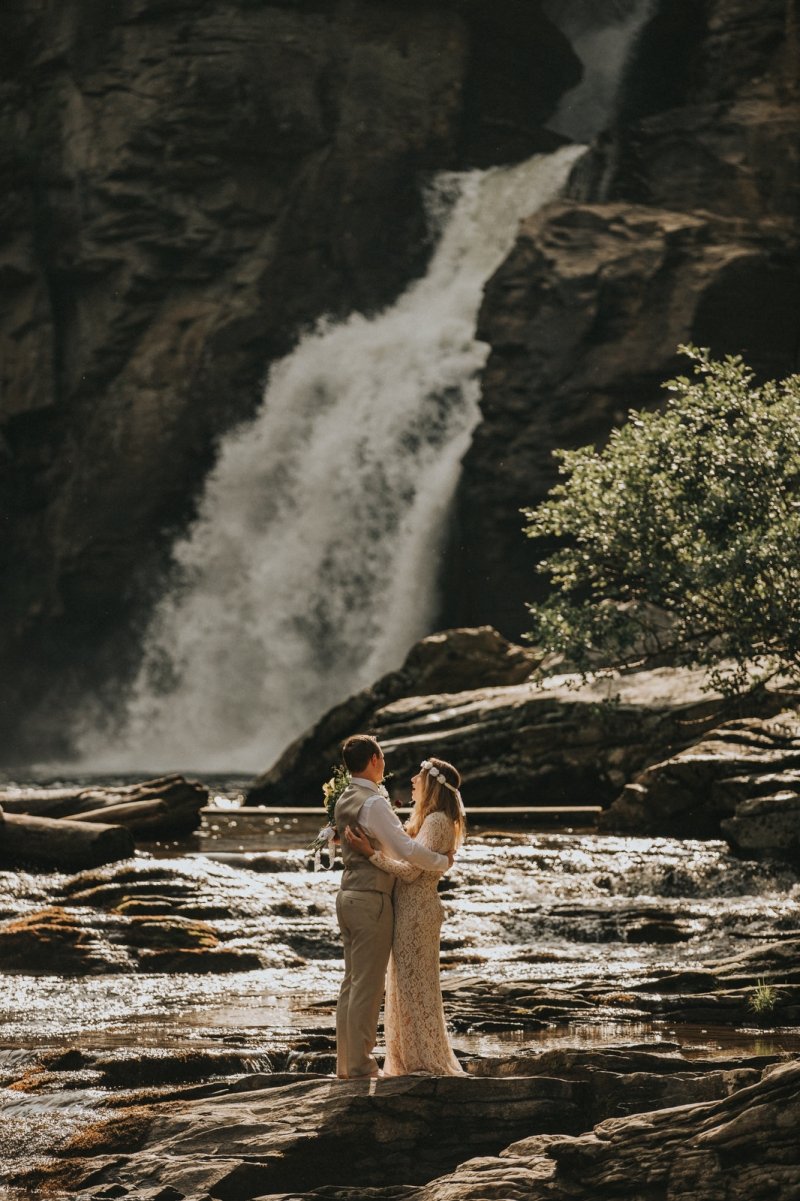 CHOOSING AN ADVENTURE ELOPEMENT:
"When we thought about our wedding day, it was very important to us that [the] day be spent with the main focus on us and our relationship. We didn't want to be distracted by all of the extra things and the stressors that come with big weddings. Eloping was also more budget-friendly which, although not necessary, was a plus for us. We love big weddings, but for us, an elopement was the perfect fit."

[Catherine, The Bride]
CHOOSING AN ELOPEMENT LOCATION:
"We knew that we wanted a beautiful place in the great outdoors. Scott really wanted a waterfall, and I really wanted a mountaintop. We both knew that sunset would be the perfect time of day. When we met with Monica, our photographer, she asked us what we had in mind… She came up with a list of different spots that she thought we would like, [and] she nailed it! We took one look at it and knew that Linville Gorge Wilderness was exactly what we wanted. It was such a gorgeous location and had everything we wanted."

[Catherine]
PLANNING AN ELOPEMENT:
"Step number one was finding a photographer. Monica is so amazing at what she does, and we knew from the moment we saw her work that she was the one… Next, we picked a date, found our outfits, and also found our officiant. The morning of our elopement, we went to the local courthouse in Newland, NC and got our marriage [license]. Monica planned the timeline for the evening, ending with the ceremony on top of Hawksbill Mountain at sunset."

[Catherine]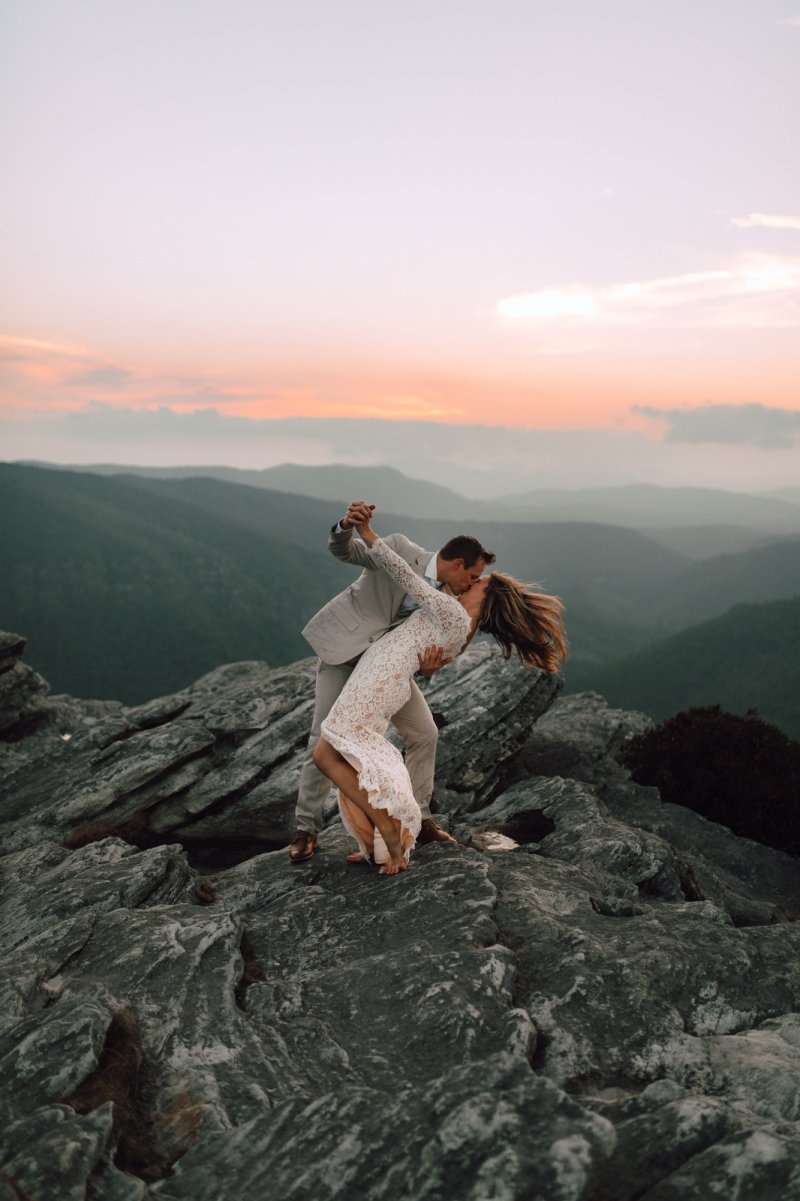 THE ELOPEMENT EXPERIENCE:
"We really loved the simplicity [and] the uniqueness of it… Standing up on top of that mountain, the wind blowing and the sunset painting a beautiful sky – what a moment to look into each other's eyes and promise to love and cherish each other until death… We had rain and thunderstorms forecasted on our day… but right when we reached the falls that afternoon the sun broke through, and it could not have been more perfect."

[Catherine]
Vendors:
Bridal Designer | BHLDN
Thank you to Monica Leavell for sharing this session, and congratulations to Catherine + Scott!