Romantic Amalfi Coast Elopement With the Perfect View
How to Plan an Amalfi Coast Elopement
Sabrina and Adam wanted to elope somewhere romantic with gorgeous views. So It's no surprise to us that Positano on the Amalfi Coast ended up being their elopement destination. We love this elopement because it's so intimate and detailed. Romina Costantino, the photographer, did a wonderful job documenting the couple's day.
We put together everything you need to know to plan your elopement in the Amalfi Coast. This Positano elopement is also the perfect example for your elopement planning journey.
If you want to skip all the information, then feel free to jump to the full elopement story photos.
Hire Elopement Vendors With Experience
After deciding your elopement destination, then you should pick your elopement vendors, preferably with experience or native to the area. Romina is an elopement photographer in the Amalfi Coast and provides great advice when couples hire her. Hiring the right people will also help you have a seamless wedding day, especially if you're not from the country or speak the language.
Romina tells us how important it is to maintain strong communication with couples to truly understand their vision for the elopement.
"We always do a skype call months before the wedding, so we can understand their character and their tastes. Then we can give them advice on how to deal with an elopement or wedding in Italy. Italy is a magnificent place, but it's also not easy to understand if you don't fully understand the philosophy of us Italians!" [Romina]
The Italian culture, like many cultures, is rich and different. Incorporating an understanding of your elopement destination's culture will also help you have an enriching experience. For Sabrina and Adam, they had to understand to explore and take their time eating and drinking.  It is typical for Italians to take at least two hours eating a meal, making a perfect elopement experience together.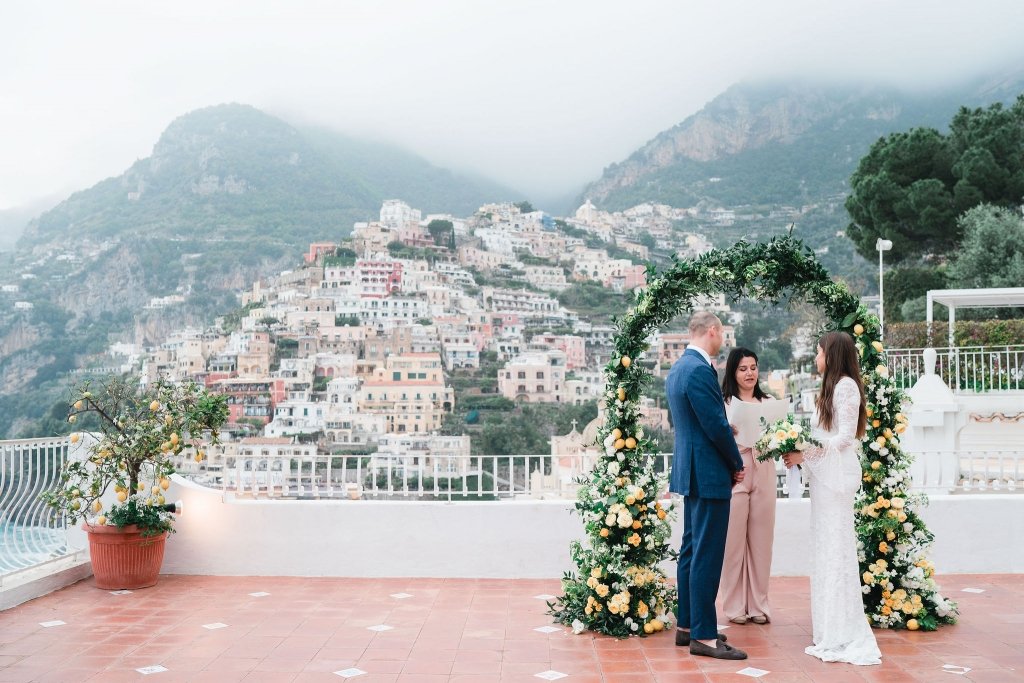 How to Have a Private Elopement Ceremony in Positano
Positano is where Sabrina and Adam decided to elope. This town is right along the Amalfi Coast, and a great option. But how do you have a private elopement in an area where so many tourists come each year?
The number one thing to consider is to plan your elopement during the offseason, which is essentially the spring and fall. Unlike the summer months, you will see moderate crowds and more comfortable temperatures, in the 70s-80s, during May-September.
Another great way to have a private elopement is to plan your special day at a private hotel with a view. Sabrina and Adam had their elopement ceremony at the Hotel Marincanto's terrace.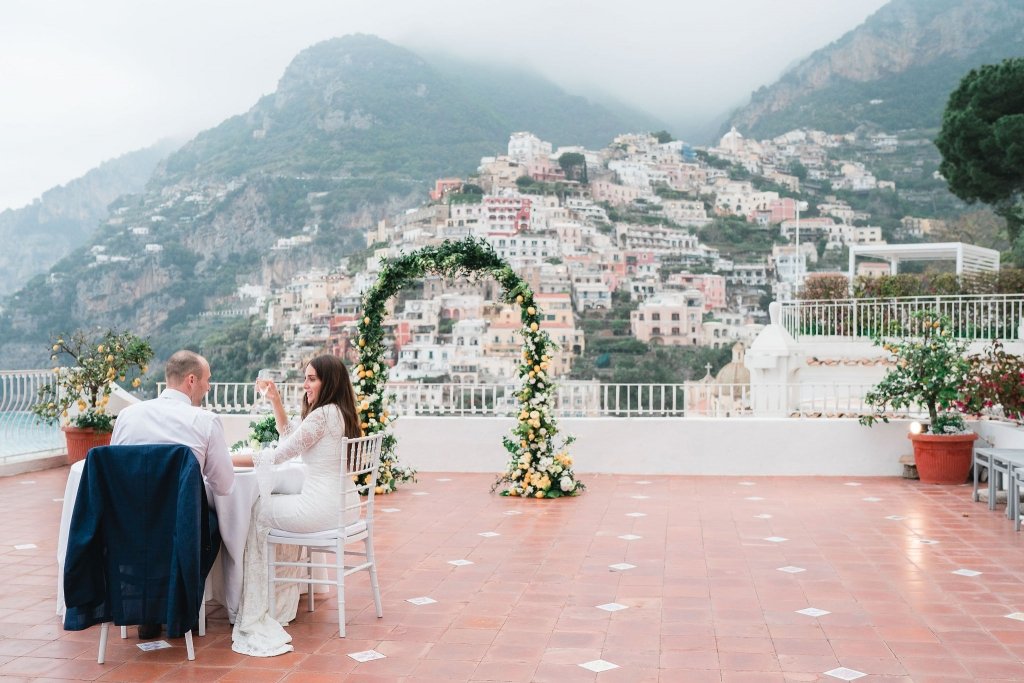 How to Style Your Amalfi Coast Elopement
Eloping in Positano already gives the most magical backdrop. You really don't need many decorations for your elopement day. This elopement incorporated a gorgeous lemon tree floral arch with lots of greenery, perfect for an Italian elopement.
"First and foremost, we wanted to elope somewhere beautiful with a spectacular view and unique atmosphere. Also, it was important that I found a dress that made me feel comfortable and like an Italian bride!" [Sabrina]
Sabrina's Grace Loves Lace dress is perfect for this Amalfi Coast elopement. It's light-weight and delicate nature pairs perfectly with Adam's blue P Johnson suit. What are you wearing for your elopement? Our wedding dress guide is the perfect resource for brides who are planning their elopement day.
Another great suggestion to make your elopement more personal is to incorporate special elements on your wedding day, such as writing your vows.
"One extra special element of our wedding was that I brought along to Italy a piece of the fabric of the blue dress I wore on our very first date. Another special element was writing our own vows. We both were very emotional reading our vows and hearing what each other wrote." [Sabrina]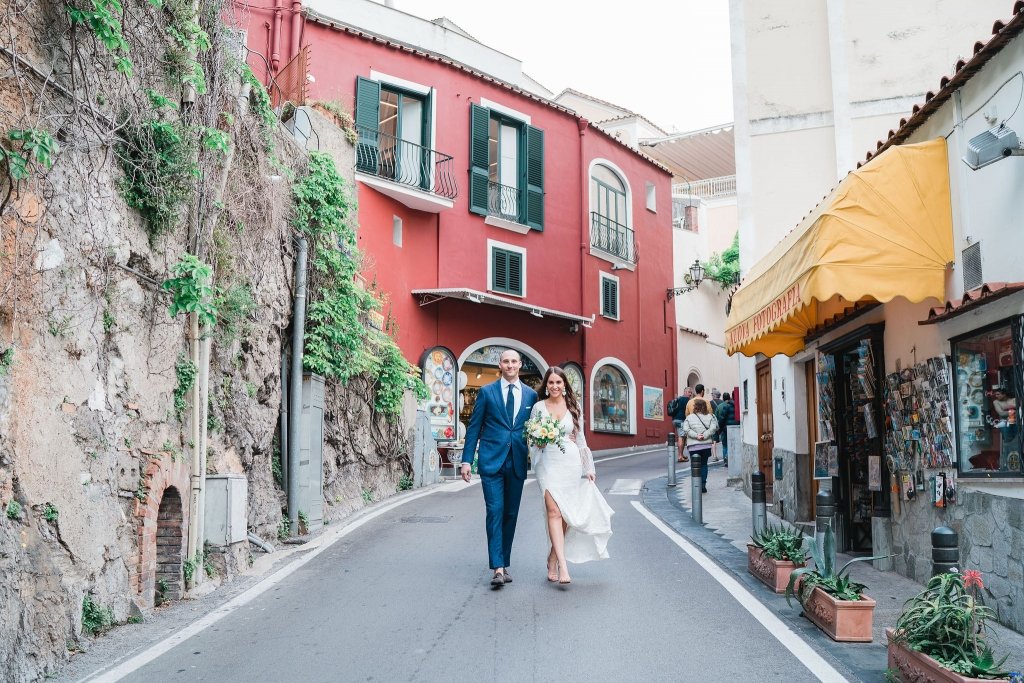 Advice From The Photographer
Photographers like Romina love elopements because they are so intimate. Romina tells us how much she loved Sabrina and Adam's first look. Our team loves their first dance overlooking gorgeous Positano. The emotion and intimacy elopement photographers witness is unmatched. Instead of being distracted by guests and décor, couples are able to experience their wedding day 100% in the moment.
Romina tells us the best advice for a couple who are planning an elopement in the Amalfi Coast is to have fun, relax, and enjoy your trip. We love the photos of Sabrina and Adam exploring Positano's beautiful town, and smiling every time someone congratulated them.
"But above all, you are in Italy, be Italian! Be smart, sociable, and learn the language of Italian hands!" [Romina]
Romina also recommends eating Spaghetti al Pomodoro. She promises it will be the best in the world.
Trailer From This Elopement
Other Vendors Involved
If this Positano elopement is inspiring you and making you feel like packing your bags to Italy, then you should check out our how to elope guide.
Full Elopement Story Photos From This Positano Elopement